"Titanic" may be one of your favorite movies, but there are probably not too many people who have taken their love for the 1997 film and opened a cafe in honor of it. Talk about a megafan!
There's a meme floating around on the internet that shows a son asking his father how his sister got her name.
"Dad, why is my sister's name Rose?"
"Because your mother loves roses, son."
"Good to know — thanks, Dad."
"You're welcome, flame-grilled whopper."
This is a great little laugh at how humans can become so enamored with an object, place or idea that we will honor it in any way that we possibly can. Parents name their kids after important figures; pet owners name their cats after favorite foods; and, in our case here, cafe owners name their restaurant after the movie "Titanic."
Café Jack
Anchored on Western Avenue in Central LA's Koreatown is a cafe built to look just like a boat. In fact, it almost seems as though it was towed straight from the waterfront. The large black and white bow, emblazoned with yellow trim and crowned with white railings, is impossible to miss between its neighboring H&R Block and dry cleaners. 
This massive homage to James Cameron's Academy Award-winning film opened in 2007 after owner Jack Shin spent years collecting boat-themed décor and materials for his dream cafe. Jack Shin lives the life of a diehard film fan that we all dream to live ourselves, even going so far as to change his name to Jack in honor of Leonardo DiCaprio's famous character. His son also carries the name.
The interior of the cafe is carefully decorated with a smorgasbord (yay for using this word for the first time in a real sentence) of boat-themed decor and personal odds and ends. Shin spent years searching through antique stores, thrift shops and estate sales for the most "Titanic"-themed furniture and décor he could find. The cafe follows no clear "Titanic" theme, however, as there are personal photos mixed in with movie stills mixed in with twinkling lights mixed in with, well, a bit of everything. 
There are private rooms, communal tables, booths and patios scattered throughout the cafe, making this the perfect spot for a date night, friends' dinner, casual lunch or whatever it is you're in the mood for.  There's certainly enough space on the raft — I mean, patio — for a plate of sushi in the sunshine. The food is freshly prepared and well-reviewed by the internet foodies, but the atmosphere and experience of being in a restaurant so lovingly cared for is what makes the trip over truly worth it. 
To add to the mystery and intrigue of this quirky cafe, Shin offers private tarot card readings to anyone who books early enough in advance. He is known for being quite accurate.
All in all, Café Jack is a must-see for anyone in the LA area. It's full of quirky decor, funky architecture and great food. Besides, from our apartments for rent in Glendale and our Marina Del Rey apartments, it's less than 30 minutes away. Above all, Café Jack is the testament to one man's greatest labor of love that has grown and grown over the last two decades. There aren't too many people who find a way to turn something they love into a lifestyle that they love and share, but Jack Shin, LA's favorite "Titanic" lover and tarot card reader, certainly has. 
What else is in Koreatown?
While you're in the area, make sure to check out these fun things to see and do in Koreatown. 
Chapman Plaza has occupied West Sixth Street in Koreatown long before the area became Koreatown. This Spanish Baroque-style plaza opened nearly a hundred years ago in 1929 and is home to nearly 50,000 square feet of retail space. While it originally served as a main grocery hub for wealthy residents of surrounding areas, Chapman Market is now home to a variety of tasteful Korean restaurants and retail stores.
If you're the type to go nuts over donuts, then you absolutely must go to California Donuts on the edge of Koreatown and Little Bangladesh. You'll find every donut imaginable there, from M&M-encrusted rings to maple bacon logs to classic glazed and everything in-between! Plus, for those of you who don't like donuts (but why, though?), there are other options such as croissants, muffins, bagels and cheesecake slices. No matter who you are, you can't go wrong at this LA staple.
Two blocks away from Café Jack is one of LA's most famous theaters. The Wiltern used to be a movie theater, but it now serves as a concert venue with a great selection of seating. Think old-school opera house, but a little smaller with some great art-deco-style interiors. Many local, international and touring groups stop by the Wiltern, as it's still one of the biggest theaters in LA.
This luxury hotel has some of the best lounges and bars in the Koreatown area. If you aren't looking to stay overnight at one of their minimalist-chic rooms overlooking the city, then head over to the speakeasy bar for some karaoke or the glistening Alfred Coffee cafe for some well-deserved treats.
To everyone in our Southern California apartments, we sincerely hope you enjoy visiting Koreatown and all the wonderful attractions in the area. After all, it's not every day you get to spend time in a Titanic-themed, tarot-card-reading Korean restaurant, now, is it? 
Enjoy!
Pin it!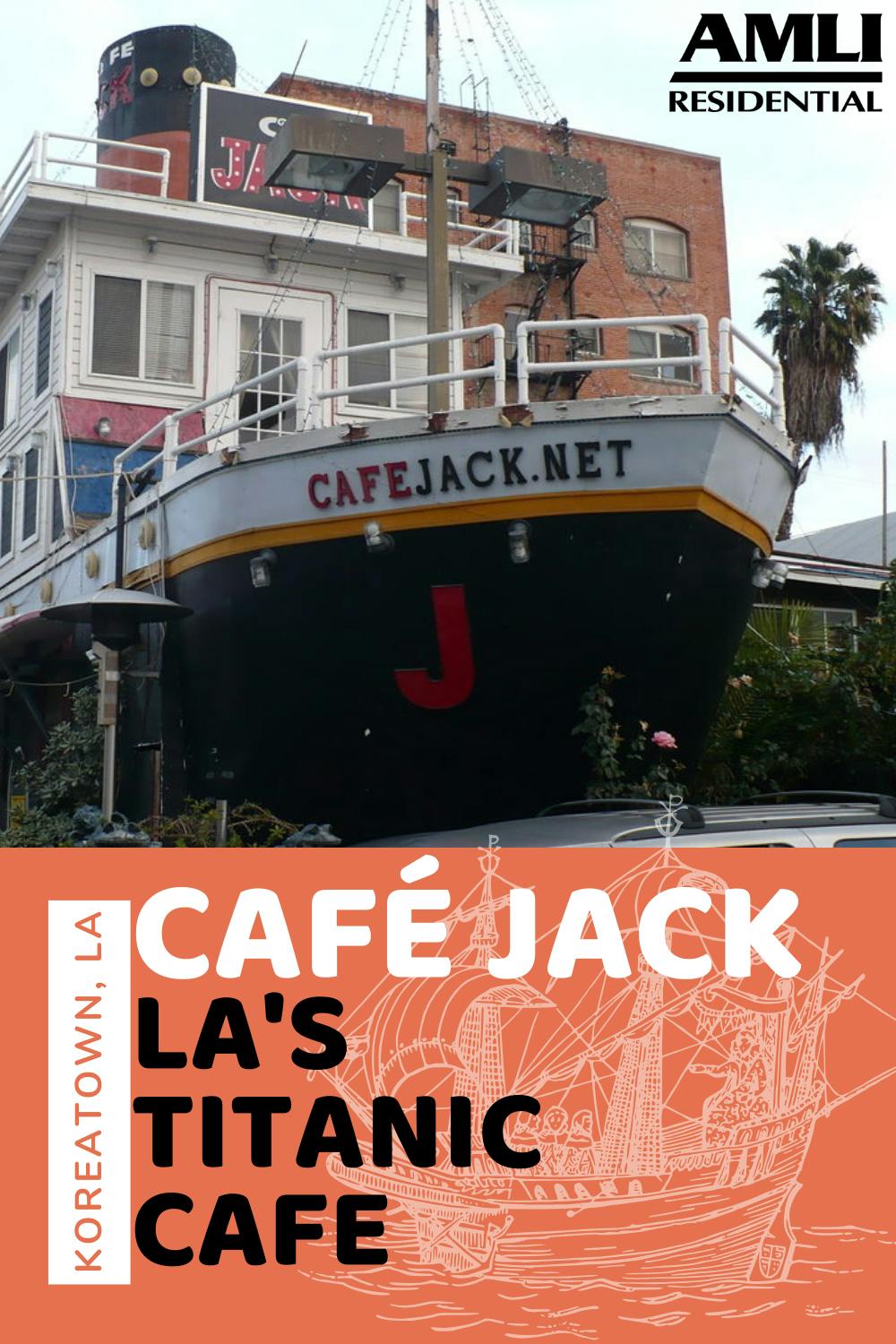 Featured photo courtesy Atlas Obscura/Jbartlett2000