Chicago is world-renowned for its architecture. Since the Great Chicago Fire of 1871 destroyed most of downtown's structures, Chicago's buildings are more well-known for their innovation rather than their antiquity.
Chicago has many, many architecture tours to choose from. With all these options, how do you choose?
Let's start with how you'd like to get around: by boat, bike, bus, kayak or foot?
Boat
112 E. Wacker Drive
Chi-Town's bountiful buildings just might be best-viewed via boat. Whether you're cruising down the Chicago River or on Lake Michigan, this is an excellent and relaxing way to take in the city's architecture.
The Chicago Architecture Foundation Center's River Cruise is TripAdvisor's highest-rated boat architectural tour, and for good reason: It's led by expertly-trained docents able to give you the skinny on over 50 buildings in just 90 minutes. Tours begin at First Lady Boat Dock at the northeast corner of Michigan Avenue and Wacker Drive—just a half-mile walk from AMLI's River North apartments.
For those who'd really like to kick back, take the Twilight River Cruise and enjoy a cocktail, a snack and less direct sun. The buildings are beautiful cast in the softer light.
Regardless of which tour you choose, you save some dough by buying combo tickets. These give discounted access to the Chicago Architecture Center within seven days of your ticket purchase.
600 E. Grand Ave.
If you're short on time, check out Seadog's 30-minute Lakefront Speedboat Tour. You'll cruise by some of Chicago's greatest hits—Navy Pier, the Hancock and Adler Planetarium, to name a few—and a perspective on the skyline you can't see anywhere else.
Kayak
1220 W. Le Moyne St.
Get your workout on the water! Whether you're an advanced kayaker or a novice, you can get out on the Chicago River with Kayak Chicago's architectural tours. Tours begin with a paddling and water safety lesson, and continue with a paddle down the river while your guide tells stories from Chicago history and the present day.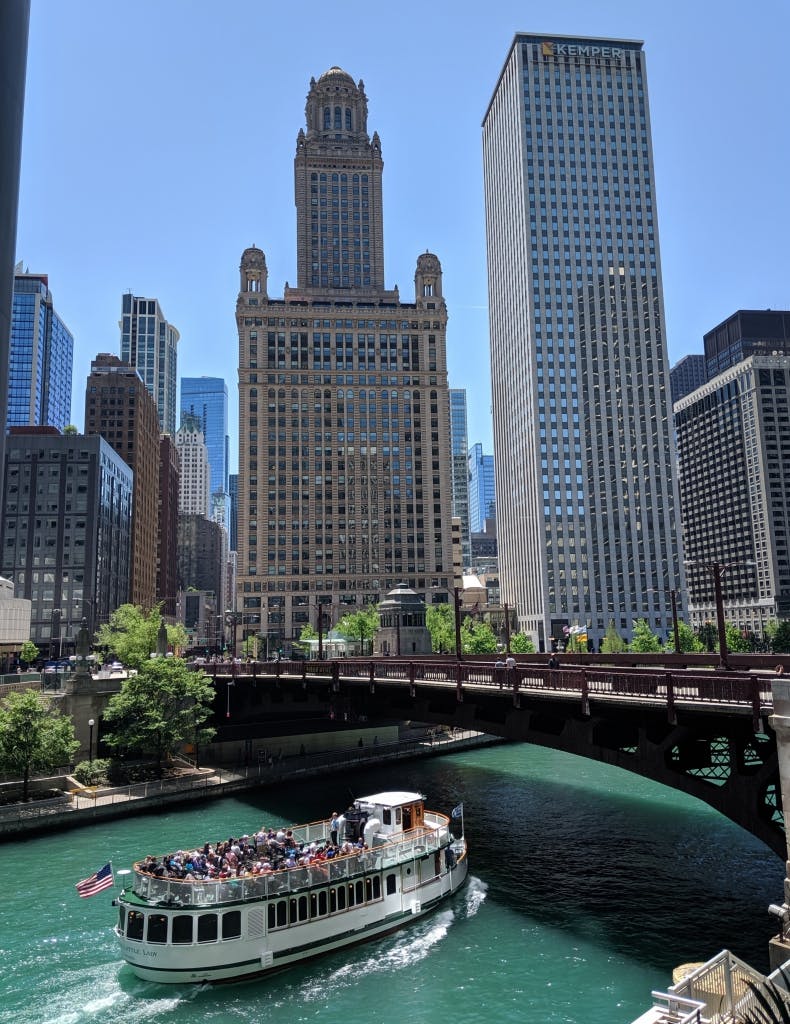 Bike
951 W. Chicago Ave., Oak Park
If you're in town between June and September, consider the Pedal Oak Park tour. It begins and ends at the Frank Lloyd Wright Home and Studio in Oak Park, where you'll take off to explore 21 Wright-designed structures over the course of a leisurely a 2-hour bike ride. No bike? No problem. You can bring your own, or one can be provided for you for no additional charge.
Bus
209 S. LaSalle St.
Prefer to take in Frank Lloyd Wright's architectural feats on more than two wheels? Wright Around Chicago's World Heritage Tour is the way to go. This 7-hour tour begins at the Light Court in the Rookery and explores Oak Park—home to the world's most Wright-designed residences.
Walking
30 N. LaSalle St.
Wanting to stretch your legs? The Chicago Architecture Center also provides an excellent walking tour of the Art Deco skyscrapers in The Loop. You'll step back into the Roaring 20s and explore the financial district, viewing landmarks like the Field Building and Chicago Board of Trade.
***
Main photo courtesy Pexels/9153 images
Second photo courtesy of Unsplash/Solstice Hannan