There are some cities around the world that are known for their cocktail culture. New Orleans is one, so is Mexico City. Iceland's capital, Reykjavik, is also a popular cocktail city. 
Weirdly enough, though, Chicago has never been a city known for its cocktails. There are bars and saloons all over the city, but it hasn't produced nearly as much cocktail culture as, say, San Francisco or New York City. Weird, huh?
This doesn't mean that Chicago doesn't have a cocktail culture at all, however. The cocktails that did become local favorites usually centered on whiskey-based mixtures, rather than vodka, tequila or gin.
According to historical records written in the early-1900s, however, the society and people who shaped Chicago in the early 20th century had a significant amount to do with the drinking culture. 
In a city defined by hardworking, industrial attitudes, straight whiskey and bourbon were the most popular drinks prior to the Prohibition. Cocktail historian David Wondrich likens the straightforward drinking culture to the equally straightforward attitudes of a working-class population. 
Nowadays, you can walk into any bar in the city and find a decent glass of straight whiskey or bourbon. And, thanks to some adventurous Chicago bartenders, there are even a few cocktails that found their start right here in the Windy City! If you live in our luxury Chicago apartments, then you'll want to check these out.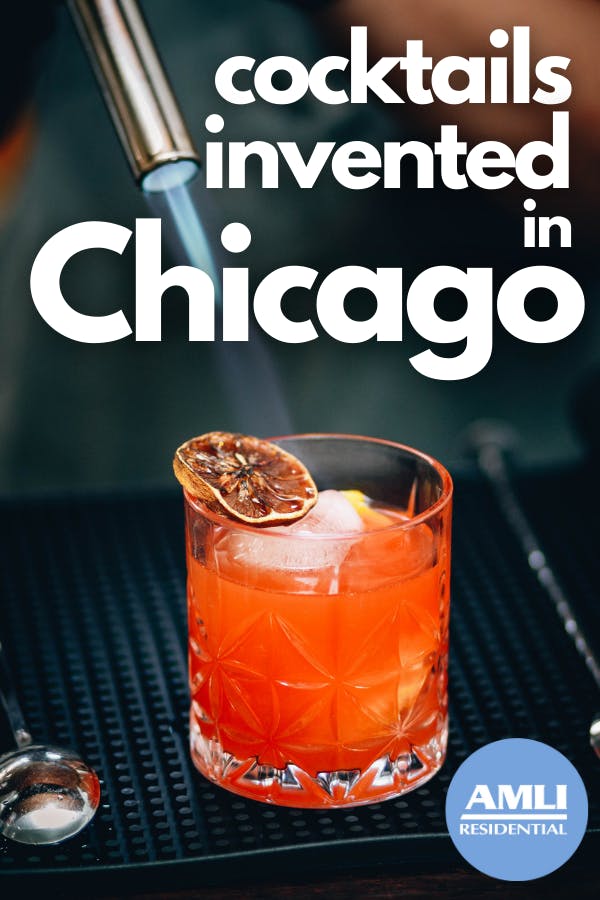 Cocktails invented in Chicago
Back in the late 1800s, fire departments used glass hand grenades filled with flame retardant to combat fires. 
Today's drink is a nod to that old tradition. The scotch-based drink is poured into a sealable glass jar (usually shaped like a grenade or potion vial) and mixed with a rich smoke. When the drink is ready to be enjoyed, either the bartender or the customer can uncork the "grenade" and pour the rich smoky drink over a large ice cube. 
This elegant drink is perfect for celebrations and special occasions. Angostura Bitters and Triple Sec are mixed with just a pinch of Brandy, and the whole thing is topped off with some sparkling champagne and garnished with a twisted lemon wedge.
There's not too much information on where exactly this Chicago-based cocktail was invented, but we do know that the first mention of it was in some late 19th century cocktail manuals.
The Old Fashioned
Arguably the most popular of Chicago's famed drinks, the Old Fashioned is a cocktail pretty true to its name. 
The first-recorded mention of this cocktail was in an 1803 newspaper, where the editor mentioned a drink made with a combination of spirits, sugar, water and bitters. This became known as "the cocktail," and the recipe is almost identical to that of an Old Fashioned. 
Essentially, the Old Fashioned was the origin of all cocktails, and it was so much of an original that it itself was referred to as "the cocktail."  
The Mamie Taylor
Consisting of soda water, ice and some type of spirit, fizzes were popular cocktails in the late 19th to early 20th centuries. Chicago's Mamie Taylor cocktail was the city's addition to the genre and was named after the famous Vaudeville actress of the same name. Made with Scotch, lime juice and ginger beer, this is the closest predecessor to the Moscow Mule that is known to have existed, but it wasn't nearly as popular.
The Mickey Finn
One of the darker spots in Chicago's cocktail history is the invention of the Mickey Finn. 
Back in the early 1900s, the South Loop used to be home to an area called Whiskey Row, which was around 11th Street and State Street. Mickey Finn owned a bar called Lone Star Saloon in the area and created an infamous drink that still has cultural repercussions today. 
The Mickey Finn, as it was called, was a drink laced with drugs that the saloon owner would use to incapacitate and rob his customers. When they awoke, they would remember little of what happened, and Mickey Finn would get away unscathed. 
This practice continued all over Chicago as disgruntled waiters and bartenders would slip their annoying customers "Mickey Finn powder." The term "slipped a Mickey" still is used today to refer to laced drinks. 
Next time you're at a Chicago bar or are looking to expand your own cocktail-making repertoire, try out one of these cocktails! You can see how they are all rooted in the history, culture and people of Chicago, so enjoying them will be that much more special when you sip on these crisp, classic cocktails. 
Enjoy!
Pin it!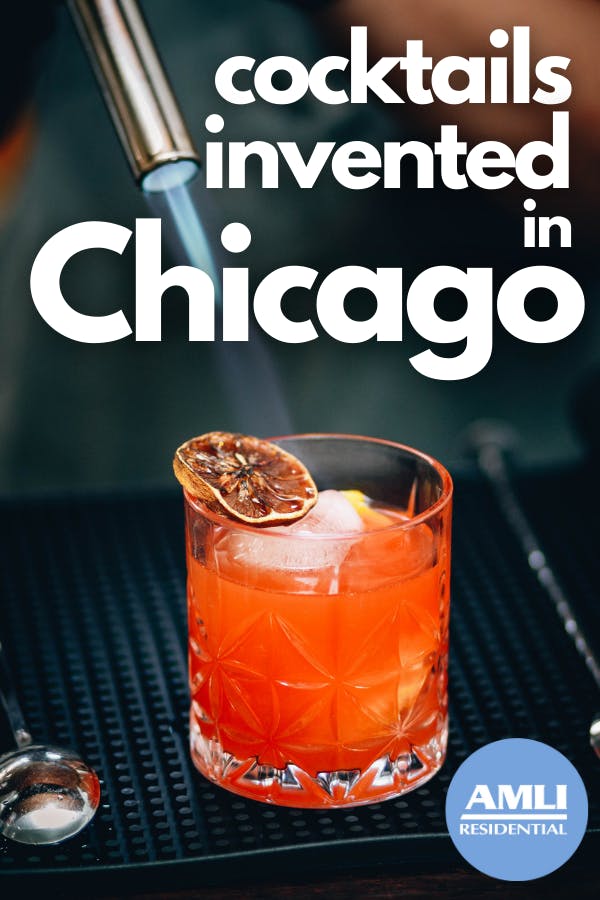 Featured photo courtesy Pixabay/wagjm