Q: What do Georgia locals say when they feel all warm and fuzzy inside?
A: Just peachy!
Laughter is a staple when it comes to a memorable night out, and Atlanta has plenty to offer in the comedy club department. All jokes aside, finding a good comedy haunt can instantly elevate you to the "cool friend" position in your group.
Check out these highly-reviewed comedy clubs in Atlanta to find your next pun-filled night.
1216 Spring St. NW, Atlanta
This award-winning comedy club is located less than a mile away from our Midtown Atlanta apartments. Whole World Improv Theatre Co. has a genre of laughs for anyone and everyone with their wide variety of performers and events. The club prides itself on its unique experiences, as each show is based entirely on audience suggestions and participation. Events include classic improv sessions, a "Flirty 10:30" show on love and dating and improv classes where kids and adults can refine their skills.
Here's a brief schedule of their shows:
Improv House Party
8-10 p.m. on Thursdays
Ladies! Show up before 7:30 p.m. to enter for free! After that, the cost is a mere $10 for a night full of fun and entertainment.
Classic Improv
9-11 p.m. on Fridays
8-10 p.m. on Saturdays
Flirty 10:30
Sat. 10:30 p.m. - 11:30 p.m.
569 Ezzard St. SE
If you didn't know already, Old Fourth Ward has a gem of a comedy club in its midst. Dad's Garage has everything from improv classes to plays to corporate workshops, and is dedicated to positively impacting people through laughter and community.
In addition from the weekly improv competitions and comedy battles, Dad's Garage features dozens of special performances and events, so sip on local beer and wine or order a specialty cocktail while giggling and guffawing at the hilarity ensuing on stage.
Dad's is a non-profit that hosts community outreach programs with high schools and pay-it-forward programs. Not only do your donations go toward keeping the lights on, but they go toward building healthy relationships with the community. Two birds, one stone. What could be better?
P.S. If you're having trouble getting there, just keep an eye out for porcelain toilet flower pots outside an old church. Trust us, you can't miss it.
878 Peachtree St. NE
Nestled in the heart of Midtown, Laughing Skull Comedy Club is an intimate setting for high-class stand-up comedy. Plus, it's located inside the immensely-popular Vortex restaurant, so you can fill up on some heart-stopping delicacies before laughing it all off in the Lounge.
This exclusive club hosts comedy events every night, so you'll never miss out on an opportunity to crack up with laughter. Open mic nights are at 8 p.m. Monday through Wednesday, and they feature 15 local and national comedians. Laughing Skull's "Best of Atlanta" shows feature the best comedians around presenting their best 10 minutes of work, so you're bound to get some quality humor while supporting local professionals. Other shows include roasts, rapid-fire one-liners and improv.
Finally, don't miss the big names who frequent this popular lounge, such as Jeff Foxworthy (yes, THE Jeff Foxworthy) , Rachel Feinstein, Pete Davidson and Noah Gardenswartz.
3652 Roswell Road
Located between the Buckhead and East Chastain Park neighborhoods, The Punchline has a reputation for being one of the best stand-up comedy clubs in Atlanta.
Having hosted over 3,000 comedians  since 1982, The Punchline is one of the longest running comedy clubs in the city. This is the one-stop shop for all things comedy: from family fun to first dates to business outings, The Punchline has it all.
Still aren't convinced? Massive names such as Eddie Murphy, Dave Chappelle, Ron White, Jerry Seinfeld and many, many more have graced the stage of The Punchline, so you know you're in for a real treat.
195 Ottley Drive NE
If you fancy a belly full of both laughs and beer, look no further than the Beer and Comedy shows at SweetWater Brewery. The concept of a beer-plus-comedy show came about right here in Atlanta in 2011, and has since spread to three other states since. Needless to say, it's been a hit.
With guests such as Ron White and Iliza Schliezenger, the SweetWater Brewery show runs 8 p.m. every other Monday at $12 per ticket (which includes two beers).
All in all, Atlanta has some prime-time comedy gold just waiting to be mined. Each one of these comedy clubs in Atlanta will offer a great evening of entertainment, no matter what your style is.
Also, don't forget to keep an eye out for reviews of comedy clubs in other AMLI communities, just like this one about comedy in Los Angeles. Until then, enjoy!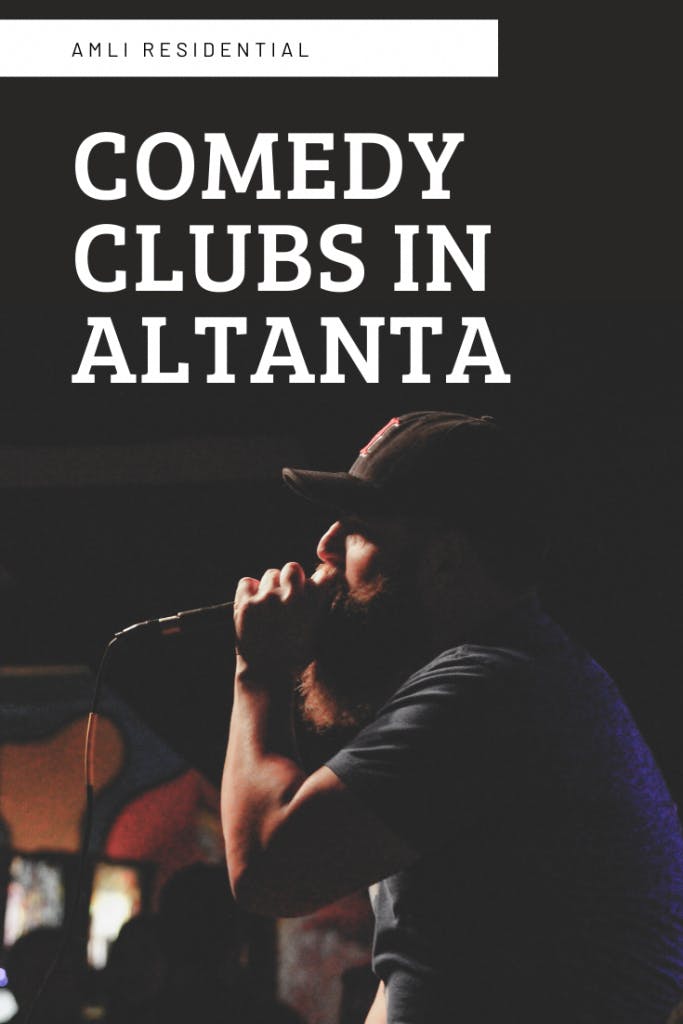 Feature photos courtesy Pixabay/4753994