It's summer time, which means long, sunny days and weekend cookouts with friends and family.
And there's arguably no one who knows cookouts under the hot summer sun better than Hawaiians!
With a rich, ancient history that stretches all over the Polynesian islands across the Pacific, Hawaiian culture is closely tied to the land, air and ocean. And with an abundance of tropical environments and stunning scenery, it's a no-brainer that the food out there is absolutely mouth-watering.
Here are some of the most popular foods prepared, cooked and eaten in Hawaii, as well as their origins and the stories behind each special dish!
Enjoy!
10 popular Hawaiian dishes 
Poké
Poké bowls are popular all over the mainland, but this fresh seafood-based bowl of happiness originated in the Pacific islands and was likely brought to Hawaii by early Polynesian settlers. 
Meaning "to cut, slice or section" in Hawaiian, poké is typically made with fresh, raw fish seasoned with salt, soy sauce and scallions. Tuna is the most prevalent fish served as poké, but salmon, shrimp, octopus, crab and other locally available seafood is popular, too. It's often served alongside rice, ginger and seaweed salad. 
Here's how you can make your own poké at home!
Loco moco
This iconic dish is a staple of casual Hawaiian fare. Loco moco consists of a hamburger patty atop a mound of sticky rice, topped with a sunny-side-up fried egg and drenched in rich brown gravy. It is believed to have originated in the 1940s at a restaurant called the Lincoln Grill in Hilo on the Big Island of Hawaii.
Though simple in construction, this cozy dish is a must-try at any home kitchen — especially since you likely already have all the ingredients! Here's how to make it at home.
Poi
Poi is a traditional Hawaiian dish made from the root of the taro plant — which itself is a staple food in traditional and modern Hawaiian cuisine. It is a thick, starchy food that is made by cooking the taro corm and pounding it into a paste, and it's often eaten alongside a main dish like kālua pork or lau lau. 
Poi is believed to have originated in the Marquesas Islands and was brought to Hawaii by early Polynesian settlers. The food, along with the parent plant from which it originates, had a reverential place among ancient Hawaiians, and as such was grown extensively throughout the island chain. 
Here's how you can make poi — or at least, a suitable substitute!
Saimin
Saimin is a noodle soup that's made with thin Chinese noodles, fish cakes, and other toppings to include soy sauce, scallions, char siu pork and egg. It's the kind of dish every decent Hawaiian home cook knows how to make, but their recipes are all likely to be different.
Saimin is believed to have originated in the early 1900s when Chinese and Japanese immigrants brought their noodle soup recipes to Hawaii. It's unclear who exactly should be credited with the modern day staple, but either way, it's Hawaiian now. 
Enjoy this soup as a light snack, a filling lunch or as a colorful dinner centerpiece, and feel free to add or remove toppings however you'd like! 
Here's how you can make saimin.
Manapua
Manapua is a steamed bun that is, essentially, the Hawaiian equivalent of Chinese char siu bao — steamed pork buns.
Made with light, fluffy dough filled with pork or sweet potato, manapua is believed to have originated in the plantation era of the mid 1800s, back when Chinese immigrants arrived to the islands to work on sugar plantations. Now, it's a popular grab-and-go snack and an easy-to-make dish at home, though you can substitute the filling for whatever you'd like. 
Here's how you can make manapua at home!
Kālua pork
The word  "kālua" means "to cook in an underground oven" in Hawaiian, which is how this dish was traditionally made by Hawaii's early settlers. 
Made by wrapping a whole salted pig in banana leaves, placing it in a 5-foot-deep fire pit and covering it with vegetation and sand, this slow-cooked pork is one of the main dishes in Hawaiian cuisine — not to mention one of the more culturally significant. Traditionally, the dish was served at luaus and large gatherings of people, all of whom would share in the tasty fork after 6-7 hours of careful, slow cooking. 
Luckily, though, you don't need sand, a whole pig or 7 hours of your life to make kālua pork nowadays; all you need is an oven! Here's how you can make kālua pork at home!
Lau lau
Found all over the Polynesian islands in varying forms, lau lau is a dish made by wrapping pork, fish or potatoes in leaves and steaming the bundle in an underground oven called an imu. 
In Hawaii, the dish typically features pork wrapped in layers of banana leaves and layers of taro leaves. Once cooked, the leaves are unwrapped and the filling is served alongside poi or sticky rice. 
Cooking lau lau is a big part of parties and social gatherings, and cooking it over coals can take a good few hours (at the least!). Though most people make this dish in the oven nowadays, it's still best enjoyed socially with friends and family to share in your hard-earned creation!
Here's how you can make lau lau at home.
Plate lunch
Classic. Simple. Tasty. 
The plate lunch is a staple of food trucks, restaurants and kitchens all over Hawaii, and it's its simplicity that will mark it in the pages of history. 
The essential breakdown of a plate lunch is two scoops of white rice, a scoop of some meat entrée and a scoop of macaroni salad. More than one entrée is a mixed plate, but there is never any less than the quintessential rice-meat-salad combo. 
The dish likely emerged from the sugar plantation days of the mid-19th century, where plantation workers ate to-go-style lunches of leftover rice, meat and wherever else they had on hand. As more and more immigrants from Portugal, China, Japan and the Philippines arrived on the islands, the ingredients in those work lunches slowly evolved. 
Today, the plate lunch typically features a meat like chicken katsu, garlic shrimp, char siu pork, beef teriyaki or kālua pork, a side of mac salad and two scoops of rice. Gravy, sides of poké and noodles are also common additions. 
Wanna give it a go? Pack yourself a Hawaiian plate lunch for your next day at work!
Shave ice
Not shave-d ice, but shave ice.
Made with shaved ice flavored with syrup and served in a paper cone, this popular Hawaiian treat resembles typical mainlander snow cones (though snow cones are made with crushed ice rather than shaved).
The sweet treat originated with Japanese immigrants in the early 20th century when they arrived in Hawaii to work on sugar plantations. Japan had, for a few centuries already, enjoyed a dessert called kakigōri made with shaved ice and a sweetened condensed milk topping, though it was typically a treat only for the wealthy who could afford to store ice. 
By the early 1900s, though, new technology like freezers and refrigerators made cold storage more accessible, and the Japanese immigrants took full advantage of the tech and began to make kakigōri at home. The rest, as they say, is history!
Here's how you can make it, too!
Haupia 
This sweet, gelatin-like dessert is a staple at gatherings and parties, as it's easy to make, has very few ingredients and is unequivocally plain delicious. 
Made with coconut milk, sugar and cornstarch, haupia is usually served sliced into cubes and topped with fresh fruit curd or roasted coconut flakes. It's light, refreshing and incredibly versatile, often appearing atop pies, shortbread and tarts. 
Haupia was traditionally baked in underground ovens wrapped in banana leaves, but today it can be made in a normal, very-much-above-ground oven or in the fridge. Either way this jello-like dessert is a must-try if you like the taste of fresh coconut!
What a great cuisine, huh? And that's just the tip of the iceberg… or island… or volcano… you get the picture.
The best way to enjoy these Hawaiian recipes is with your ohana — your family and friends. Have fun!
Pin it!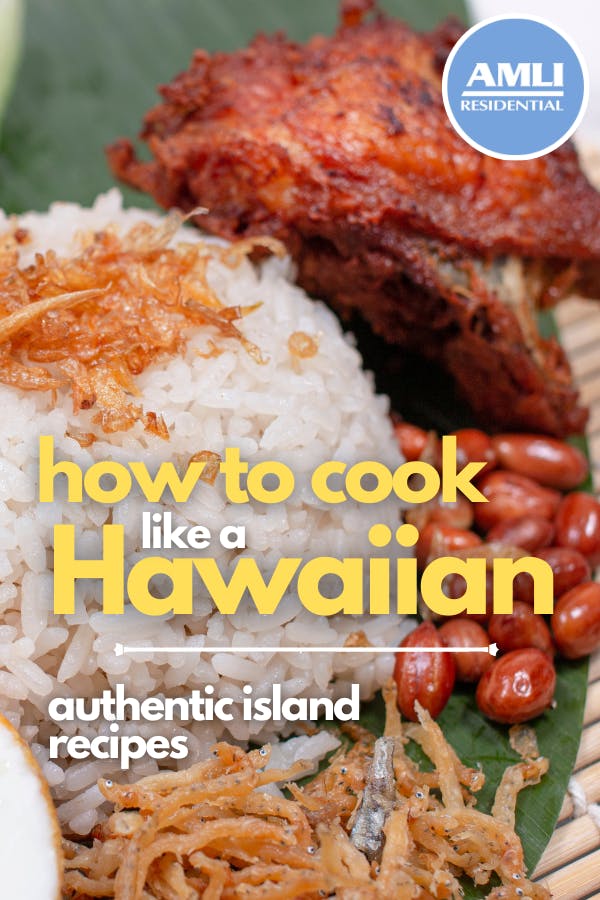 Featured photo courtesy Pixabay/PublicDomainPictures