As Denverites, we're well-versed in the allure of the Rocky Mountains, their grandeur amplified by the wild winter season. While the city offers its own winter wonderland, venturing beyond city limits unveils a treasure trove of cozy towns, each exuding a unique charm that epitomizes the magic of winter.
5 magical mountain towns near Denver
Idaho Springs
Nestled just 35 miles west of Denver at the base of the majestic Mount Evans, Idaho Springs is an attractive winter destination with its quaint charm and abundance of outdoor activities. The historic downtown is warm and welcoming, lined with old-timey buildings filled with art galleries, boutiques and cozy cafes. Plus, its rich history dating back to the Gold Rush era adds a layer of intrigue to this charming mountain town.
If you're looking for some outdoor activities, there's plenty to do here, too. Head out on a thrilling snowmobile adventure through the surrounding mountains or explore the town's network of cross-country ski and snowshoe trails. For a more leisurely experience, soak in the rejuvenating waters of the Idaho Springs Mineral Hot Springs, a local gem that's been visited by folks for over a hundred years!
Evergreen
Just a short drive from Denver, Evergreen offers a tranquil atmosphere perfect for a relaxing winter getaway. Though nestled amidst the quiet foothills of the Rocky Mountains, Evergreen 's peace and stillness is just a short drive from the center of busting Downtown Denver.
Evergreen is a must-go for visitors in the holiday season — the town is quaint and lively in their celebration of the holiday season with a tree lighting ceremony, live music and plenty of festive activities. The town also hosts a charming holiday market featuring local artisans and tasty treats, and there are plenty of local businesses, art galleries, studios and restaurants to visit in-between the festive activities. 
Evergreen is famous year-round for its natural beauty, but the chilly winter weather makes the serene lake, abundant parks and towering pine trees all the more beautiful covered with snow. 
Georgetown
Step back in time to the captivating era of the Gold Rush in Georgetown, a little winter paradise nestled amidst the majestic peaks of the Front Range. The town's historic district, with its wooden sidewalks and well-preserved buildings, transforms into a winter wonderland during the holiday season, with luminaries lining the streets and festive decorations adorning the shops and restaurants.
Immerse yourself in the town's Christmas market celebration, featuring carolers, horse-drawn carriage rides and a festive atmosphere. You can also explore the town's network of cross-country ski trails offering scenic views of the surrounding mountains; or, for a more leisurely experience, enjoy a cozy horse-drawn carriage ride through the historic downtown! 
Dillon Reservoir
Located just an hour west of Denver, the Dillon Reservoir area is a haven for outdoor enthusiasts during the winter months. The towns around the lake — Silverthorne, Dillon and Frisco —  are just minutes from world-class ski resorts such as Breckenridge and Keystone, making them ideal destinations for those seeking adrenaline-pumping adventures on the slopes.
Beyond skiing and snowboarding at the resorts,Dillon Reservoir offers a plethora of winter activities to suit all interests. Head out on a snowshoeing expedition through the serene trails of the water or hop on a breathtaking sleigh ride through the snow-covered meadows. Then, when you're done, pop into one of the many local restaurants, galleries and storefronts to warm up from the chilly winter air.
Breckenridge
We're all familiar with Breckenridge's wintery appeal. After all, it's got some of the best skiing and snowboarding around! 
Nestled high in the Rocky Mountains, the town of Breckenridge is a charming blend of historic ambiance and modern luxury. The town's historic downtown, lined with Victorian-era-style buildings, transforms into a winter wonderland adorned with twinkling lights and festive decorations that make the already cozy mountain town that much more appealing. 
Head outside and hit the slopes of Breckenridge Ski Resort, renowned for its world-class terrain and breathtaking views. Or, for a more leisurely experience, glide across the ice rink at the Breckenridge Riverwalk Center or embark on a scenic snowshoe or cross-country ski adventure. 
Whether you stay in the city this season or want to get out and about, these cozy winter towns are a quick hop, skip and jump away from our luxury Denver apartments. As you venture into these enchanting winter wonderlands, discover the unique charm and captivating beauty that each town has to offer. You're sure to create some unforgettable memories and experience magical winter moments that will last a lifetime.
Enjoy!
Pin it!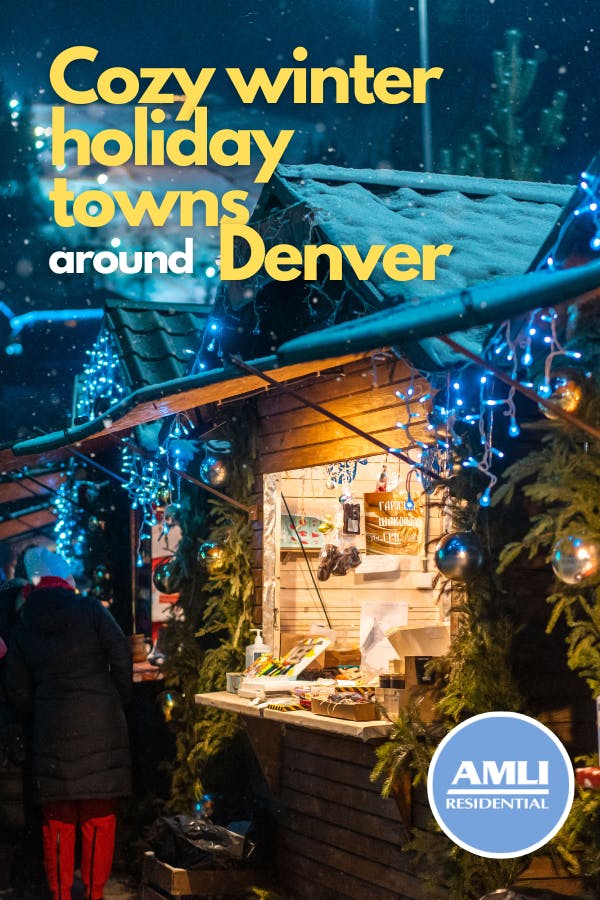 Featured photo courtesy Pixabay/1778011