The weather is heating up, the days are becoming longer, and there's no better time than now to enjoy an ice-cold adult beverage. No matter if you're spending your weekends lazily lounging by the pool or heading to a friend's barbecue, whipping up tasty cocktails is a guaranteed way to win over your friends and family. Since a frosty, cool drink can be a summer staple, we've gathered a few recipes to help you beat the heat and stay refreshed. So grab a few glasses and let's raise a toast to these tasty summer cocktails.
A sweet twist on an otherwise simple classic, the blackberry cucumber gin and tonic is guaranteed to hit the spot. Even better? It's super easy to make! That's right, the only four ingredients are labeled right in the title, all that's left to do is mix, shake and pour.
Ingredients:
8 fresh blackberries
3-4 slices of cucumber
1-1.5 ounces of gin (your favorite brand)
1 cup tonic
Instructions:
Pour a few of your blackberries into the bottom of your cup and smash with a fork.
Add ice.
Pour gin and mix with the blackberries.
Pour in your tonic.
Garnish with blackberries and cucumber slices.
Enjoy!
You'll probably want some friends here, because this refreshing watermelon mojito is good for six drinks. If not, you can always leave the big batch in a large, sealed container for later. Just be sure to store it in the fridge.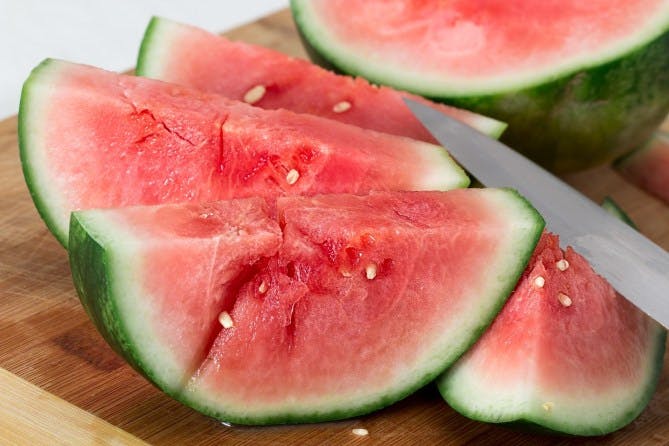 Ingredients:
30(ish) mint leaves
3-4 slices of fresh watermelon
12 ounces light rum (your favorite brand)
1/2 cup simple syrup
3 limes
Instructions:
Grab your pitcher!
Cut up your watermelon and remove the seeds before tossing it into a food processor to puree.
As the watermelon is pureeing, mash the mint leaves.
Add the watermelon and mashed mint to the pitcher.
Add the rum, simple syrup & lime juice.
Stir to combine & pour over ice.
Garnish with fresh mint.
Drink up!
We don't know about your drinking preferences, but it's pretty hard to go wrong when it comes to sangria. A little bit of sweet, a little bit of booze and a whole lot of flavor makes this drink a favorite no matter if you're at a barbecue, the lake, or just lounging around your apartment. The best part? It's super easy to make!
Ingredients:
1/4 cup sugar
1/4 cup water (pro tip: if you want to skip the prep work, buy simple syrup in place of the sugar and water)
2 1/2 cups rosé
2 1/2 cups sweet sparkling wine
1/3 cup blueberry rum
1/2 cup assorted fruit (we recommend strawberries and blueberries)
Instructions:
Toss the sugar and water in a pot and heat until it reaches a boil. Stir until the syrup is formed before setting aside to cool. Or, as mentioned above, buy some simple syrup.
In a pitcher, combine the rosé, sweet sparkling wine, rum and fruits.
Add in your homemade (or store bought) simple syrup and stir.
Pour over ice to enjoy now, or refrigerate overnight to enjoy the next day.