We all have a sweet tooth. Whether it be looking forward to a scrumptious slice of pie or diving into a hot fudge sundae, dessert is the perfect way to end your evening. For those of you who don't have the time or motivation to slave away in the kitchen, Seattle provides you with an abundance of dessert shops that will elate your taste buds and keep you heading back for more. Below, we've included 5  delectable dessert shops for you to try out.
7415 Greenwood Avenue N & 517 E. Pike St.
Every business has a beginning, and Seattle Cookie Counter's began when vision met opportunity. What initially started as selling vegan ice cream from a food truck, has since turned into a storefront that leaves stomachs full and hearts happy.  Though closed on Mondays, Seattle Cookie Counter is guaranteed to serve up tasty treats for its visitors every other day of the week. No matter if you're in the mood for cookies, ice cream or delicious brownies, all of their baked goods are made fresh and in-house. Even better? Everything is 100 percent vegan! That's right, you can feel healthy while indulging in all of your favorite goodies. Likewise, owners try to use organic ingredients as often as possible, as well as providing gluten-free options for anyone with dietary restrictions. Seattle Cookie Counter's Greenwood location is just 10 minutes from our Wallingford apartments and the Capitol Hill location is less than a 10-minute walk from our downtown Seattle apartments.
2720 Third Ave.
For any of you who haven't tried cannoli, we recommend getting in your car and heading over to this spot in Belltown. An Italian pastry made with a tasty shell and sweet, cream filling, you can often personalize your dessert with chocolate, fruit or nuts. Head on into the store to purchase a single cannoli, or kick things up a notch and buy them by the dozens to provide treats for friends, family, co-workers or yourself (we won't judge). Flavors rotate daily, with options for you to choose from including:
Almond
Banana cream pie
Salted caramel pecan
Nutella
Coconut
Holy Cannoli is also known to serve up some scrumptious soups, salads and sandwiches, just don't forget to grab some dessert afterward.
5427 Ballard Ave. NW & 1650 E. Olive Way
A short walk from our Ballard apartments will lead you directly to Hot Cakes, where you can breathe in the alluring smell of freshly made cakes and desserts. Serving up high-end organic treats, Hot Cakes began with the start of molten chocolate cake and has since taken Seattle's dessert scene by storm. You can enjoy a wide variety of flavored molten cakes, along with cobblers, pudding, boozy shakes and more. Opening at noon during the weekdays and 10am on the weekends, you'll have plenty of time to stop in for a tasty treat. If you work downtown, the Capitol Hill location opens at 4pm on weekdays, making a great stop before you head home.
For those of you who are wilderness advocates, we recommend trying out Hot Cakes Wilderness Collection, where you'll experience new flavors such as smoked chocolate, hot cocoa and campfire caramel sauce. Additionally, Hot Cakes donates 5 percent of all Wilderness Collection sales to Washington Wild and Forterra, non-profits focused on protecting and restoring our forests and coastlines.
1400 Third Ave.
If you're in the mood to experience authentic gelato, make your way over to Gelatiamo. Gelatiamo first opened their doors back in 1996 as one of Seattle's first gelato ⁠cafés, packing together a signature line of fresh and flavorful ingredients. With such vibrant flavors in front of you, it can be hard to believe that gelato is actually much denser than ice cream, but traditionally contains less fat. A wide variety of gelato flavors are offered, with ingredients oftentimes including honey, lavender and wine.
Additionally, Gelatiamo offers cakes, pastries and cookies, as well as specialty items including tarts, cream puffs and cannolis.
601 E. Pike St.
Open seven days a week, R & M Dessert Bar is a lively and unique café that brings everyone's dessert dreams to life. Quickly filling up with tourists and locals alike, we recommend making a reservation to secure your spot and try out all of their tasty treats. With cookies and cakes to breads, tarts and pies⁠—there is sure to be something for everyone. Additionally, R & M Dessert Bar offers reservations for parties and gatherings, perfect for the quickly approaching holidays!
R & M Dessert Bar is less than 10 minutes from our South Lake Union apartments.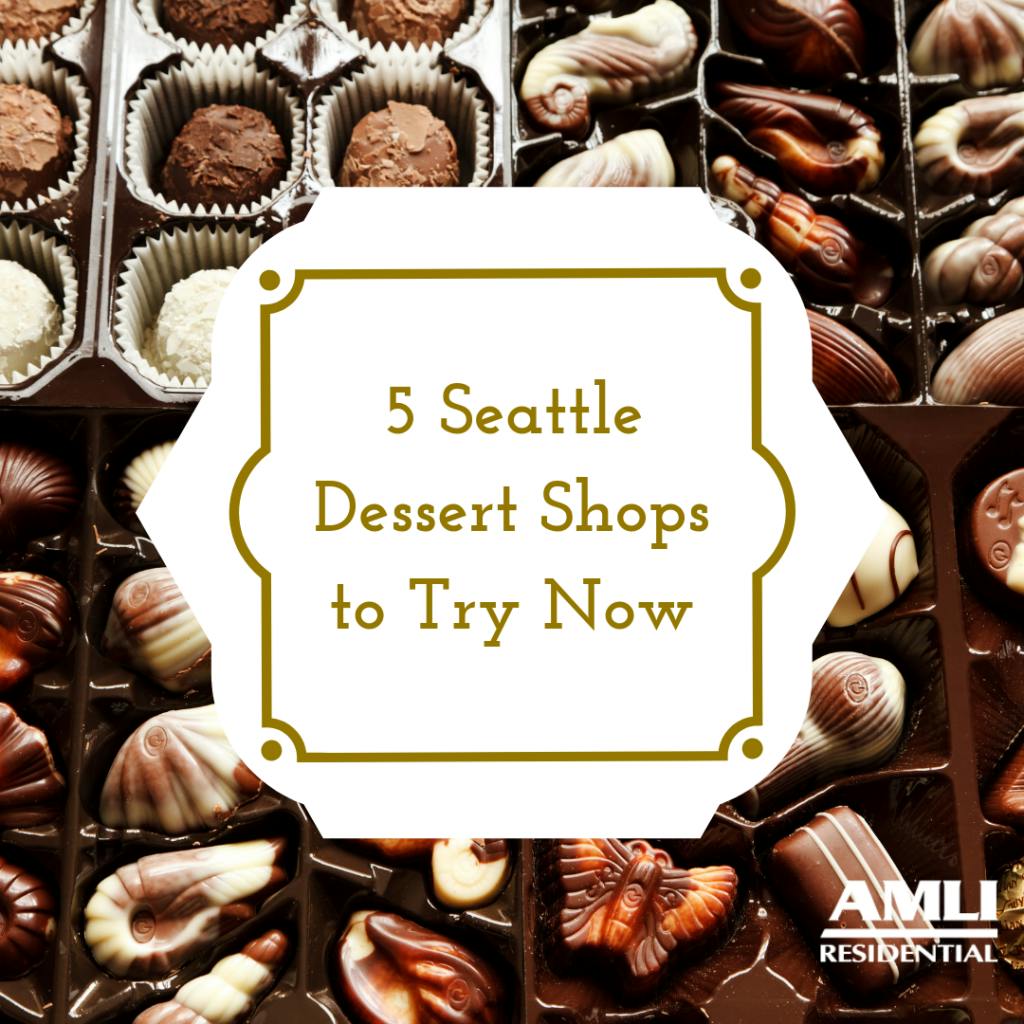 ***
Main photo courtesy Pixabay/Pexels