St. Patrick's Day is a big deal in Chicago. No single event that takes place in the days around the beloved Irish holiday draws a larger crowd than the city's annual parade and river coloring, which is in its 59th year. If you are unsure what you'll be doing to celebrate, consider attending Chicago's 59th Annual St. Patrick's Day Parade. Here's why…
1. It's Been a Long Winter
At the beginning of February, nearly 70 inches of snowfall had been recorded at O'Hare International Airport this winter to date. More snow has fallen since, and the last snowfall of the season is unlikely to have graced us with its presence just yet. Needless to say, the 2013-2014 winter, which may accurately be dubbed "the attack of the polar vortices," has been rough. And that's putting it lightly! While no one can promise St. Patrick's weekend will be sunny and warm, you are almost guaranteed to find a larger, more energetic crowd congregated outside for the parade than Chicago has seen since New Year's. And that is a cause for celebration!
2. Anyone in Chicago can be Irish on St. Patrick's Day
Chicago has a large Irish Catholic population, but the vast majority of people living in Chicago are neither Irish nor Catholic. During the middle of March, anyone with the will to go out and be merry is welcome to celebrate as if she were an Irishwoman, reveling in the memory of Saint Patrick and his significant contributions to his religious community in Ireland. By some accounts, the largest and most exciting St. Patrick's Day celebrations in the United States are even larger than those in the land of the Irish.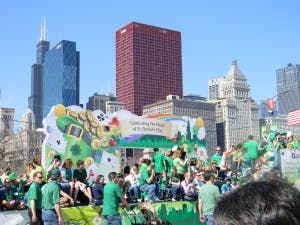 3. The Sound of Bagpipes is Music to Most Ears
The deep, droning sound of bagpipes is omnipresent at Chicago's Saint Patrick's Day parade. If your ears swoon to the melodies produced by this beautiful and rare instrument, you can treat yourself to a free show simply by showing up at the parade. Several troupes of esteemed bagpipers will march in the parade, making music while they walk.
4. The More, The Merrier
Chicago's St. Patrick's Day Parade has been a popular event for decades, but it has grown even larger in recent years. If you attend, you'll be able to leech off of the festive cheer of thousands, eventually contributing to the mass of jolliness with your own irrepressible smile. Last year, some 400,000 people participated in or attended the parade.
5. The River Gets a Green Makeover
The dyeing of the Chicago River is something people journey from all over the greater metropolitan area to see. If you live in River North, you are just a short walk away from this spectacle. The water's green shine only lasts for five hours or so, so make sure you get there in time!
Chicago's St. Patrick's Day Parade is ranked on numerous top ten lists, in some cases coming in at third best behind only New York City and Dublin. The river dyeing takes place on March 15 at 10 AM, and the parade is scheduled to kick off promptly at noon. Marching starts at Columbus and Balbo and ends at Columbus and Monroe. Don't forget to wear green!
Are you planning on going all out for this year's St. Patrick's Day Parade? Spread the luck of the Irish around by sharing what you are doing to prepare for the event in the comments!
Like what you just read? Why not subscribe to the AMLI Blog so you don't miss a post about the Chicago area?