There's just something about old diners, colorful car washes and old-timey drive-ins that just screams 1950s Los Angeles. But what is it about this wacky, retro style that has us feeling nostalgic for a time that most of us have never experienced? 
What you're thinking of is Googie architecture, and Los Angeles was at the heart of this futuristic, "Jetsons" – like style for most of the late 1940s and 1950s. 
Here's a glimpse into Googie architecture, how it arrived in L.A. and, most importantly, where it all disappeared to.
Remnants of Googie in Southern California
Origins in Streamline Moderne
Googie style evolved out of the Streamline Moderne architectural style of the 1930s and 1940s, which itself was a more sleek and slender variety of the Art Deco style of the '20s and '30s. 
Art Deco architecture came about in late 1920s Europe after the devastating effects of World War I pushed society into redefining a new and brighter future for themselves. The style emerged as cubism, and fauvism painting styles became popular for their bright colors and geometric styles, and archaeological digs in Luxor, Egypt unearthed the bright colors and ornamental patterns of Ancient Egypt and King Tutankhamun. New technology and machines were emerging, too, leading to an affinity for power, electricity and progress while simultaneously building upon ancient patterns, hard lines, zig-zags and chevrons. 
The result was a generation of futuristic buildings with bright colors, geometric patterns and ancient symbols. Some of the best representations of Art Deco architecture are in Miami Beach (Ocean Beach Drive), Chicago (the Chicago Tribune Building) and New York City (Rockefeller Center, RCA Victor Building and the Chrysler Building).
As the United States moved into the mid-1930s, materials such as stainless steel, plastic and chrome plating entered the market. These sleek, smooth finishes gave off a simpler, more futuristic effect that lacked the ornamentalism of Art Deco. Long, horizontal lines running along smooth curves that boasted fewer, bolder colors became popular as people moved toward a future powered by the rise in automobiles, trains and airplanes, and the resulting style became known as Streamline Moderne. 
In Los Angeles, the Streamline Moderne Style was taking off with the rise in car culture. Entertainment was no longer limited to Downtown L.A., and the spread of suburban America meant that people were driving much, much more than they ever had before. Businesses beyond the borders of Downtown business districts wanted to catch the eyes of motorists passing by, so they used bold colors, unusual silhouettes, elevated signs and bright neons to draw potential customers inside.
These buildings were, essentially, their own billboards, and the Streamline Moderne style had just the right type of eye-catching décor, futuristic appeal and high-energy silhouettes that drew people's attention.  
Most of the Streamline Moderne-styled businesses were centered around car culture, which mirrored the same values and aspirations as the futuristic architecture, and it was diners, drive-ins, car washes and gas stations who ended up adopting style more so than any other businesses. 
The rise of Googie
After World War II and into the early 1950s, Streamline Moderne began to lose its appeal in a society that had moved beyond the futuristic vision of the early 1930s. The world had entered the nuclear age which redefined energy and technology itself, and beyond that, humans were on track to enter orbit and walk in space! 
Cars, trains and airplanes were obsolete in the new vision for the future, replaced with pure energy and science. The public was entranced by the atomic age, nuclear power, rockets and space. 
This led to a new futuristic style that built upon the Streamline Moderne, one that featured boomerangs, starbursts, bright colors galore, sharp diagonal lines and a sense of defying gravity itself.  This style is what became known as Googie Style, and it was named after one of the very first businesses to incorporate the designs: The Googies Coffee Shop, once located right here in Hollywood. 
Googie style became popular in Los Angeles and, later on, in Las Vegas. Nearly all the Googie-style buildings were designed for private clients and businesses which, like Streamline Moderne, were centered around drive-in theaters, car washes, diners and gas stations.
Unfortunately for Googie, though, the style didn't last long after its peak in the 1950s and early '60s. Man reached space, landed on the moon and put an end to the space race. Nuclear power and nuclear energy were under strong scrutiny for their role in negatively impacting the ecology surrounding nuclear plants, and visions for the future had moved on to better and brighter things. Plus, commercial architecture styles were moving toward uniformity rather than uniqueness, and Googie styles were just too different to blend in.
In the years that followed, many Googie buildings were abandoned, forgotten and, eventually, demolished. Since many of them were private businesses, few thought them to be worth saving for nostalgia's sake. A handful of coffee shops and restaurants, including the world's oldest McDonalds in Downey, were saved after the Los Angeles Conservancy Modern Committee formed to preserve the city's remaining Googie buildings. 
Googie today
Though unpopular in the 1960's through the 1980s, Googie style is now seen as a significant piece of Los Angeles history and a glimpse into the aspirations and values of society at the time. 
We can see Googie represented on screen, too! The background art and animation for cartoons like "Dexter's Laboratory," "Johnny Bravo," "The Jetsons" and "The Powerpuff Girls" are all directly linked to Googie, allowing the futuristic style to live on in the nostalgia of an entirely new generation. 
In the end, Googie is an important part of architectural history here in the United States, and especially in Los Angeles. It symbolized car culture, the space age and styles of decades past, and it lives on in the few surviving buildings left in Los Angeles. 
Here's where you can see these Googie gems today!
Beach-Lin Car Wash: 126 S. Beach Blvd., Anaheim
Bob's Big Boy: 4211 W. Riverside Drive, Burbank
Brunswick Covina Bowl: 1060 W. San Bernardino Road, Covina
Casa de Cadillac: 14401 Ventura Blvd., Sherman Oaks
CBS Television City: 7800 Beverly Blvd., Los Angeles
Chips: 11908 Hawthorne Blvd., Hawthorne
Jack Colker Union 76: 427 N. Crescent Drive, Beverly Hills
La Habra 300 Bowl: 370 E. Whittier Blvd., La Habra
McDonalds: 10207 Lakewood Blvd., Downey
Norms: 470 N. La Cienega Blvd., Los Angeles
Pann's Restaurant & Coffee Shop: 6710 La Tijera Blvd., Los Angeles
Simply Wholesome: 4508 W. Slauson Ave., Los Angeles
So, check out these pieces of living history next time you're out and about our Southern California apartments, and think about how glorious life must have been in the heart of the space age and all its excitement!
Have fun!
Pin it!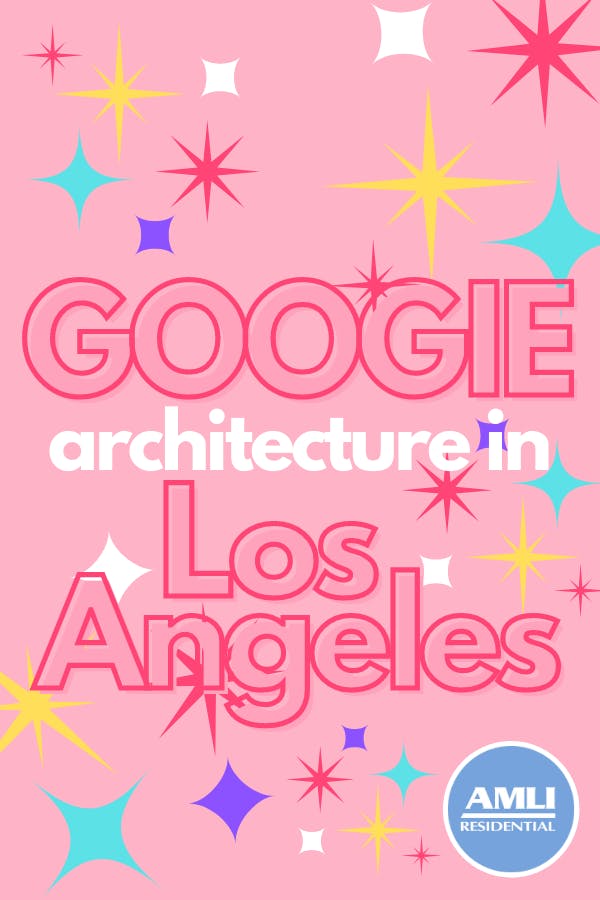 Featured photo courtesy Pixabay/Falkenpost