Palm Springs' reputation as a desert resort town stretches back more than a century. Throughout its history, the area has been known as a playground for the rich and famous, a golf mecca, a spring break destination, and a health resort center. An hour's drive from Rancho Cucamonga and 90 minutes from Orange, Palm Springs is an accessible weekend getaway for residents of AMLI Uptown Orange. If you're heading to the legendary resort town anytime soon, here is an overview to get you acquainted.
Understanding Palm Springs
A band of Cahuilla Native Americans has lived in present-day Palm Springs for up to 500 years. And until 1900, their ancestors and a handful of intrepid Mexican and European explorers were the only people who spent any time there. Among the area's early visitors were renowned American naturalist John Muir and author Robert Louis Stevenson. Resort development began in earnest around 1900 and picked up quickly, driven by demand from health tourists whose doctors recommended dry heat.
By the time Palm Springs was incorporated as a city in 1938, it was well-established as a playground for Hollywood's rich and famous. Lauren Bacall, Bob Hope, Liberace, Debbie Reynolds, and Frank Sinatra have all called the city home at one point. The city is still a popular celebrity getaway and vacation home destination, but it's not as exclusive as it once was. Nearly 50,000 residents call Palm Springs home year-round, and the city receives more than 1.5 million annual visitors. The Agua Caliente band of the Cahuilla tribe is still the city's largest landowner.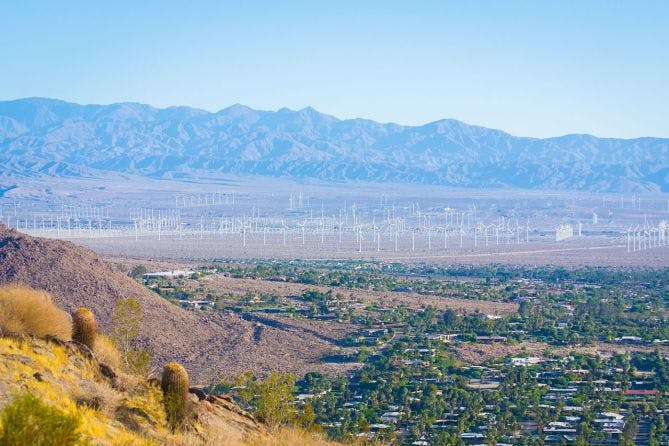 When to visit
Palm Springs lies in the Coachella Valley of the Sonoran Desert, one of the world's hottest. Average temperatures top 100 degrees from June through September, but the dry air pushes temperatures down into the 70s most nights. Peak tourist season runs from December through April. May and April can be warm, but are usually bearable. If you go in July or August, you might struggle to spend more than ten minutes outside at a time. But if you love heat and think you can handle a summer visit, you can score some great deals on lodging during these months. The prevalence of air conditioning and resort swimming pools should keep you from getting too uncomfortable.
Shop, hike, golf, and more
Resorts and attractions are scattered throughout Palm Springs, but restaurant and retail activity is centered around the parallel-running Indian Canyon Drive and Palm Canyon Road, the latter of which curves east south of Mesquite Avenue. Desert flora thrives throughout the city, and mountain views are nearly ubiquitous. But if you're looking to get out and explore nature, check out Indian Canyons on Palm Springs' south border. Andreas, Palm, Murray, and Tahquitz Canyons are home to vast rocky gorges, barren desert landscape, and a lush palm oasis. Choose from more than 60 miles of hiking trail within and connecting the canyons. Another way to enjoy Palm Springs' natural surroundings is to golf on one of the Coachella Valley's esteemed courses.
Eat like a legend
Palm Springs' restaurant scene is constantly evolving, with superb new restaurants opening each year. But Hollywood's Playground has several mainstays where you can enjoy a bite in the same setting as legendary movie stars from the 50s, 60s, and 70s. Las Consuelas serves the same authentic Mexican favorites that patrons enjoyed in 1958 at its 368 N. Palm Canyon location. High-end French restaurant Le Vallauris, open since 1974, serves dinner daily, lunch on Friday and Saturdays, and Sunday brunch. And Melvyn's Restaurant, a classy restaurant operating out of the historic Ingleside Inn, serves American and continental cuisine. Melvyn's is also home to an enchanting live music lounge. 
Like what you just read? Why not subscribe to the AMLI Blog so you don't miss another post?