Some of us like to watch scary movies from the comfort of our sofas. Some of us listen to spooky podcasts with all the lights switched on. Some of us like to read horror novels in the candlelight, and some of us like to visit these scary places in real life. 
If you're into all things spooky, then there are plenty of local haunts (pardon the pun!) that you can visit for some good old-fashioned frights. From old cemeteries to regal hotels to sprawling estates, the Miami area is chock-full of great spots to spot ghosts and hear some tall tales.
If you live in our luxury south Florida apartments, then you're close to some pretty spooky sights. Here are a few of Miami's most popular haunted places that have sent shivers down locals' backs for years!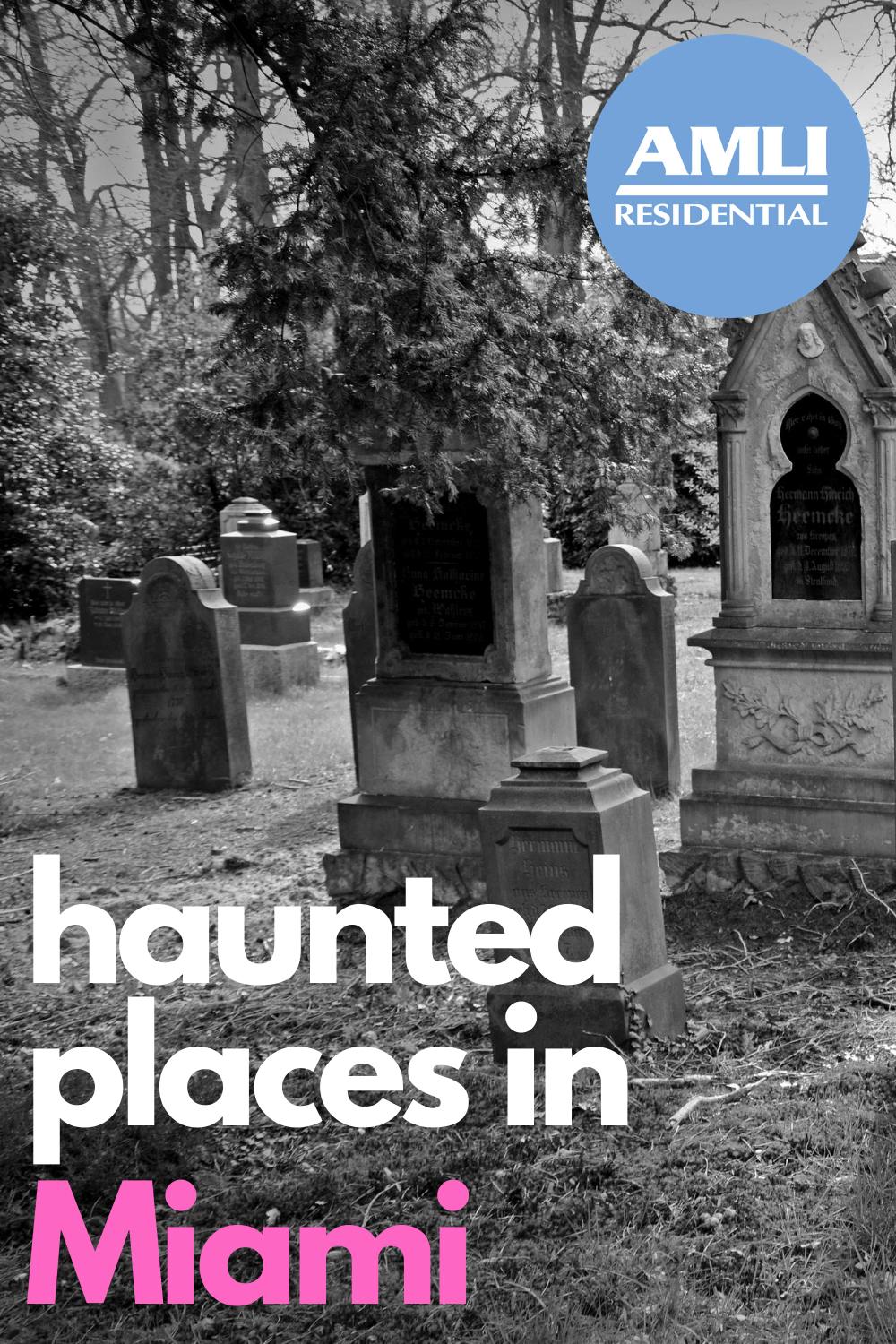 Haunted Places in Miami
If you're wandering the halls of this regal hotel and notice a faint scent of cigar smoke, then you may have crossed paths with the apparition of infamous 1920's gangster Thomas "Fatty" Walsh. Walsh was shot and killed on the 13th floor in 1929 over a gambling debt, but it seems as though the ghostly apparition has been nothing but friendly. Apparently, staff have reported tricks being played on them, bottles rattling on bar shelves, apparitions appearing in bathroom mirrors and the mysterious scent of cigar smoke following them around the hotel.
However, it seems as though Walsh isn't the only ghostly presence in the hotel. According to eyewitnesses, a woman mysteriously vanished outside the hotel in the late 1930s. There have also been reports of slamming doors and mysterious noises in empty rooms, so who knows how many spooky stories could be told about The Biltmore?
Don't be afraid to pop by this fancy hotel for a look, as it's just a few minutes from our luxury Dadeland apartments!
The chilling stories surrounding the Deering Estate are truly ones for the books. The massive estate, covering over 400 acres, is home to quite a few spooky apparitions. One of the more popular ghost stories is about a woman's voice heard screaming throughout the estate, begging for help saving her drowning child. Spooky!
One-legged ghosts haunting this neoclassical mansion is a great start to an urban legend. The 1920s villa is used as an exhibition center and art gallery now, but it used to be the first Cuban consulate in Miami. The consul's wife, Paula, died after getting her leg amputated after an accident, and apparently it's her ghost that haunts the halls of this old mansion. She liked to keep fresh roses in her home at all times, so if you smell roses where there are none to be seen, then it may very well be Paula's spirit keeping her home in shape. 
We've talked about a lot of human apparitions, but there's a ghost here that's undoubtedly the friendliest type of ghost around. People have reportedly seen a ghost of a little toy poodle running around the Colony Theatre, as well as hearing some mysterious footsteps backstage. So, next time you go to see a play, dance or theater production, keep and eye out for a little poodle roaming the halls!  
The urban tale surrounding this cemetery is just that: a tale. Rumors have circulated that Michael Jackson's "Thriller" music video was shot in the cemetery, and that visitors have seen his ghost dancing between the graves. However, the video was most definitely shot in Los Angeles, so there's not really any reason for Jackson's ghost to be in Miami. 
The Miami City Cemetery is certainly the place to go for haunting tales. Once, a walking tour of the cemetery was interrupted by a man offering an animal heart to a tree as a Santería sacrifice. People have also reported seeing apparitions roaming the cemetery. One particularly strange grave at the cemetery is that of Carrie Barrett Miller, a woman who was buried there in 1926. Her husband poured concrete over her after she was buried so that "her sleeping form would remain" long after "her body has gone to dust." How… romantic?
This is less of a haunted spot and more of a weird wonder. 
There have been plenty of monuments built as a dedication to true love, like the Taj Mahal or the Temple of Nefertari. One would imagine monumental palaces such as those when thinking of love, but there is another astounding monument right here in Miami that is just as inexplicable. 
Edward Leedskalnin built the Coral Castle in the early 1900s after his fiancee abandoned him just 28 days before their wedding. Ouch. He built the castle in the hopes that his fiancee would come back to him and they would live in the palace together for the rest of their lives.
Now, the weird thing is that Leedskalnin made this palace all on his own with no machinery, no engineering experience and no outside help. He had nothing more than a fourth-grade education, and he stood no higher than five feet tall and weighed less than 100 pounds. Despite all this, Leedskalnin managed to carve a palace out of 1,100 tons of solid rock all on his own. Some suspect that he used psychic powers or had a mysterious knowledge of electromagnetism to build his palace, as it seems impossible that the small man built it all without any help. Read more about the Coral Castle in our blog.
Whatever type of mysterious, spooky or unexplained stories you're into, you're sure to find something around AMLI's luxury Miami apartments to pique your interest. Check out these places, keep an eye out for ghosts and have fun!
Enjoy!
Pin it!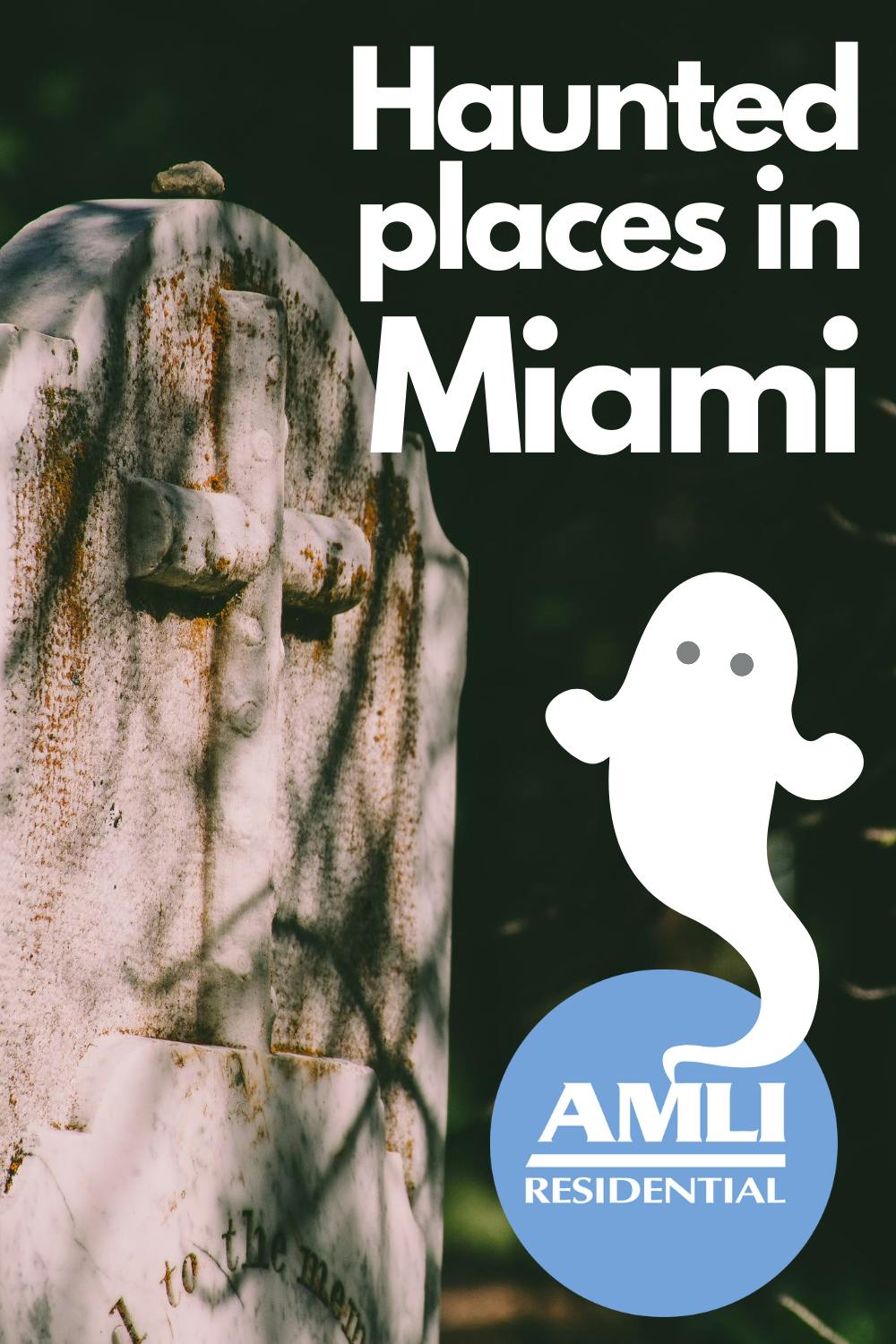 Featured photo courtesy Pixabay/PilotBrent