Houston is one of the largest and most bustling cities in the country.  Since much of its growth has taken place during the past few decades with no major geographic or political boundaries to impede it, Houston has expanded in a sprawling manner.  The result has been the development of distinct neighborhoods, each of which has plenty to offer a resident or visitor.  Today, we shine the spotlight on a handful of the abundant treasures located within close proximity to AMLI Residential's West Houston apartment rentals.
George Bush Park
As the second largest park in Houston and the ninth largest in the United States, George Bush Park is hardly hidden.  Still, its 7,800 acres of green space are certainly underutilized.  This affords West Houston apartment rental residents and other visitors to the park the opportunity to enjoy nature at its finest, without throngs of people around.  The park's many multipurpose recreational trails weave through and around forests, swamps, and bayous.  Residents of AMLI on Eldridge Parkway's luxury West Houston apartment rentals live less than a mile from this beautiful and expansive park.
Cullen Park
If wetland habitat is your preferred type of park environment, then George Bush Park is not the only option situated within walking distance of your Houston energy corridor apartment.  Just across the I-10 lies Cullen Park, an even larger preserve of natural space in an urban area, covering an area of nearly 9,300 acres.  Cullen Park has a few ballparks, developed picnic areas, and some 8.5 miles of trails, but the majority of the park is still as natural as can be.
New Chinatown
Occupying six square miles of land in Houston's southwestern reaches, Houston's New Chinatown is one of the largest Chinatowns in the world.  With tens of thousands of residents hailing from China and countries on its periphery, the district is a culinary and retail heaven for lovers of all things Asian.  Visit for mind-blowing Vietnamese, Thai, and Chinese cuisine.
Looking for ingredients to prepare an Asian feast in your West Houston apartment rental?  Visit the massive and well-equipped Hong Kong City Mall for just about anything you could want.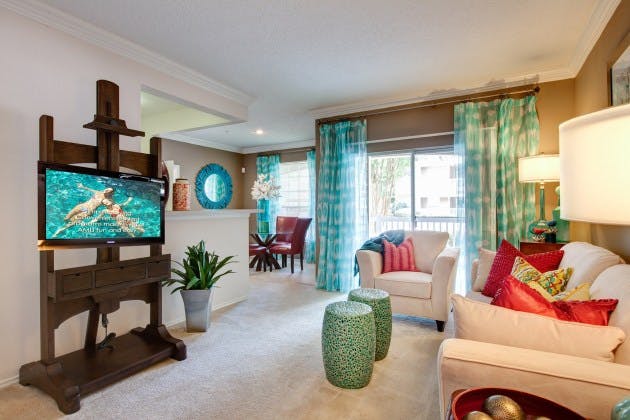 The Mahatma Gandhi District
Southwest Houston's Asian influence is not confined to countries of the region's far east.  Indian and Pakistani influence abounds, and restaurants and shops featuring mouthwatering curries and curry fixings can be found throughout Houston's Mahatma Gandhi District.
Specialty Shopping
If you are looking for rare ingredients, artisan-crafted decor, or you want to buy imports in bulk, West Houston is probably the best place in all of Texas to look.  A five-mile straight shot south of AMLI on Eldridge Parkway is Traders Village, a behemoth outdoor flea market where bargaining for merchandise is fair game.  Phoenicia Specialty Food Market offers 55,000 square feet of Mediterranean delight. And the PlazAmericas Shopping Centre, heavily influenced by Houston's Latin community, is home to retail stores and small businesses offering a range of products and services, a large entertainment area, and a traditional mercado where everyday necessities ranging from produce to clothing can be bought and sold.
Countless other hot eating, shopping, and recreation options abound in the West of Houston, but hopefully this post served as a helpful introduction to the gems that can be found not far from your West Houston apartment rental.  If you are looking to get closer to all of the action that you just read about, consider moving to a luxury apartment home in AMLI on Eldridge Parkway.