Most people automatically think of California as the wine powerhouse of the nation, and to an extent that's true. But did you know that wine first arrived in the United States via Texas? 
Yes! Texas is where the very first wine grapes were grown in the modern-day United States, and the ideal conditions have made the state the fourth-largest wine-producer in the nation!
Here's a brief history of the Texas wine industry, the areas that produce the best grapes and, of course, the top ten types of wine grown here in the state!
Texas' viticulture and most popular wines 
The origins of Texas wine
Before the sprawling vineyards of Napa Valley, Sonoma, Paso Robles or the Sierra Nevada foothills ever existed, there was wine in Texas. In fact, the wine industry here had its start long before the United States was even a twinkle in a mind's eye.
Grape-growing and wine-making was happening in Texas as far back as the 1650s along the modern-day Texas–Mexico border, and we can attribute it all to the arrival of one Fray García de San Francisco.
Fray García traveled from Spain to Mexico in 1629 and became a Franciscan priest soon after arrival in the New World. He served in modern-day New Mexico which, at the time, was Santa Fe de Nuevo México — a territory of the Spanish Empire and New Spain. It was during his time here that he established a mission on the southern banks of the Rio Grande, calling it the Misión de los Indios Mansos de Nuestra Señora de Guadalupe. The towns that sprang up around this mission ended up being modern-day El Paso and Cd. Juárez in Chihuahua, Mexico! How cool is that?
But, back to wine.
Father García planted grapes around his mission in order to make sacramental wine, as it was far more cost-effective than sending for wine from Europe. Many Franciscan clergy around the New World did this, and they all planted a variety of Spanish black grapes commonly referred to as Mission grapes. These grapes, a variety of the vitis vinifera species, are what eventually spread to California, Oregon, Washington and beyond! 
So we always knew that wine came to California via Franciscan priests, but those priests originally came from here in Texas, bringing their grapes with them!
Wine production continued around missions during the Spanish rule and up to the early-to-mid 1800s, after which the Mexican War of Independence brought a surge of new residents from the nearby United States. Wine was not a popular drink in the U.S. at the time, so the industry didn't grow significantly during this period. 
The U.S. Prohibition from 1920-1933 all but killed the already weak wine industry in Texas, and it wasn't until the 1970s that wineries started slowly popping up in the Texas High Plains. Even today, almost a century after Prohibition ended, the complicated dry laws still in effect in Texas make it difficult for the industry to thrive in many counties. 
Regions of wine
Texas has a wide range of small microclimates scattered within its spacious boundaries, the most fruitful of which are the drier, sunnier regions of Central, North and West Texas. These wine-growing regions host eight official American Viticultural Areas (AVAs) and are responsible for making Texas the fourth-largest wine producer in the nation (behind California, Washington and Oregon).
North-Central Region
This region stretches from Dallas to New Mexico, crossing over the Texas panhandle and covering around a third of the state. The Texas High Plains AVA around Lubbock holds the largest concentration of wine-growers in the state.
Other notable AVAs in this region include the Texoma AVA, which is where horticulturist Thomas Volney Munson discovered the cure for the phylloxera epidemic that ravaged France's vineyards in the 18th century. 
Trans-Pecos Region
This region is nestled in the central-western portion of the state and includes the high-altitude regions of the Chihuahuan Desert. These high-altitude areas create ideal grape-growing conditions and are responsible for 40% of all the grapes grown in Texas.
South-Eastern Region
This region is generally situated southeast of Austin and San Antonio, with bands stretching as far up as Houston. The high heat and humidity here make it hard for traditional mission grapes to thrive and make them susceptible to Pierce's Disease, a plant pathogen that causes fruit to shrivel and leaves to burn. The tougher muscadine grapes have no issues growing in the thick, dense heat, so the wine from this region varies dramatically from those from the other two regions.
Types of wine in Texas
There are around 53 specific varieties of wine grown here in Texas, so you've got some tasting to catch up on! In the meantime, though, here are the top 10 types of wine that are grown here and how you can enjoy them. 
Cabernet Sauvignon: the most popular wine grown in Texas, and one that goes well with a nice, juicy steak or rack of lamb!
Tempranillo: this wine was made for Texas — 100%. This smoky red wine has hints of vanilla and a bouquet of dark, rich fruits, so pair it with a nice tamale or pizza to get the full flavor experience.
Merlot: a perfect balance between bitter and sweet, this soft red is a hit when paired with less-intense hearty flavors like eggplant, tuna steak and meatloaf. 
Black Spanish: this fortified wine pairs well with desserts, thanks to its musky, jam-like taste.
Blanc du Bois: this crisp, fruity white wine has subtle hints of apple and grapefruit, and is best enjoyed with a nice pasta alfredo or a pineapple chicken.
Mourvedre: this peppery, spicy red wine is a great pairing with red meats and rich foods.
Sangiovese: brace for a spicy aftertaste when sipping sangiovese, with flavors of licorice and raspberries lingering on the palette long after the first taste. Pair with a nice cheese or a rich red meat, and you're good to go!
Viognier: this intense white wine has a bit of a spice kick to it, so pair it with equally zingy food like mango salsa, paella or Chinese lettuce wraps. 
Muscat Canelli: another popular white wine that holds on to the fresh, fruity sweetness that pairs so well with a bar of chocolate, a light fish dish or a creamy pasta.
Malbec: a glass of Malbec works exceptionally well with a hearty Thanksgiving meal, thanks to its rich bouquet of berries, plums and spices. 
So, next time you're out and about looking for a nice wine-tasting around our Austin apartments, Dallas apartments or luxury Houston apartments, look no further than our own state's borders for some truly magnificent wines ready to be enjoyed!
Cheers!
Pin it!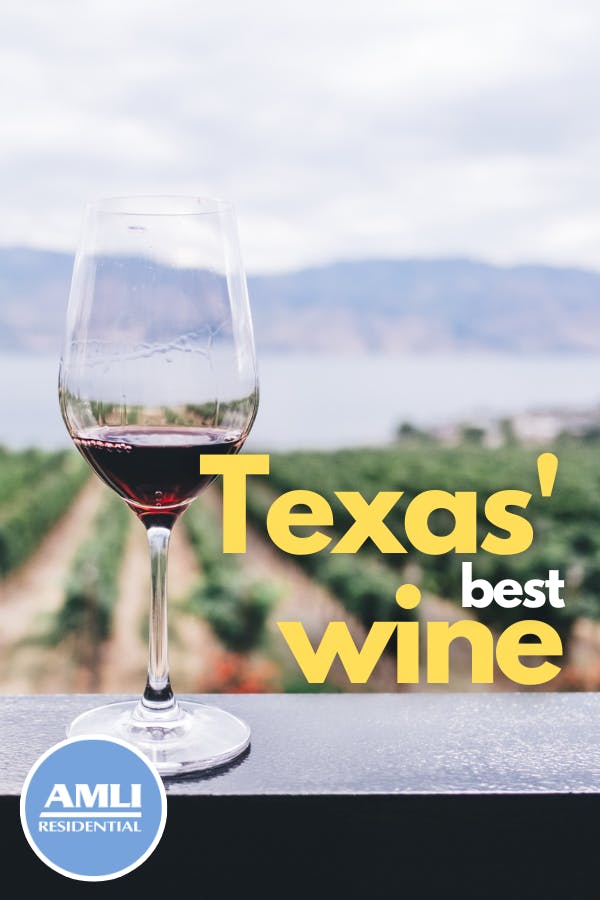 Featured photo courtesy Pixabay/alohamalakhov