Aptly referred to as the Bayou City, Houston has a wealth of natural lushness from which several beautiful city parks were dexterously carved. One of the city's oldest parks, River Oaks Park, is just 10 minutes from AMLI City Vista, AMLI Memorial Heights, AMLI River Oaks, and AMLI Uptown. If you live in one of these River Oaks apartments, then you might have noticed some serious work being carried out as this historic park undergoes a welcomed makeover.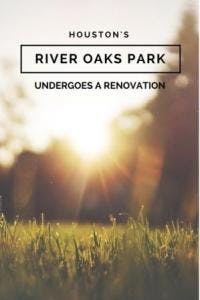 History of River Oaks Park
River Oaks Park was established in 1938 and is affectionately known as Pumpkin Park by locals because of its iconic Cinderella pumpkin coach. Compared to Houston's massive Memorial Park, River Oaks Park is just a drop in the bucket of the Bayou City's overall green space. But the charming park, known for being safe and family-friendly, punches above its weight. Nearly a quarter-century after last being updated in 1990, the park is undergoing a renovation designed to make the park even more attractive to families with children of all ages and accessible to persons with disabilities.
Ground was broken for the River Oaks Park improvements on June 11, 2015 in a community ceremony hosted by River Oaks Council Member Oliver Pennington, the Houston Parks and Recreation Department, and Friends of River Oaks Park. After revealing plans for the renovation, which include the introduction of elevated decks with picnic tables and several modifications that will bring the park into compliance with the American with Disabilities Act (ADA), a symbolic shovel-to-earth groundbreaking occurred.
Playground and Pumpkin Updates
To the delight of every child in Houston, the playground at River Oaks Park is a central focus of the renovation. It will have separate play areas for toddlers and older children, which should make it easier to keep youngsters away from play equipment designed for older children and vice versa. And yes, the park's beloved Cinderella pumpkin coach will also be getting an ADA-compliant facelift.
Little Free Lending Library
The addition of a Little Free Lending Library will help River Oaks Park promote reading, sharing, education, and recycling. The concept is simple: When visiting the park, bring books your children have lost interest in and swap them out for new ones (new to you – they're all used). The idea behind the community book exchange is to further literacy in an accessible and fun way.
Eye Toward the Future
The Friends of River Oaks Park is excited about the improvements being carried out at River Oaks Park, and hopes it will raise awareness and funds for maintenance and future improvements. To show your support for the society and enjoy what Pumpkin Park has to offer, you can attend the playground re-opening and ribbon cutting ceremony on Monday, March 7, 2016 at 4PM. Also, on Saturday, April 2, 2016 a family fun day will be held from 10AM-noon, and Cinderella will be present to take photos with children in front of her stagecoach.
If you're unable to make it to one of the upcoming events, pay a visit at your leisure to see the new improvements for yourself. Parks are the perfect place for you and your children to have fun and Live Life + Love Life together!
How often do you go to local parks? Share by leaving a comment below!
Like what you just read? Why not subscribe to the AMLI Blog so you don't miss another post? so you don't miss another post?