If you're a fan of wine, then you've undoubtedly heard about California's long and prosperous history of fine wines and strong viticulture (cultivation of grapevines). In fact, the California wine industry produces almost 90% of the United States' overall supply of wine. You've heard of Sonoma Valley, Napa Valley and Northern California's penchant for wines, but did you know that California's commercial wine industry really started in Los Angeles?
For those of you living in our Southern California apartments, you're quite close to the origin point of California's wine industry. A vineyard in Los Angeles became the first vineyard to sell wine commercially instead of just using it for Catholic missions, making it an important reason for why California has such a great wine industry. Here's a little more information about the industry and the history of wine in California.
 A brief history of wine in the United States
The introduction of wine-making in the United States has two different origins: one story for the east coast and one story for the west coast. On the east coast, wine-making was one of the main goals that was incorporated into the founding documents of North Carolina, South Carolina and Virginia. On the west coast and Southwestern United States, wine was being grown at the Spanish missions in modern-day California and New Mexico.
Wine on the east coast had little success, as colonists didn't like the flavor of the natural grapes and the imported European grapes kept getting destroyed by pests and diseases. Wine on the west coast, however, thrived because of the warm Mediterranean-like weather. 
Wine at Spanish missions
Although the United States' wine industry is now centered in California, the first widespread production of wine began at New Mexico Missions in the early 17th century. 
Vineyards and viticulture in southwestern United States began taking root (pardon the pun) at Spanish Missions because of the importance of wine in the Catholic Church. Wine was used in the practice of Holy Communion, and rural missions did not have the resources or time to travel for months to restock their wine supply that was shipped from Spain. The monks began to grow their own grapes out of practicality and cost-effectiveness, despite Spanish law expressly forbidding it. Growing grapes outside of Spain could hinder the Spanish wine export economy, but some Franciscan monks managed to smuggle some grape vines out of Spain in about 1629. 
The type of grape grown at Spanish missions in both North and South America became known as Mission Grapes, even though they originally hailed from Spain.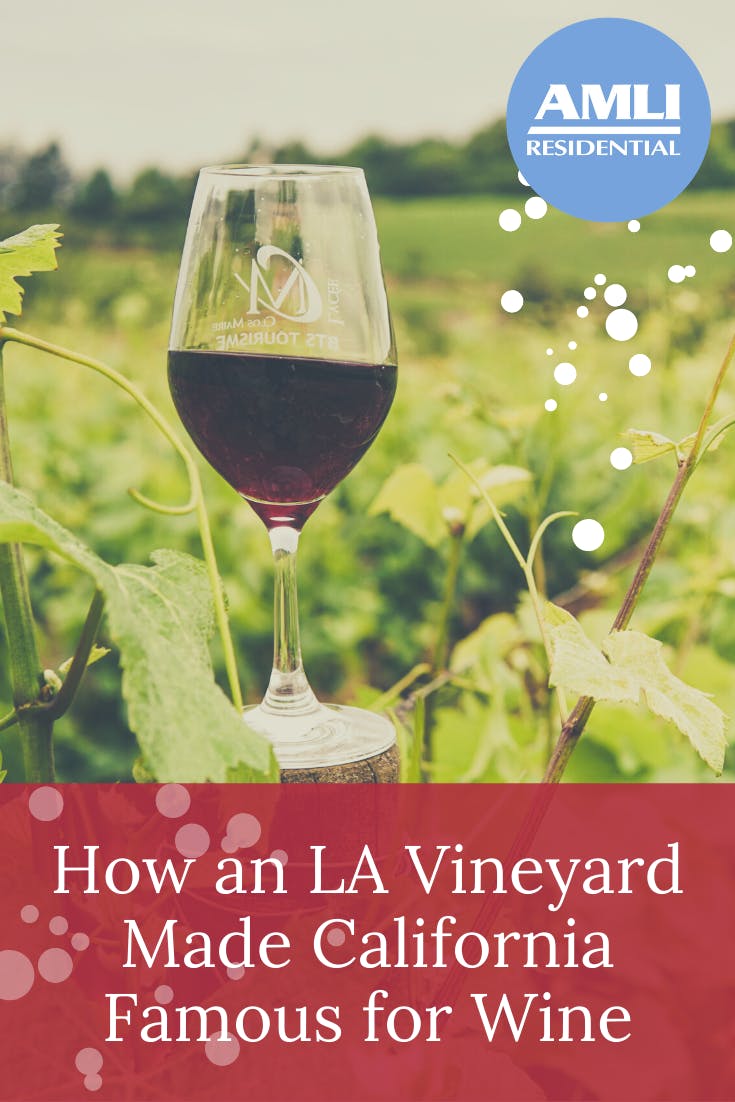 The very first mission in California was Mission San Diego de Alcalá, which was established in San Diego in 1769. Father Junípero Serra was the one who first planted the Mission grape at this mission, and soon California's first fully functional vineyard was established at Mission San Juan Capistrano in 1779. Serra is now referred to as the "Father of California Wine" because of his pivotal role in introducing the popular Mission grape to California. 
The Mission grape continued to be the most popular variety of grape grown at missions until around 1880, although other varieties of grape were introduced as early as the 1830s. 
Vineyards in Los Angeles 
The very first commercial vineyard in California was established in 1831 by a Frenchman named Jean-Louis Vignes. Vignes, who had previously owned a distillery in Hawaii, bought 104 acres of land on the western bank of the Los Angeles River and planted some of the very first imported European grapes, commonly known as Vitis Vinifera (the common grape vine). 
Vignes' vineyard was called El Aliso, named after a massive sycamore tree on his property. This tree can be seen in the background of the earliest known photo of the original Los Angeles Plaza, and it even served as the meeting place for early indigenous peoples and early settlers. The once 400-year-old tree doesn't exist anymore, but there is a plaque commemorating El Aliso at it's old location at 706 E. Commercial St. in Little Tokyo. It's just 16 minutes away from our apartments for rent in Glendale!
By 1849, the El Aliso vineyard had become the largest vineyard in the state, producing over 150,000 bottles of wine a year. Vignes shipped wine to Santa Barbara, Monterey and San Francisco regularly, making Los Angeles the center of a massive wine empire. Vinges' wines were shipped to Washington, D.C. and even all the way to his home country of France.
Wine in Northern California
When people began flocking to Northern California during the Gold Rush (1848-1855), the state's first wineries began popping up, too. 
If you're confused as to what the difference between a winery and vineyard is, you're not alone. A winery produces wine, while a vineyard grows the grapes. A vineyard can have an on-site winery, but a winery doesn't always have a vineyard. So, while Los Angeles did have the first commercial vineyards in California, it is the Santa Clara Valley that boasts the title of having the first winery after The Almaden Vineyards opened its first winery in San Jose in 1852. 
The oldest commercial winery, Buena Vista Winery, and the oldest family-run winery, Gundlach Bundschu, were established in 1857 and 1858, respectively, in the Sonoma Valley north of San Francisco. For this reason, as well as the fact that countless other wineries have been established there, Sonoma Valley is considered to be the birthplace of California's wine industry.
American Viticulture Areas near LA
Vineyards can be found all over California, but the best-of-the-best places to find wine are in official American Viticulture Areas (AVAs). Wines carrying an AVA label must have at least 85% of their grapes grown in the specific AVA, and all of California's wines are made with grapes grown exclusively in California. That's why if California was its own nation, it would be the fourth-largest wine producer in the world. 
If you're interested in checking out some AVAs around Los Angeles, you may already be closer than you think!
The Malibu Coast AVA is a 46-mile-long AVA right next door to our apartments near Calabasas, apartments near Playa Vista and apartments in Ventura County!
The South Coast AVA runs from Seal Beach all the way past San Diego. Our apartments in Orange, CA, are located within this AVA, and our downtown Long Beach apartments are just next to it!
Check out this handy map to find all the best wineries and vineyards close to your own Southern California apartment!
Enjoy!
Pin it!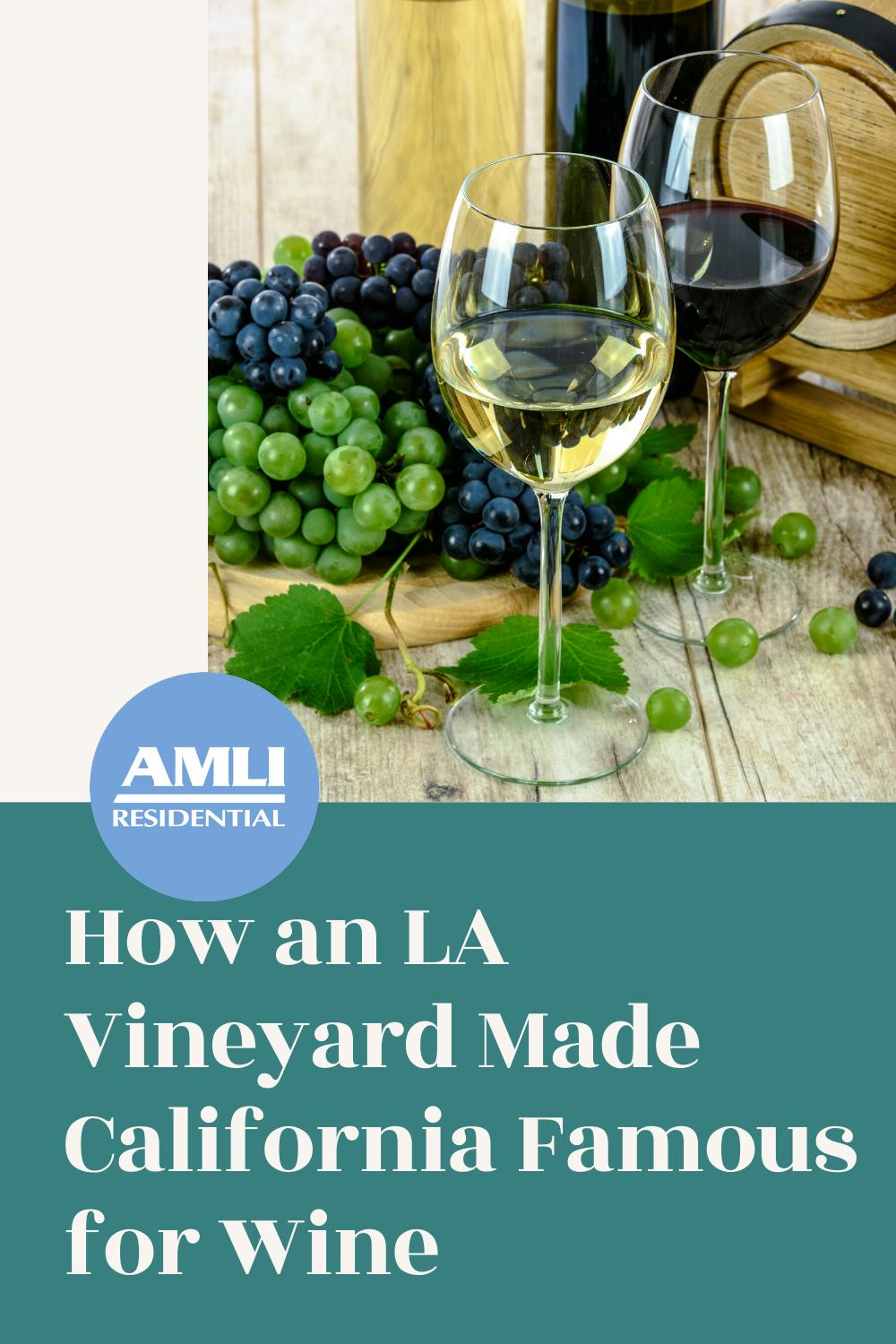 Featured photo courtesy Pixabay/PhotoMIX-Company