If 2020 continues on the way it has been going, then it's likely that our Halloween celebrations will be put on hold or, at the very least, adapted to fit the unique circumstances facing our society this year. It's especially ironic because Halloween is probably the most mask-friendly event of the year, but that's another story entirely!
Although we may not be celebrating Halloween in the same social way as we have in the past, there's no reason why you can't have a frightfully good Halloween at home with your family! After all, there's no getting in the way of a true Halloween spirit (pardon the pun)!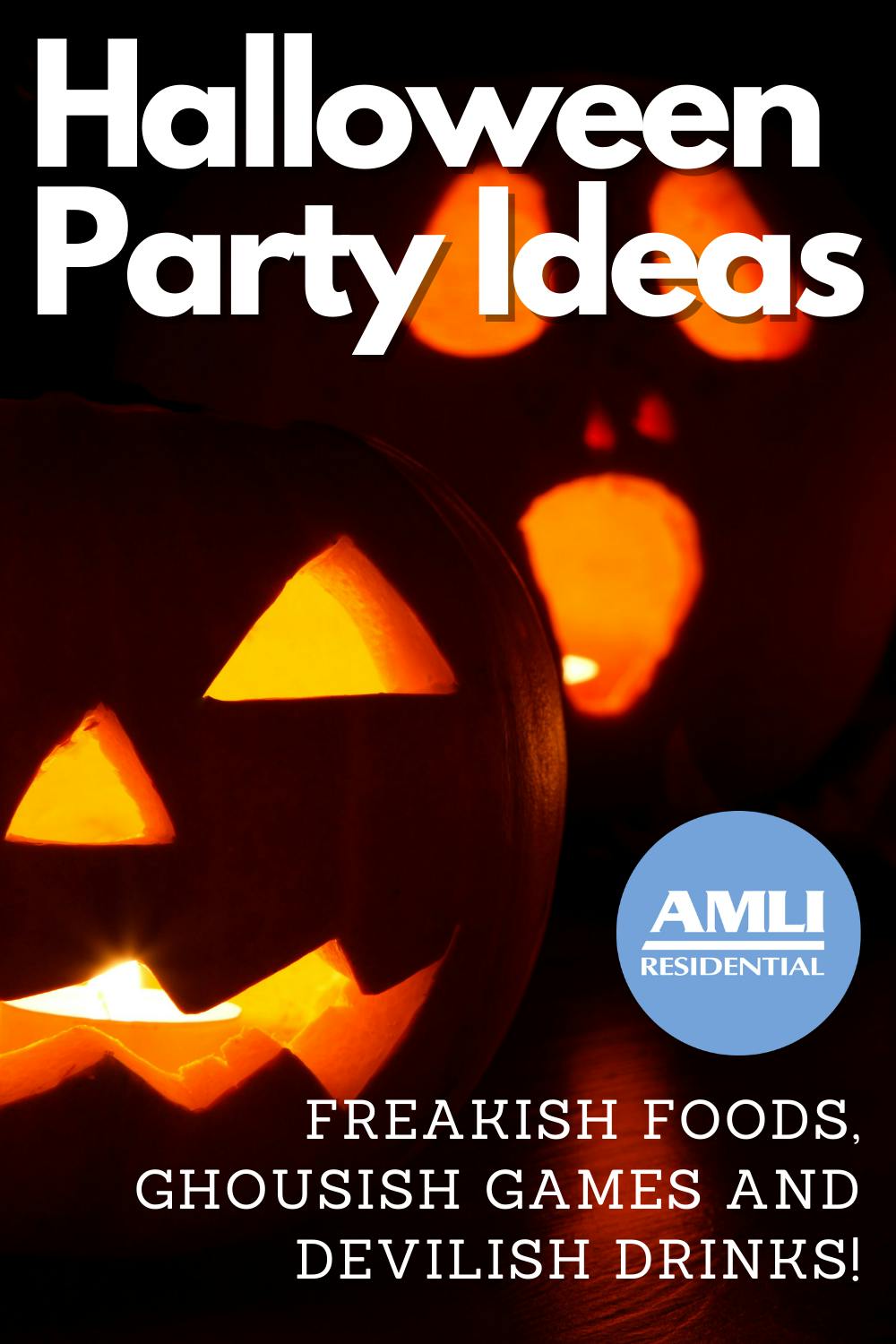 How to host a Halloween party at home
Like we said, celebrating at home with your family is just as fun and can be as eventful as you want it to be! When the world goes back to normal (crossing fingers!), you can take all these ideas and just expand them to fit a larger group of people. We're just here to give you ideas on what you can do to make your Halloween party, both small and large, as festive and fun as possible! 
Halloween games
Halloween games may sound a little childish, but setting up a few easy games can make any adult Halloween party a little more fun and interesting. After all, would you really turn down a good old apple-bobbing session? Yeah...that's what we thought.
Bobbing for apples
There's nothing like bobbing for apples on Halloween to really put you in the party spirit. It's something that's great for parties, but also a fun game to do with kids. 
Ring toss
Got a few extra glow-in-the-dark glow sticks? Form them into rings and toss them at pumpkin stalks to see who gets the most on the stick! 
Pin the eyeballs on the monster
Craft or print out a picture of a colorful monster and get kids to pin a set of eyeballs onto it while blindfolded! Not only can kids create a funky-looking monster that they can take for themselves, but it's a game that you can add to in whatever ways you'd like! Add sets of arms, legs, tails, horns or beards to make a truly unique monster character for everyone. 
"Guess how many" game
There's nothing like a game with some solid prizes at the end to really get party-goers competitive. And, a classic guess-the-number candy game is just enough competition to get people excited. Fill a glass jar (make sure it's all transparent) with candy corn, jelly beans or M&M's and have participants write down the number of pieces they believe is in the jar. You'll have to count the candy beforehand, of course, but that's pretty much all the setup you'll need. The winner can take the whole jar home, or you can hand them a gift card and keep the candy for yourself. Your choice!
Halloween drinks
If your party is a little more on the grown-up side, then take this opportunity to make some fun Halloween-themed drinks for you and your guests!
You don't necessarily need anything specific to make a spooky-style drink, but color certainly has plenty to do with adding a dose of Halloween spirit to your Halloween spirits. Find drinks that have interesting textures and colors, like slimy greens or bubbly blood-reds. 
Plus, a few skull-shaped silicone ice molds wouldn't hurt, and they look absolutely frightful floating in a dark drink!
Vodka, Triple-Sec, Kool-Aid.
This bright green drink is simple yet effective. Add a plastic spider into the glass and you've got yourself a scary drink!
Candy corn vodka, marshmallow, marshmallow crème, red food coloring, candy eye.
This drink takes a little work to make, but the result is a bright-red signature cocktail topped with a floating marshmallow eyeball! 
Dry sake, spiced hibiscus syrup, hard cider.
If you're going for elegantly spooky, then look no further than this Morticia Addams-inspired cocktail. It's perfect for those laid-back evenings and casual creepy family reunions. 
Halloween party foods
Chocolate-dipped strawberries aren't just for Valentine's Day! Dip some strawberries in white chocolate and use mini milk-chocolate chips to make a little ghost face. Voila! 
A twist on this classic party recipe, mummies-in-a-blanket are made with long hot dogs and crescent roll dough. Slice the dough into long strips, then wrap the dough around the hot dog to make it look like mummy bandages. Add little drops of mustard or ketchup for eyes before you serve them to really add an extra level of detail to your homemade mummies!
These sweet treats will add some of that signature candy corn color to your table. Plus, they're easy to make and only use four ingredients! 
It's the quintessential fall festival food, and it's so easy to make at home. These caramel apples are a perfect base upon which you can add nuts, candies, Graham Crackers and more. You are the artist, and the apple is your blank canvas, so have fun decorating and making it your own!
If you're looking for more great Halloween party foods, check out this article for more fun ideas for drinks, sweets, appetizers and more.
No matter what your Halloween looks like this year, these Halloween party ideas are sure to make the evening memorable. Whether you're spending a quiet night at home or hosting a family party, why not try out one or two of these recipes? You never know what you may like!
Enjoy!
Pin it!
Featured photo courtesy Unsplash/Łukasz Nieścioruk