The end of summer and fall does not have to mean the end of outdoor adventures. Adventure still awaits you in the snow and the mountains! 
You've already heard about the principles of Leave No Trace in previous articles, but chances are they've been in the context of warm weather outdoor recreation. If you're looking to do some winter-specific recreation such as snowshoeing, cross-country skiing, snow camping or mountaineering, then you can take the same principles and tweak them to fit the colder weather conditions. 
How to LNT in cold weather recreation
Plan ahead and prepare
When planning ahead, make sure you know the permit status and regulations of where you plan to visit. Are there limited permits per day? Do you need a special parking permit? Are there restrictions on group size? Knowing this information before you go allows you to arrive prepared and ready to adventure without having to jump through last-minute hoops. 
Try and plan your visit during low-use periods such as weekdays and off-season time periods. This reduces the impact of visitors on the environment and can allow you greater enjoyment due to smaller crowds. 
Winter months can hold unpredictable weather compared to summer months. Knowing the weather ahead of time allows you to choose the safest time to visit and the opportunity to pack proper layering systems to stay warm. Always check avalanche conditions and tell someone where you are going. Tools such as Mountain Forecast and NOAA can provide detailed weather reports for remote areas. The Seattle area even has the Northwest Avalanche Center, which monitors snow and avalanche conditions in the Olympic and Cascade mountain ranges.
Plan your route ahead of time and be familiar with your navigation tools. This limits the need for wasteful flagging tape or unstable cairns.
Travel & camp on durable surfaces
The benefit of snow travel is that most of it melts away come spring! Walking around on deep snow does not cause damage to the potentially fragile ecosystem living underneath. If snow is unavailable, other durable surfaces include rock and bare ground. 
Create your camp away from avalanche paths, cornices, steep slopes and unstable snow. Plus, in the winter you can have fun building your campsite with the surrounding snow! 
And remember, good campsites are found, not made! When there isn't enough snow around, it is better to use a previously-made campsite than to create your own by moving rocks and disturbing plants. 
Camp at least 200 feet from known water sources, all of which can be found by consulting your map. This will help keep any waste and pollutants out of the water. 
Dispose of waste properly
As the common saying goes, "pack it in and pack it out!" When you are done visiting the outdoors, be sure to take with you all trash and dispose of it in trash receptacles.
In winter or snowy conditions you need to pack out solid human waste. There are plenty of  commercial options available such as the Cleanwaste GO Anywhere Toilet Kit that will make the process more convenient. During warmer seasons you can dig a cat-hole measuring six inches wide and eight inches deep to bury human waste. 
Check your campsite for trash, food scraps, and other litter before leaving, and dismantle any snow shelters, igloos and windbreaks. Return the camp to its natural state as best you can. 
Leave what you find
Take only photos, leave only footprints. Allow others the opportunity to discover and enjoy the outdoors by leaving what you find. Keep nature intact and take photos of the items you wish to remember and enjoy after you leave.
Minimize campfire impact
During the winter months it can be cozy to have a fire to warm up by. If there are designated fire rings available, use them! If you need to build your own because of snow, start by digging a small pit of packed snow on which to build your fire. After allowing your fire to burn out completely, you can either scatter the cooled ashes or pack them out. 
Respect wildlife
Sometimes the best relationship is a long-distance relationship. Winter is a vulnerable time for wildlife and it is important to observe from a distance. Give them their space and never follow, approach or touch wildlife. Never feed wildlife and be sure to clean up any spilled food. 
While bears may be hibernating during the winter, oftentimes the biggest nuisance can be mice and other small creatures that will chew through your pack to get at your snacks. Make sure to store food and trash properly.
Be aware of sensitive times of year, such as the nesting season for birds. Raptors can be encountered on alpine and rock climbs and should be avoided if possible.
Be considerate of other visitors
Establish your camp away from other groups. Be courteous by keeping talking and other noises low at night. Keep your headlight pointed where you are walking and away from other tents. Limit your group size when possible to help reduce crowds and make space for other visitors. 
Separate ski and snowshoe tracks when possible. Avoid hiking on ski or snowshoe tracks. Share the trail or route and be courteous to other visitors. 
One of the fun things about snow camping is building various camp spaces with snow. Digging out trenches for your tent vestibule or making a "kitchen" for the group to gather and share meals. Break down the spaces and refill with snow so other visitors do not accidentally stumble into a hole.
So, whether you're heading out into the cold for the first time or are a seasoned winter adventurer, keep in mind how you're impacting the land you're visiting in this chilly season.. These seven principles of Leave No Trace can help guide you in your visit to the outdoors and minimize the impact of your visits so future adventurers can have an equally wonderful experience. 
Have fun!
Pin it!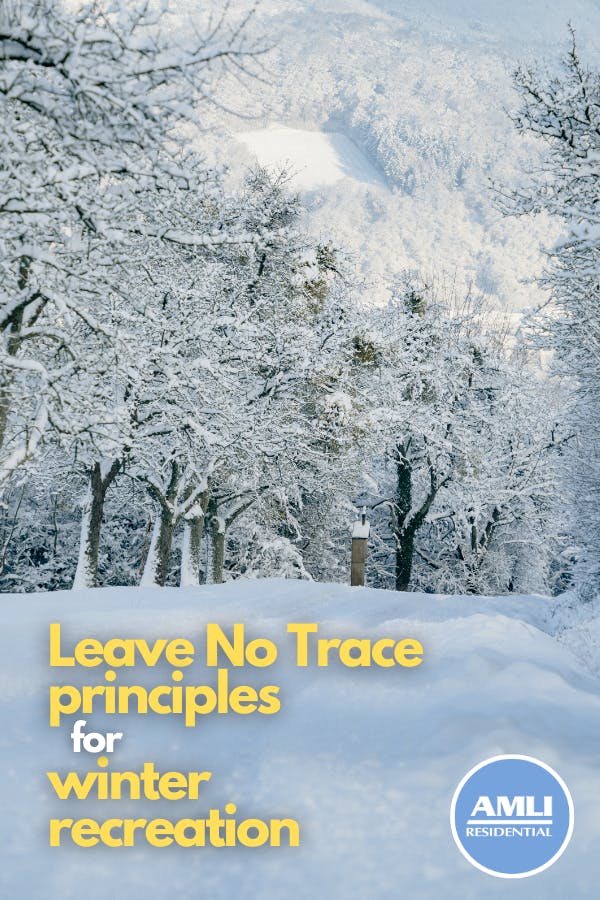 Featured photo courtesy Unsplash/Erik Karits