Meeting new people is hard, even in bustling Atlanta. As children, we almost inherit friends from our parents and school, but as adults we have to actively seek out relationships and friendships with others. We have work, we have families and we have many more responsibilities than we did as children, so carving out the quality time needed to pursue friendship takes some intentional work. 
So, in the spirit of finding new friendships and expanding your social circle, we have found some of the best places in Atlanta for meeting new people. Before we get to that, though, here are some tips.
Become a regular at a place you enjoy
A tried-and-true trick to meeting new people and turning them into friends is to become a regular somewhere, whether that be a class, a restaurant or a recreation venue. Seeing the same faces every week or every few days makes conversation easier and provides the small opportunities you need to build relationships with them. 
It's important to go somewhere that interests you beyond the desire for friendships. If you hate exercise, then don't join a spin class just for the sake of meeting people, otherwise you won't share that interest and passion that you're trying to build a friendship over. It's easier to start a conversation if you already know something you have in common, so make sure that you enjoy it on your own, too!
That being said, don't be afraid to try new things, either. You may not have ever been rock climbing, but if you're interested in starting to learn, then be confident and try it out! If there are potential friends there, then they won't discourage you or put you down. Have a good attitude about whatever you do, and you will draw out those who admire and want to share in your enthusiasm.
Commit to building your friendship
If you want to become friends with someone, the worst thing you could do is be flaky. If they invite you over for coffee and you want to bail and re-watch Mad Men instead, then you're not doing your new friendship any favors. Making a friend is like dating someone: you have to be intentional with them and put a little effort into pursuing the relationship. We all have friends who dropped off our radar because one or both of us stopped prioritizing the friendship, so don't start on the wrong foot. 
While you're deciding how to be intentional with your time, think about what makes your new friend tick. Do they react strongly to words of encouragement? Are they the type of person who loves giving and receiving gifts? You may recognize these ideas from Dr. Gary Chapman's book "The Five Love Languages," which examines how people feel and give love differently. The concept applies to friends just as much as it does to romantic relationships. We all want to feel appreciated and happy in our relationships, even friendships, so understanding what makes your new friend feel valued will go a long way in building a strong relationship with them.
Now that you've mastered the art of kicking off a friendship, here are some fun places in Atlanta where you can meet new people and build new friendships that could last a lifetime!
Where to meet new people in Atlanta
Sport and fitness
If you can appreciate each other at your sweatiest, then your friendship can last through anything. Spin classes are fun, exciting, sweaty and full of community. This cycling studio is the perfect place for not only getting your sweat on, but to fully enjoy the community of people that come along with it. Plus, it's only a few blocks from our Old Fourth Ward apartments.
There are no rocky relationships at this rock climbing gym! Bouldering is a fun, low-stress sport that's perfect for any level of experience, and the time you spend off the wall is spent with other people as you explore new routes and give each other feedback. 
Shoot some hoops, fling a Frisbee or strike a goal as a part of any of the co-ed sports teams of the ASSC. Sunny days are so much better with a game, a team and a sense of fun and community.
Arts and culture
If there's any activity that encourages friendships, it's community theater. Hours and hours of late night practices, tons of inside jokes and a group of people united by a common goal is a perfect formula for making life-long friends. Take it from someone who met her husband and two best friends at a small-town theater production of "Grease."
Just 2 miles from our high-rise apartments in Midtown Atlanta is a magical place where you can find both great food and great friends: The Cook's Warehouse's cooking classes. These cooking classes are booked as individual sessions, so try out a few different classes to meet all sorts of different people. There's a reason good memories are made around good meals, so learning to cook a fancy dish is the perfect way to bond with your fellow foodies.
Social meetups
Live vicariously and let your imagination run wild with weekly D&D meetups at various locations in downtown Atlanta. Whether you're an experienced wizard or a newbie bard, all players of all levels of experience are welcome to join!
Book Clubs - All over the place!
These aren't your grandma's book clubs, y'all. Well, they may be, but there are hundreds (yes, hundreds) of book clubs to choose from where you can engage in some great conversation and share your interests. 
Bonus Tip: Use Meetup to join or create a group event open to anyone who wants to join!
Enjoy your new friends, everyone! 
Pin It!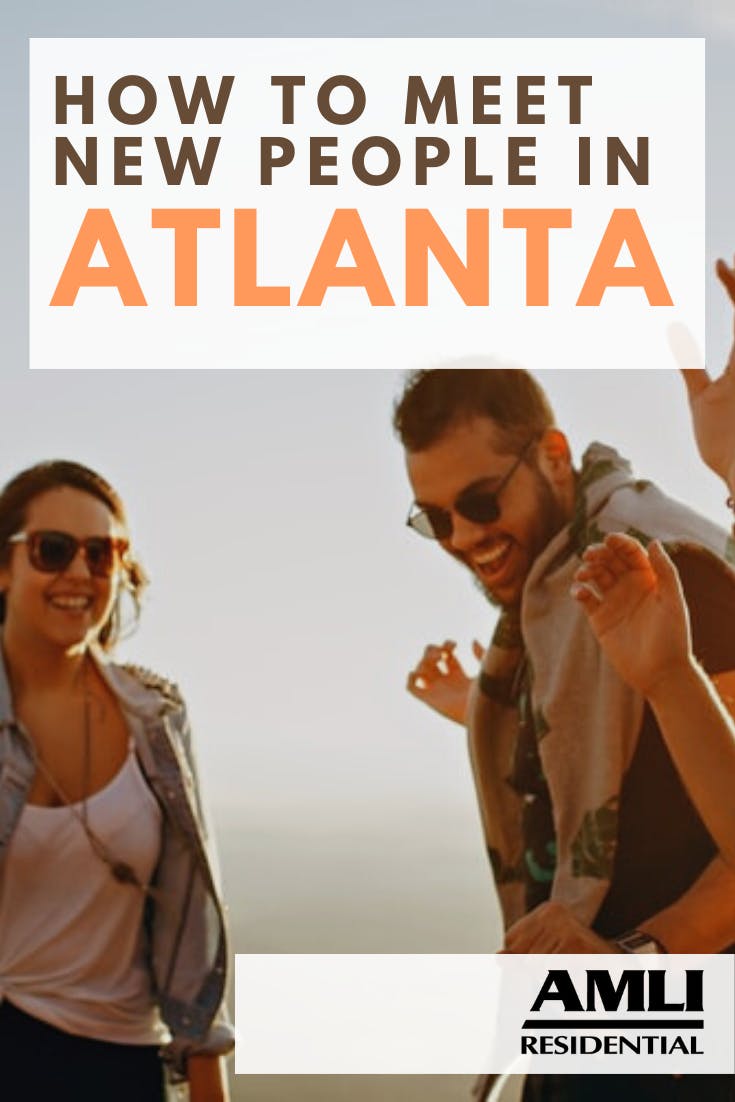 Featured photo courtesy Unsplash/Helena Lopes