Fall and winter mean different things for different people, depending on where you live. If you live in our Austin apartments, for example, your fall is much balmier and warmer than for, say, our residents in our Seattle apartments, who have to contend with chilly temperatures on top of plenty of rain.
For many of us, the changing seasons means that we have a whole new wardrobe to reintroduce to our closets. We switch out our tank tops and short sleeves for fleeces and scarves, and soon our light and airy summer closets are packed full with puffy jackets, cardigans and snow gear.
If you live in an apartment, then you've undoubtedly already run into the challenge of limited storage space. Even the most spacious of apartments have storage challenges, as there is no attic, basement, garage or shed to store those extra odds and ends. Closet storage can certainly pose a struggle for those of us who have to switch out our clothes seasonally.
We've already spent a good deal of time talking about apartment storage, covering topics like book storage, small-space storage, kitchen drawer storage, home-office storage and so much more. Now, we'll dive into what tips and tricks you can use to make the most of your apartment storage space when unpacking all those winter clothes. 
How to organize your winter clothes
Whether you keep your winter clothes in your closet year-round or keep them in storage during the summer, you'll definitely be needing to bring those warmer clothes to the forefront of your closets and drawers during the cold weather. It can seem a little daunting to reorganize your closet like this each time winter rolls around, but there are ways you can make this process streamlined, efficient and long-lasting.
Sort through summer clothes
It may seem like the wrong time to sort through your summer clothes, but if you can get rid of some of the useless items taking up space, then you will have more space for all the bulky winter clothes.
Questions to ask yourself when sorting through clothes:
Does this item of clothing fit the way I want it to?
Am I likely to wear this again/at all?
Can this be styled in a variety of ways?
Am I keeping it purely because of sentimental reasons?
If you're having a hard time sorting through clothes, try making three piles of clothes: a "get rid of this" pile, an "I'm still undecided" pile and an "I'm definitely keeping this" pile. You may be surprised at how many clothes you have that you've never worn, and even the clothes in the undecided pile will be easier to sort through once you can distinguish what you like to wear and what you don't. You can either donate your unwanted clothes to a second-hand store or try these ethical alternatives to donating old clothes! This way, you get to restock your favorite clothes back into your closet (or into a storage bin until the seasons change again) and will have plenty of space for your winter clothes.
Clean out your closet
After taking out your summer clothes and before putting in your winter clothes, take a few minutes to vacuum the closet floor, throw away bits of trash, recycle empty boxes and declutter the non-clothing items that are taking up space. Not only will this free up space, but it will also make sure that there aren't any crumbs, dead insects or dust for pests to chew on.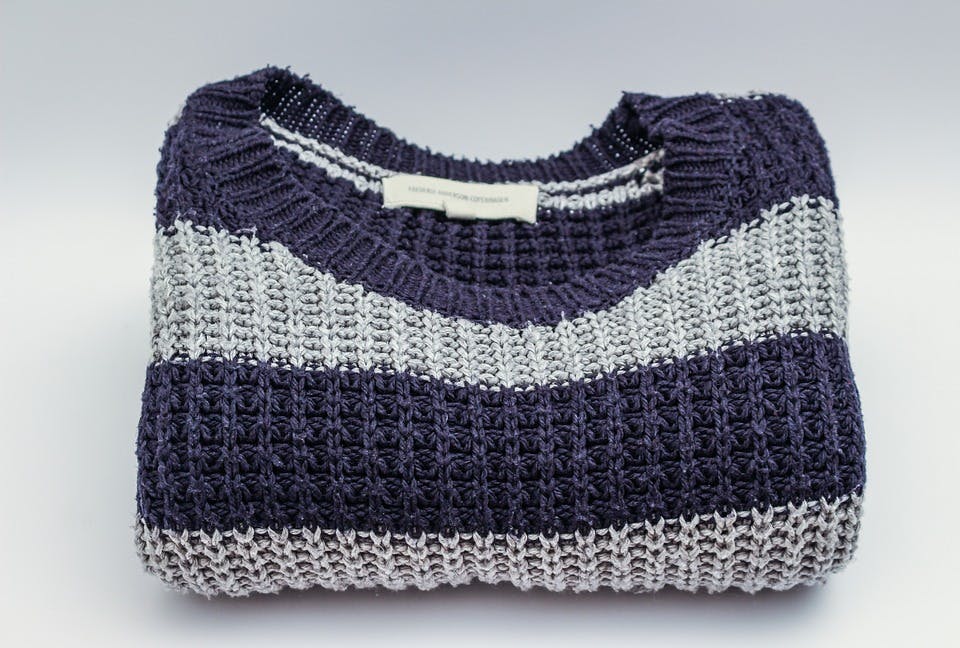 Use different storage methods for different clothes
Sweaters
Sweaters will lose their shape if they are hung from hangers, but they are also extremely hard to stack on shelves. To remedy this, store sweaters on shorter shelves or in small stacks (think 1-3 sweaters), or even think about purchasing some storage solutions for your closet shelves.
Gloves, mittens and accessories
These little items can be the bane of an organizer's existence. Use an over-the-door shoe organizer to store small, single items like gloves, headbands and mittens.
Shirts 
If you're looking to save on hangar space, then use hangers only for shirts (and clothes in general) that shouldn't be folded, like blouses, dresses, blazers, suits and other wrinkle-prone items. Use Marie Kondo's method of folding long-sleeve shirts to efficiently store the tees that are okay being kept in a drawer. 
Outerwear
Clothes like rain jackets, puffy jackets and heavy coats should be kept in a separate closet so as not to bring moisture, dirt and bulk to your regular clothes closet. If your apartment doesn't have an entryway or mudroom, then consider using a spare room closet or buying a stylish coat rack for easy access.
Shoes
If you live somewhere wet and snowy, then make sure to keep your snow boots or rain boots separate from your nicer shoes. A shoe rack by your front door is the easiest way to store and access your winter shoes without damaging your other shoes with water or dirt. Your nicer shoes can be kept in your closet on a shoe rack or in storage cubes under the bed— whatever you prefer!
Scarves and hats
Winter scarves and hats are bulky items and can make any storage space seem cluttered and busy. Use a scarf hanger, a towel rack or storage cubes to keep scarves and beanies neat and tidy in your closet. They are also beautiful pieces of clothing and can make for a stylish-yet-functional display, so roll up and store your scarves and beanies on a wine rack or on clothing pegs right by your front door for easy access.
It may seem daunting to have to reintroduce a whole new wardrobe every time the seasons change, but by following this simple and efficient way to organize your winter clothes, you'll find that your winter closet will be free of clutter and ready for any new additions.
Good luck!
Pin it!
Featured photo courtesy Pixabay/PublicCo
Second photo courtesy Pixabay/ Pexels