Local businesses are what give a city its sense of community. Just think about it! They stimulate the local economy, give back to their communities and encourage others to invest in their local areas. Can you even imagine what your neighborhood, city or town would be like without them?
Small and local businesses are what makes a city different from every other city out there. If all we had were chain stores and nationwide restaurants, then what would be the point in visiting new areas? Local businesses give us our favorite quirky coffee shops, our favorite book stores, our favorite breweries and so much more! 
Dallas is no different. All of you in our Dallas apartments must have a local spot that you patronize often, and by doing that you are investing in Dallas' community and neighborhoods! Give yourself a high-five, and if we had gold stars to give you, we would.
In times of struggle and uncertainty (and national pandemics), it's more important than ever to support your local businesses in any way you can. They are part of a local economic cycle that includes you, so by looking after the one, you look after the other. 
Why supporting local businesses is so important
Here are some quick statistics about small businesses in the United States:
Local businesses may be a little pricier than your average chain store, but the benefits and the good that come out of your purchase impact your community much more than you can realize! 
Local businesses create and sustain community
You may have heard of the term "main street community" before. Local downtown areas have unique stores that are run and owned by locals, and these 'main street' stores are what give the town its special charm and character. 
Local business owners also keep a close eye on how they impact the community, especially in positive ways! You may have seen small businesses advertise at high school sports games, for example. Business owners know that by supporting local activities and community events, they can support themselves, too. It's a win-win! 
Local businesses increase the tax base
For every $100 you spend at a local business, $68 will go straight back into your own community. That's 25% more than what a non-local business could return!
When you buy from a local business, your tax dollars stay within your community. Therefore, the more people shop at local stores, the more your tax dollars go to improving your own area.
Wouldn't you rather have your tax go toward fixing your own roads or infrastructure, rather than that of some faraway corporation's city? 
Local businesses provide local jobs
Local stores run by local owners employ local employees, so all the benefits stay within the boundaries of your area! Instead of having to travel for work, residents can work at a store that adds value to their own community. 
Even store owners can create their own jobs by starting a small business! There's no better way to fuel one's entrepreneurial spirit than by creating a local business that can not only provide the owner a job, but also stimulate the local economy.
Bottom line: local businesses are what holds the country together and what adds value to your very own community. That's why it's so incredibly important to support these local businesses in times of crisis, because it's not just them who will get impacted by a dwindling local economy, but it's you, too.
How to support small businesses in Dallas 
If you can't physically go to a small business due to health constraints, time constraints or global pandemics, then there are still ways that you can help these small businesses stay afloat!
Buy gift cards
If you can't go out on your weekly date night or lunch outing, then purchase a gift card to cash in later. You know you're going to use it later, and your purchase will bring in much-needed revenue in difficult times.
Share on social media
Let others know that your favorite cafe or restaurant is still open and delivering. Provide links to menus, online stores, promotions and more so that businesses can reach as many people as possible.
Share your skills
Got extra time on your hands and know a thing or two about marketing? Offer to help build an online presence so that your favorite cafe continues to thrive. 
Try something new
Have you always wanted to try that new yoga place but have never gotten around to it? Check to see if they are offering online classes or programs so you can both check it off your bucket list and keep them in business. Win win!
Health and wellness
Arts and entertainment
Check out this list for the full run-down of where to go and how to support your local Dallas businesses!
Enjoy!
Pin it!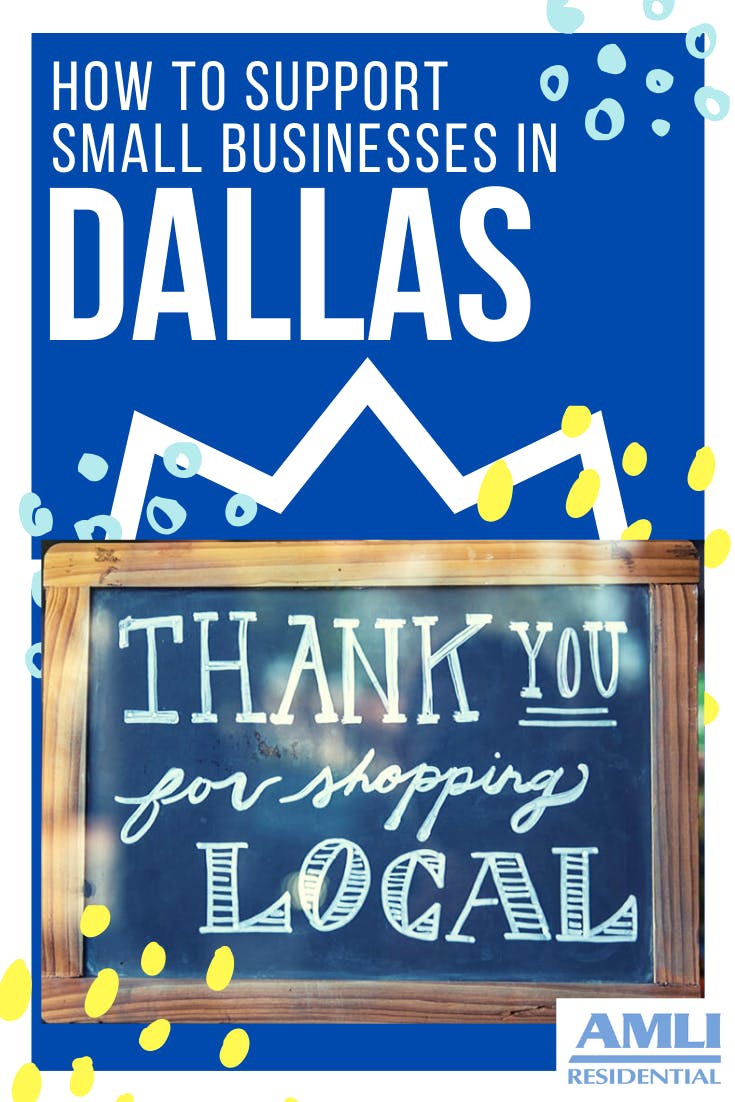 Featured photo courtesy Unsplash/Tim Mossholder