If someone were to ask you to picture the city of Paris in your mind, what would you see? You likely pictured the Eiffel Tower, Notre Dame or maybe even the Sacré-Cœur Basilica. Try it again with another city like London, New York, Athens or maybe even Los Angeles.
Every city has a handful of landmarks and iconic features that make it stick out from the rest. Los Angeles has its palm trees, New York City has the Statue of Liberty, and Washington, D.C. has the Capitol building, but what does Austin have?
We've compiled some of the most popular landmarks and features in Austin for you, not only so you can tell your visiting friends and family what's out there to see, but also so that you can appreciate what makes your city so unique and special. Living in our Austin apartments truly has some great perks!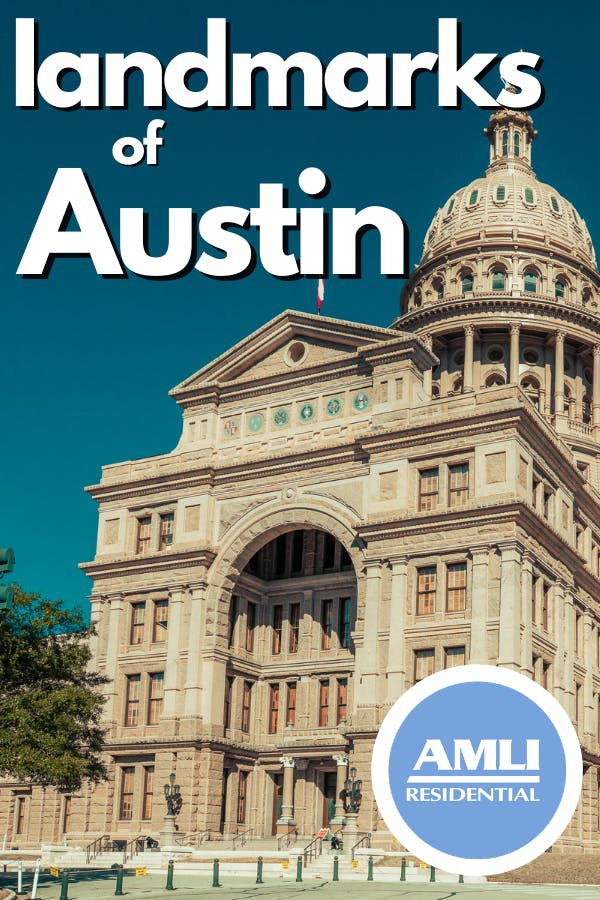 Famous Austin landmarks
Stevie Ray Vaughan statue
210 Ann and Roy Butler Hike and Bike Trail, Austin, TX 78704
A little while ago, we wrote about the life of Stevie Ray Vaughan and what an impact he had on Austin's musical and cultural scene (and vice-versa). His mastery of the blues landed him in the Rock and Roll Hall of Fame and, despite his premature death in 1990, he is still considered to be one of the true pillars of the blues and blues rock genres. 
His legacy is immortalized in a bronze sculpture along the Ann and Roy Butler Hike and Bike Trail on the south shore of the Colorado River and across from the 2nd Street District. Rather than being depicted performing, as many other music legends' statues do, this bronze likeness of Vaughan stands quietly, guitar in hand and famous wide-brimmed hat shielding his still eyes. It's a touching and reverent depiction of the musician who revolutionized the blues genre through his own tumultuous life. 
The Texas State Capitol
1100 Congress Ave, Austin, TX 78701
If you've spent any time at all in Downtown Austin, then you've no doubt laid eyes on the massive Texas State Capitol building in the center of town. This capitol, although similar in style to the United States Capitol building in Washington, D.C., is unique in many ways that make it not only one of the more interesting federal buildings in the state, but also in the nation.
The reddish-pink stone covering the exterior of the capitol is a unique type of granite known as sunset red granite or Texas pink granite, a type of granite found only in one small section of the state. The Texas State Capitol building is also the tallest capitol building in the nation, surpassing the U.S. Capitol's height by 14 feet!
Austin's moonlight towers
Once, Austin's moonlight towers were at the forefront of innovation and security. Now, they are the only surviving moonlight towers in the world.
If you've ever seen any of the 15 obnoxiously-tall metal towers scattered around Austin, you're looking at real pieces of history from as far back as 1895. The towers, which were crowned with six carbon arc lamps that could shed light over a radius of up to 1,500 feet, were intended to act as a safety measure for pedestrians walking at night. 
Many cities across the United States incorporated moonlight towers into their city's infrastructure in the period between 1880 and 1890, such as San Jose, California; Wabash, Indiana; New Orleans and Detroit. Back then, smaller streetlights like we have today were expensive to install and maintain, so the more powerful moonlight towers became a popular option for lighting suburban areas. 
The popularity of moonlight towers started to wane after Thomas Edison's incandescent lighting took off, which was only a few years after the towers were first installed. By the turn of the century, moonlight towers were no longer the way to go, and now the only remaining moonlight towers in the country stand in Austin. 
Although just 15 remain standing today, and only six of them in their original locations, there were once 31 of these tall towers across the city. They've become one of Austin's icons and can be seen in the background of many movies filmed in Austin, like Richard Linklater's cult classic "Dazed and Confused."
Here's a list of where you can see all the remaining moonlight towers in Austin!
The Driskill
604 Brazos St, Austin, TX 78701
The Driskill has been regarded as Texas' premier hotel for well over a century since it was completed in 1886. The hotel has been visited by presidents, musicians, artists, governors and socialites throughout its history and considered Austin's most lavish hotel. It's reputation as one of Austin's finest landmarks only grows with each year's passing. 
And, for the more adventurous of you, the Driskill is also considered to be one of the most haunted hotels in the United States, and certainly one of the most haunted places in Austin. Spooky!
If you've ever been to some of these Austin landmarks, then you know just how unique they are to the city and its history. You'll never stay in another place like the Driskill, you'll never find another moonlight tower and you'll certainly never get to meander through grand halls made of Texas pink granite anywhere else other than right here in Austin!
Have fun!
Pin it!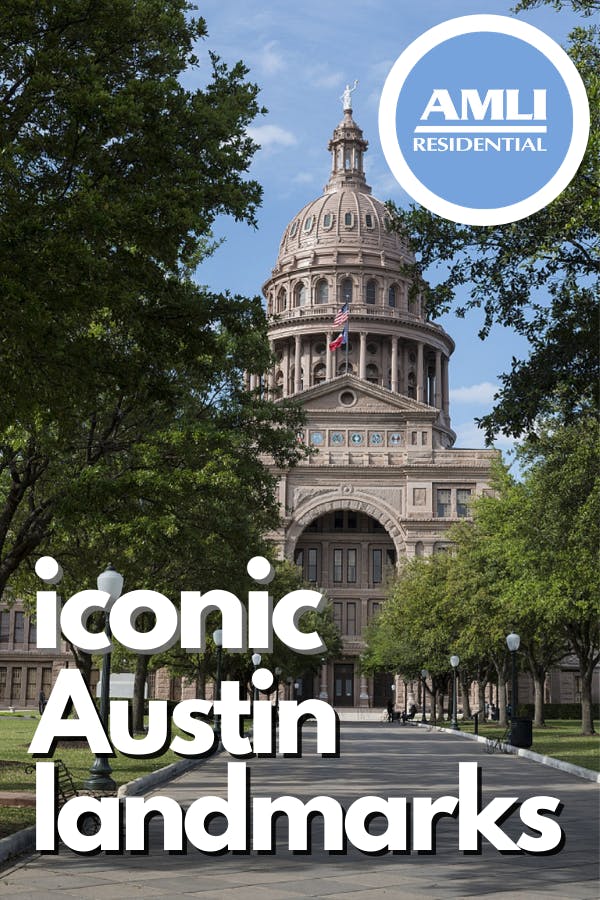 Featured photo courtesy Pixabay/inthepewsshow