It's amazing how different the world is when we travel outside our familiar neighborhood. Accents can change from country to country and even state to state, not to mention the overwhelming variety of languages and dialects that vary within individual countries. 
Landscapes can change from mountains to oceans to forests to deserts in the span of a few miles and certainly from country to country. Even culture and religion changes depending on what city, state, province or nation we are in. 
Point is, the world is so incredibly diverse and so magnificently different. There are no two people the same, and harmonious humanity delights in our differences. 
However, there's one thing that we undoubtedly have in common, no matter our religion, race, language or culture: our globally-mutual love of good food.
Food has, since the dawn of human history, been both a necessity and an art form. Not only do we need it to survive, but cultures and nations have taken this basic necessity and turned it into representations of themselves. Sure, we could all survive off of water and bread, but where's the fun in that? Besides, there's no better way to explore the fine nuances and quirks of a different place than by trying out the region's favorite dish.
Here in Dallas, we could travel just a thousand miles and find tropical islands, jagged peaks and magnificent temples, and all of these places likely have their own local meals. Spontaneous travel to wherever we want is not always possible, however, so we must turn to our local sources of international cuisine to satisfy our culinary cravings.
Here are some of the best international restaurants serving Asian-based cuisines in and around Dallas.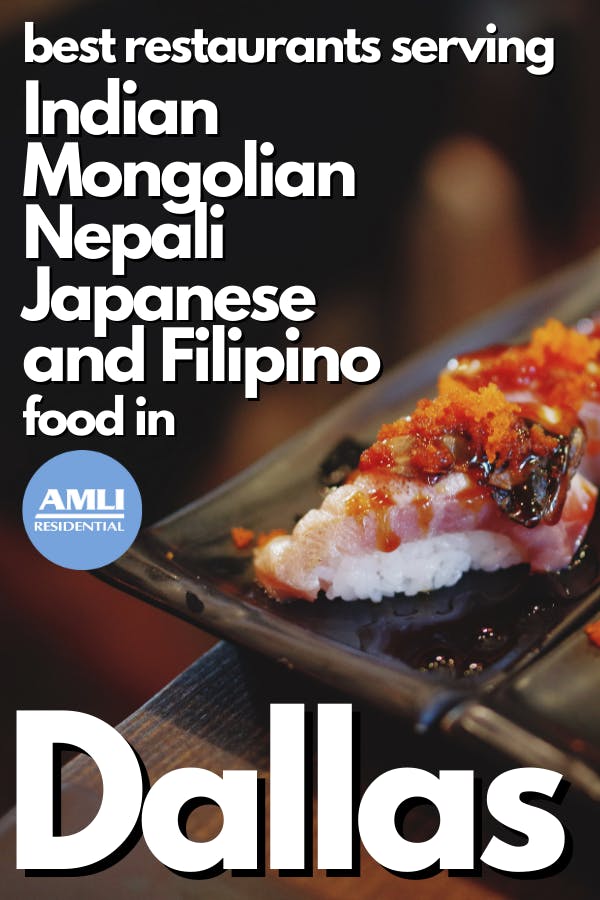 International restaurants and Asian cuisines in Dallas
If you're looking for a traditional Japanese barbecue joint, this is the spot to go. You'll have to make a reservation, but you get to grill your own lobster, beef, chicken and other seafood right at your own table!
You know the food is good when the list of restaurant locations includes places like Barcelona, New York City, Hong Kong and Tokyo! Located in the fabulous Hotel Crescent Court (just three minutes from our Uptown Dallas apartments), Nobu has certainly earned its reputation for exquisite seafood, sushi and a Kobe Wagyu that is an absolute must-try. Plus, the gorgeous setting is a huge bonus! 
There are so many other great Japanese restaurants around Downtown Dallas that we've already written all about them! Check it out! 
Located a little west of the Downtown Dallas area, Kalachandji's Restaurant is the longest-serving vegetarian restaurant in Dallas! Reviewers regularly hail this spot as one of the best vegetarian and Indian places in Dallas, with options for both gluten-free and vegan customers as well as their standard veggie fare. 
Make sure to get there early as the lines can get long during popular meal times! Also, be sure to sign up for their weekly cooking classes where you, too, can learn to make the delicious Indian foods that have kept this delicious restaurant one of Dallas' best-kept secrets. 
This tasty spot is just eight minutes away from our Dallas Arts District apartments!
When the Dallas Observer cites a restaurant as one of the most highly-praised Indian restaurants in Dallas, you know the place is doing something right. 
This Preston Valley location doesn't look far too different from other hole-in-the-wall restaurants, but the high level of service and quality dishes is what sets this eatery apart from its peers. Featuring a special Jain menu and various Indo-Chinese, Gujarati and South Indian dishes, this restaurant goes above and beyond its already-delicious fare of chicken, lamb and beef entrees.
India Palace is just eight minutes away from our luxury apartments in Addison, TX.
Located just 10 minutes from our Lake Carolyn apartments in Irving, Cafemandu is the perfect place to experience the wealth of flavors and colors in Nepali cuisine. We've already touched on the depth of Nepali cuisine here, so now you can go out and experience it for yourselves!
Locally-sourced food and traditional Nepali recipes mean that the food here at Cafemandu is sure to offer an unmatched culinary and cultural experience. Plus, don't forget to try their selection of Himalayan coffees, and make sure to stop by on their popular karaoke and acoustic open-mic nights!
And, as if it couldn't get any better, customers are encouraged to BYOB.
It's hard to find authentic restaurants that serve authentic foods, which is why this Filipino restaurant is so highly-rated! Known for offering traditional dishes true to their traditional recipes, the restaurant has quickly become one of the most-frequented Filipino locales in the DFW area.
Pop into this tasty eatery for some signature pan-seared tilapia with mango salsa, or maybe you're in the mood for some Filipino beef steak and tropical vegetables. Whatever your taste may be, you're sure to find something you like here!
And, the best part is that all this is just seven minutes away from our luxury apartments in Las Colinas!
You'll be hard-pressed to find another Mongolian restaurant in Dallas that's as highly rated as Chan's. This family-owned restaurant has been serving the DFW area authentically-prepared Mongolian dishes for over 15 years, offering entrees such as specially grilled beef, chicken and pork, as well as a slew of fresh vegetables and sauces. It's just nine miles from our new Grapevine apartments for rent!
While there's certainly more to international cuisine than what we've written about here, we've found some of the most highly rated Indian, Mongolian, Japanese, Nepali and Filipino restaurants in Dallas to start you on your flavorful journey. Let us know what you think and what YOUR favorite places in Dallas are!
Enjoy!
Pin it!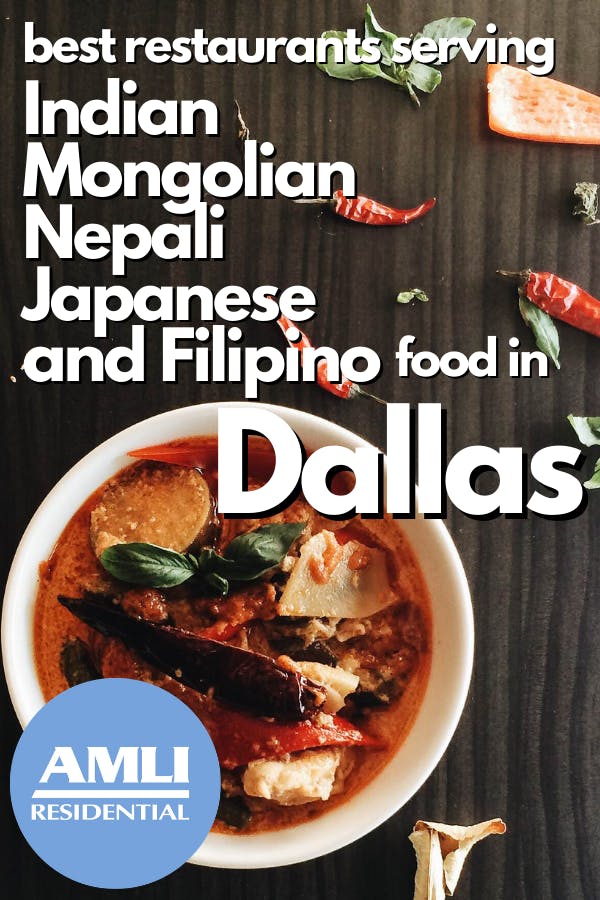 Featured photo courtesy Pixabay/Einladung_zum_Essen