Chicago is a city that's bursting with inventors, innovators and bright minds that have changed the way the world works in unimaginable ways, from a restauranteur who invented Chicago-style deep dish pizza to Alexander Graham Bell's invention of the telephone to the first modern-day skyscraper ever constructed. 
One of these modern-day bright minds is architect Jeanne Gang who has designed a slew of award-winning architecture projects around the world. Her home, though, is Chicago, and her vision for the city has literally and figuratively changed the landscape of Chicago's skyline in exciting new ways. 
Jeanne Gang is a well-known architect who currently leads the Studio Gang architecture and design practice. Today the studio has offices based in major urban centers such as San Francisco, New York and Chicago, and is involved in over 40 projects spanning from skyscrapers in New York City to airport terminals at O'Hare International Airport to university centers in the heart of Paris. 
Studio Gang's impact on Chicago architecture
Studio Gang's projects have garnered a host of awards and recognitions over the years, and Gang herself has frequently been named as one of the most prominent Chicago architects of her era! But it was right here in Chicago that Jeanne Gang first caught the eyes of architects and designers, way back in 2009 when her Aqua Tower project garnered international attention. 
Chicago has always been known for its architecture. After the Great Chicago Fire that devastated the city in 1871, urban planners and city officials placed great care into redesigning the city to be more attractive to the travelers and workers moving to the city, especially ahead of the World's Columbian Exposition in 1893. The architectural style that emerged during this period developed into what we today call the Commercial style: blocky, column-like buildings with terracotta, masonry and evenly spaced windows. In fact, you can see examples of this Commercial style of architecture still standing today!
Why is this important when talking about Jeanne Gang? Take one look at her Aqua Tower and you'll see exactly why her intelligent, natural and beautiful design made such waves (get it?) in the Chicago architecture world. In a city that's been defined by a blocky, classical style of structure, Jeanne Gang is introducing a brand new style into Chicago's skyline and urban design. 
Check out three of her popular projects in Chicago below!
3 popular Jeanne Gang projects in Chicago
Aqua Tower
Completed: 2009
Location: Lakeshore East
Use: Residential, retail, hotel
Aqua Tower is by no means Jeanne Gang's first project, but it's certainly one that forever put her on Chicago's architecture radar.
From afar, the Aqua Tower has the standard box-like appearance than many functional skyscrapers have. Up close, though, one can see the gentle, undulating waves that give the appearance of water up and down the 82-floor tower. 
The aquatic effect is created by wavy balconies protruding from the square tower. Each balcony is completely unique in shape and size, with some balconies stretching out as far as 12 feet from the skeleton in order to create the gentle wave-like look from afar. If you stand directly below the balconies and look up, you'll see that the soft, rounded balconies give the otherwise plain building a beautiful sculptural quality. 
The building was designed to not only give a soft texture to a plain building, but to use these gentle shapes to create connections between the humans that occupy the space and the natural features of the surrounding landscape. Each balcony has a view of at least one of six Chicago landmarks: Oak Street Beach, Navy Pier, Cloud Gate in Millennium Park, Buckingham Fountain in Grant Park, the Lake Street "L" Tracks and the park in Lakeshore East.
The wavy concrete balconies reflect the white limestone that makes up much of the natural landscape around Lake Michigan, and the irregular balcony shapes allow sunlight and shade to hit different parts of the building at different times of the day.
At the time it was built, Aqua was the largest project awarded to a women-run American architecture firm. It was surpassed in 2020 by the nearby St. Regis, which was also designed by Gang's firm. 
The St. Regis Chicago 
Completed: 2020
Location: Lakeshore East
Use: Residential, hotel
Previously called the Wanda Vista Tower, the St. Regis Chicago is not just the third-tallest skyscraper in the city, but it's also the world's tallest structure designed by a woman!
It's hard to miss this trio of interconnected towers overlooking the Chicago River. Covered in six different kinds of glass and stacked with pyramid-like floors, the shimmering 101-story towers create a crystal-like look that makes for an impressive landmark in Chicago's Lakeshore East district. The material and shape reflect the natural blues and greens of the sky and lake, imitating the look and structure of crystalline fluorite.
Nature Boardwalk at Lincoln Park Zoo
Completed: 2010
Location: Lincoln Park Zoo
Use: Civic
Jeanne Gang's architectural marvels are not limited to skyscrapers and luxury penthouses, as is evident in the Nature Boardwalk at Lincoln Park Zoo. Yet the complete transformation of this unsustainable pond into an urban paradise for wildlife reflects Gang's mastery of creating sustainable connections between humanity and our environment through architecture.
The pond, which was once not much more than a decorative body of water, now features a boardwalk that transports visitors through wetlands teeming with migratory birds, native plants and critters of all kinds. Educational plaques detailing the animals, foliage and wildlife of each habitat dot the walk and allow guests to explore the delicate connection between urban living and its natural surroundings. In the center of the boardwalk is a pavilion designed to both give shade and act as an outdoor classroom where educational activities are conducted.
All in all, the project not only injected new life into the pond and its surroundings, but it was designed to improve the water quality and hydrology for the wildlife that call the pond their home. 
If you live anywhere near our luxury Chicago apartments, then head over to Lakeshore East and take a look at the two skyscrapers that have permanently changed the landscape of Chicago's architecture, or the Lincoln Park Zoo where you can experience the more subtly powerful effects of intentional urban design. Either way, you're sure to enjoy the aesthetics of these masterfully designed spaces that continue to make Chicago a more and more beautiful city.
Enjoy!
Pin it!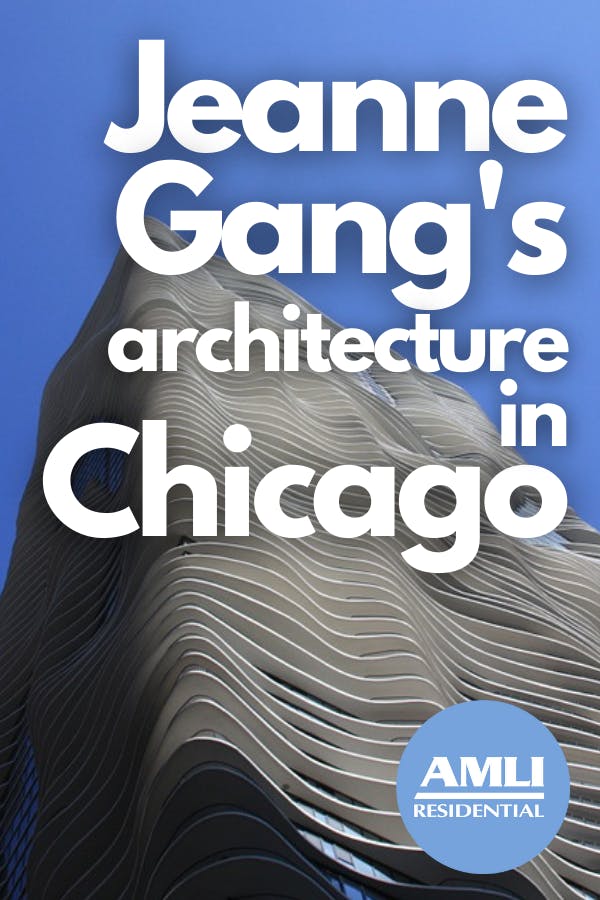 Featured photo courtesy Pixabay/BriBra