We've got some great news! 
If you haven't seen or heard by now, AMLI Residential has a new community in Grapevine, Texas, and we are very excited about it! It's in a great location, and it provides the exceptional amenities and customer service that make AMLI apartments your favorite residential communities across the country. 
Location, location, location!
You may have noticed that AMLI communities all have one thing in common: great location. Whether you're in downtown, the suburbs or a quaint neighborhood, our apartments are always close to where you need to be. And, in AMLI Grapevine's case, location is a big deal.
Excellent for commutes
AMLI Grapevine is about 20 minutes northwest of downtown Dallas in the center of the city of its namesake, Grapevine. It's a few minutes' drive from the intersection of Highways 114, 121 and 360, so Fort Worth, Frisco and Dallas are never too far away. AMLI Grapevine is also just a few miles away from DFW International Airport, so the whole world is at your doorstep.
And, if that wasn't enough, DFW is just a 10-minute ride away on TEXRail, which also runs Fort Worth. You can find the Grapevine/Main Street Station less than half-mile away from our apartment community.
Grapevine charm
AMLI Grapevine's central location and proximity to Main Street are just part of what makes the location so appealing. Just blocks away are Grapevine's local restaurants, stores, salons and, most importantly, wineries. 
There's a reason Grapevine has the name that it does. The city's downtown area boasts high-end wineries and the popular Urban Wine Trail, a wine experience that includes tastings, festivals and special events all year long. Grapevine's wine industry supports local winemakers and has made a name for itself as one of Texas' leaders in wine culture.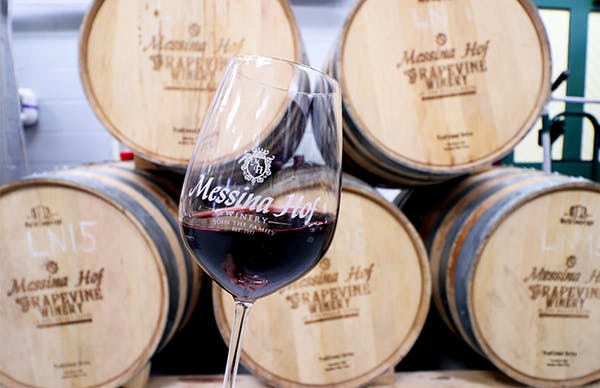 Grapevine's newest upscale hotel, Hotel Vin, is set to complete construction in early September, and boy, does it look absolutely fabulous! A self-proclaimed dose of "Southern hospitality" and "refined luxury," Hotel Vin's stylish and indulgent atmosphere is sure to draw plenty of visitors to the neighborhood. The hotel is built and decorated in the style of an elegant and classic train station — a subtle nod to the TEXRail depot across the street — and the completed hotel will feature a food hall where visitors can lavish in the refined atmosphere of the brand-new hotel.
Finally, you can experience Grapevine's charm without ever leaving AMLI Grapevine by visiting our onsite retail businesses. Sit down for a glass of wine and dine in style at rustic Italian restaurant Stellini Trattoria or find your Zen at Inspire Yoga before heading inside to enjoy our many community amenities. 
Outdoor recreation
AMLI Grapevine is also conveniently located close to idyllic Lake Grapevine. The 8,000-acre lake is a popular recreation destination that serves most of the Dallas/Fort Worth area, with activities including fishing, boating, camping, hiking and more! There are floating water parks, cabin rentals and marinas available practically all year-round, and living just four minutes away from this wealth of activity is certainly a luxury not many in Dallas get to enjoy.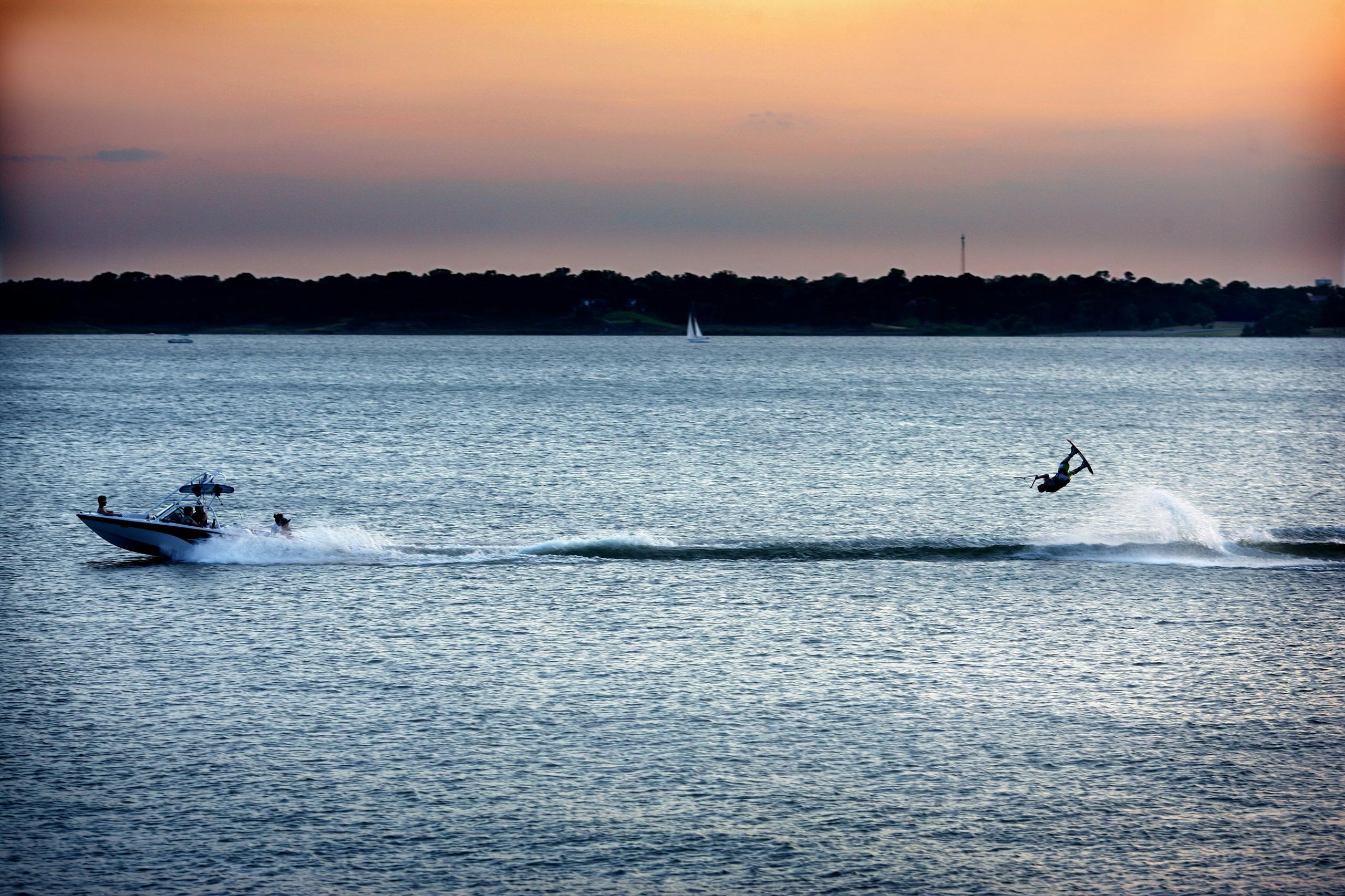 AMLI Grapevine amenities 
We strive to offer an apartment life that you'll never want to leave, and that mission is evident in our Grapevine community. With our luxurious amenities and high-end finishes, AMLI Grapevine offers a higher class of living that you won't find at many other residential communities.
Entertain guests at the spacious pool area and outdoor entertainment space laden with games, grills, TVs and a large serving bar, or host an event at our clubhouse equipped with a full catering kitchen and coffee bar.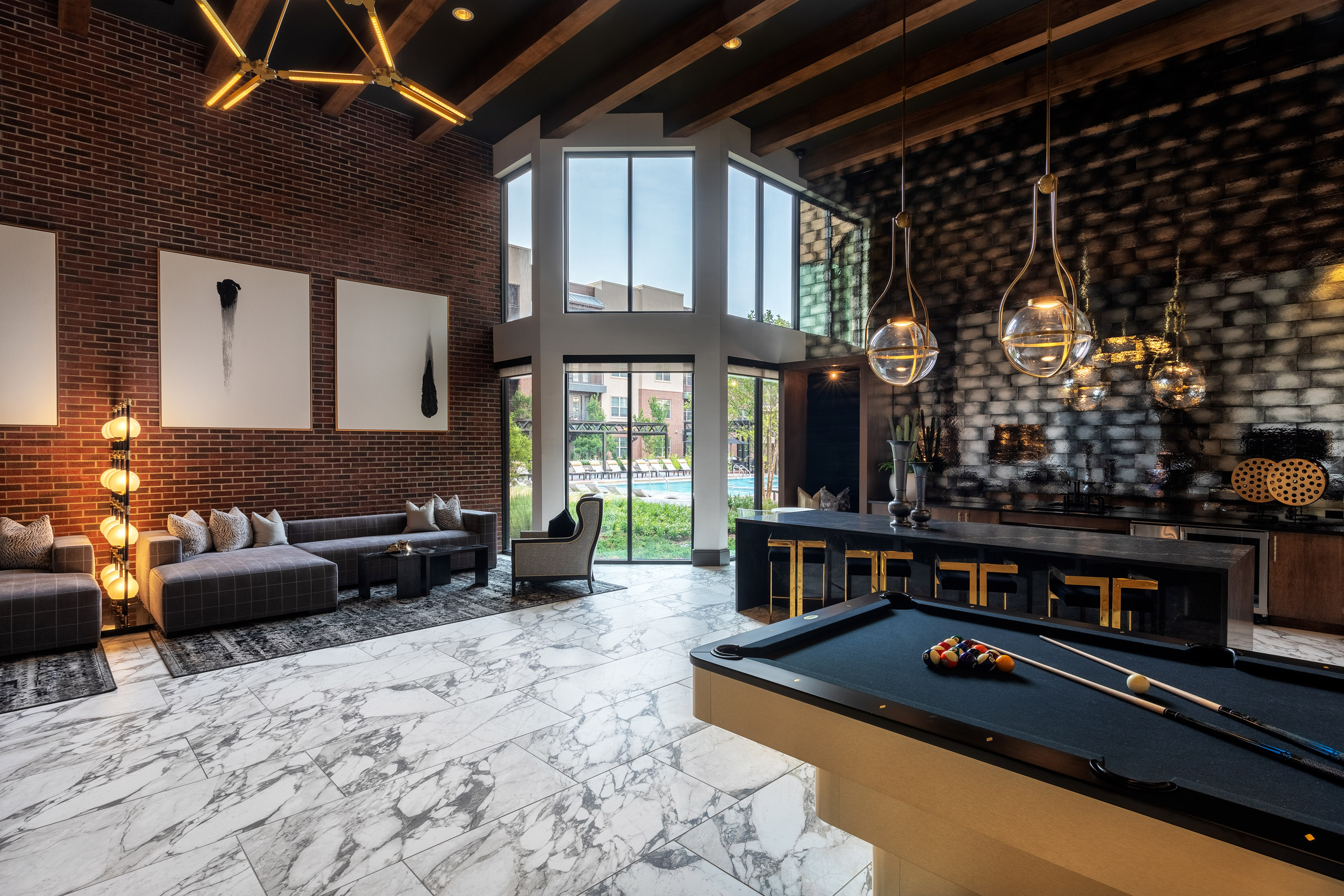 The fitness center offers on-demand spin classes and a wide assortment of cardio, weight and TRX equipment for workouts of any and every kind. And, when you're done working out, dive into the courtyard pool and dry off by the fire pit. 
Living at AMLI Grapevine has more perks than just outdoor entertainment and recreation. We also offer 24-hour access package lockers and executive conference spaces that will fit with your busy schedule. And when you need to do some work from home (don't we all!), there's a business center and cyber lounge ready and waiting. 
Pets, as always, are welcome at AMLI Grapevine, and the pet park is open to our four-legged residents of all sizes.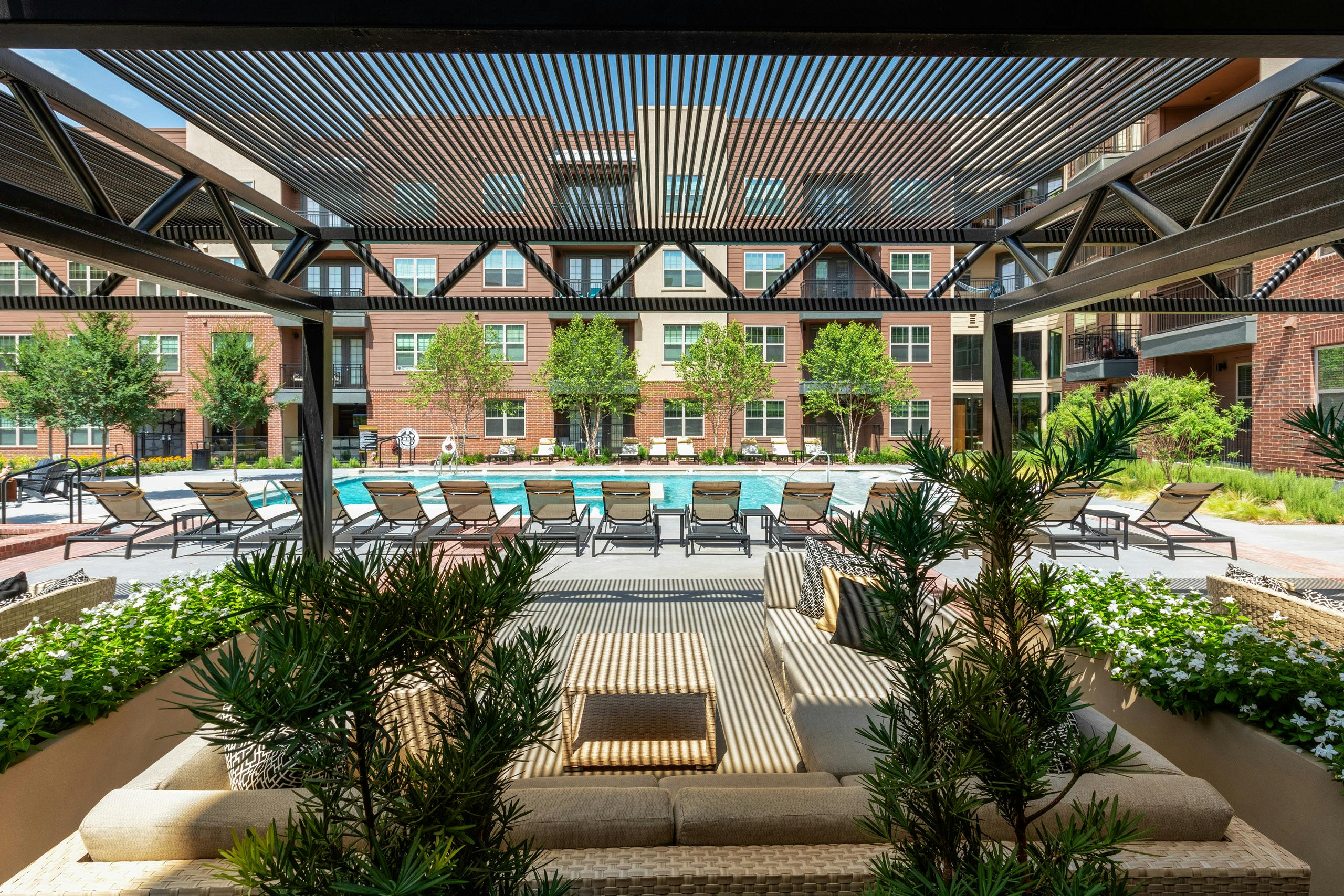 Our one- and two-bedroom apartments are all built with 8-foot entry and patio doors, expansive 9- and 10-foot ceilings and wood-style flooring in living and dining areas. Modern lighting, ceiling fans, wood blinds and designer-inspired accent walls are just a few of the extra details you can expect to see at these Grapevine apartments. Oh, and don't forget the private patio or balcony; a number of apartments have those as well.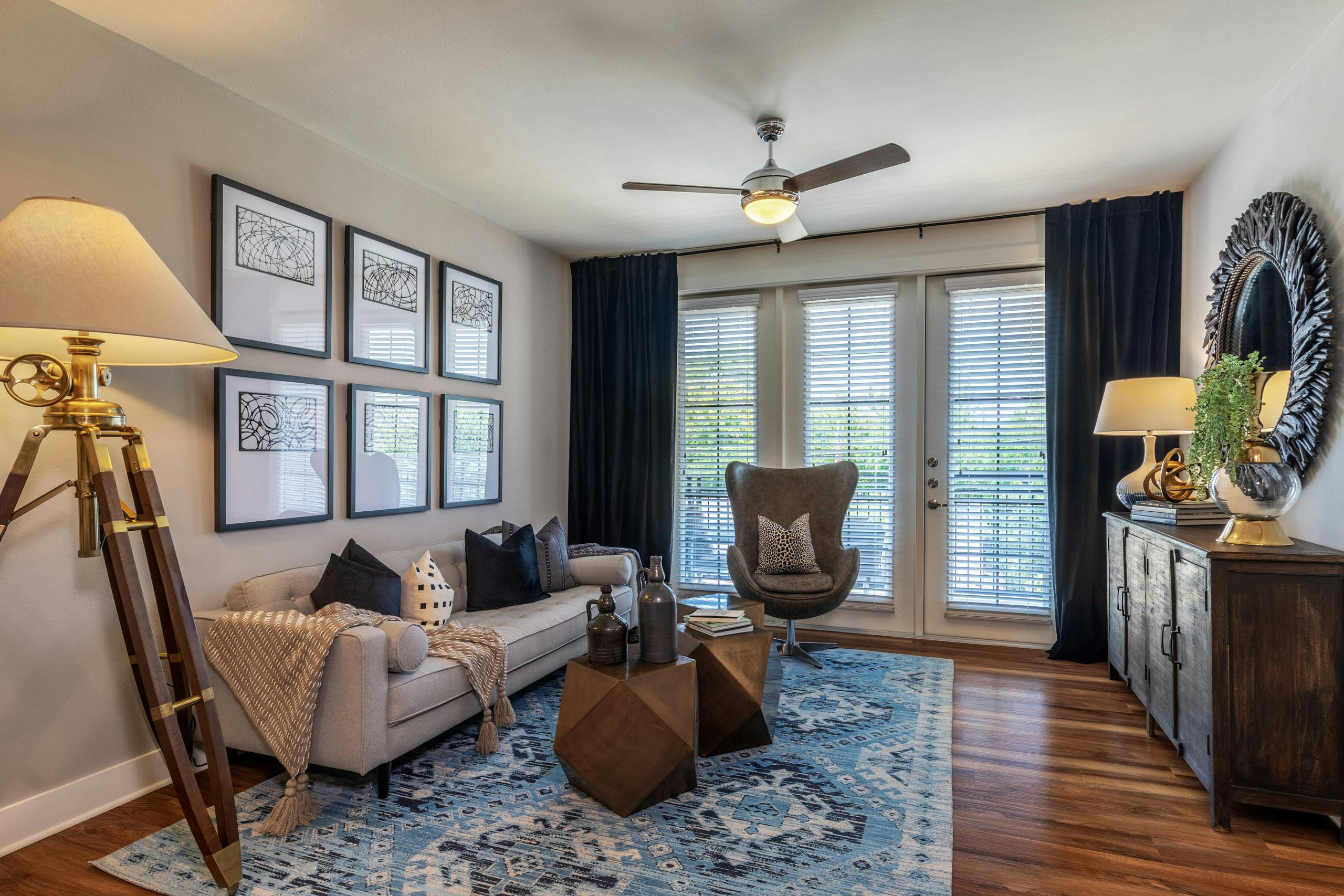 Kitchens are outfitted with elegant granite countertops and tile backsplashes, complete with under-cabinet lighting and gourmet prep islands. Many apartments come with ENERGY STAR® stainless steel appliances, and all have an in-unit washer and dryer for residents' convenience. Luxurious soaking tubs, designer fixtures and marble countertops are staples in the bathrooms, as are large vanity mirrors complete with frames and lighting. Finally, our bedrooms feature spacious walk-in closets and custom wood shelving. 
Like we said, you'll love the attention to detail.
When it comes to luxury Grapevine apartments, AMLI's got you covered. AMLI Grapevine is open for virtual, self-guided or in-person tours, so contact our leasing office to set up your tour today!