Florida's temperate climate is perfect for growing plants and produce. There's a good amount of rain, plenty of sunshine and that gorgeous ocean breeze that keeps the warm, humid air moving.
And while we may think of Florida as a tourist destination, a vibrant cultural scene, a national park paradise or, in your case, home, a large part of Florida's economy is centered around agriculture and life in the more rural parts of the state. 
Fruits and vegetables from Florida are exported to other nearby U.S. states, to Canada, to Mexico and Puerto Rico, and as far away as Germany, Norway, Japan and China! After all, we do know that Florida oranges are world famous, so what else can we attribute to the Sunshine State? 
Here are a handful of crops that make up the top nine most valuable crops grown in Florida, as of the 2021 State Agriculture Overview collected and published by the United States Department of Agriculture. And while there's much, much more that didn't make it on the list, these are the ones that produce over $100 million for local farmers, workers and business each year!
Florida's top 9 crops
Oranges
Harvested acres: 342,900
Annual production value: $708.58 million
Every great breakfast starts with a tall glass of OJ — especially Florida OJ!
While California may be the nation's largest orange producer, Florida's own agricultural scene is dominated by the orange. It's been grown in orchards here since the dawn of the 20th century and the crop is only getting bigger, better and, of course, tastier! 
Strawberries
Harvested acres: 10,400
Annual production value: $399.01 million
If you're a strawberry lover, then you'll be berry pleased to know that the Winter Strawberry Capital of the World is right here in Florida — in a little town called Plant City. Precious, we know.
Strawberries are a winter fruit here in Florida, interestingly enough, because they need a certain amount of cool-weather hours to properly ripen. And, because Florida's winters don't get cold enough to kill the plants outright, the berries thrive in the cool winters of northern Florida. 
Tomatoes
Harvested acres: 21,000
Annual production value: $323.53 million
Almost half of the fresh tomatoes sold in stores in the country come from Florida — south Florida, to be exact. Tomatoes need sunshine to grow and, since Florida is one of the earliest states to get that nice, warm sunshine, it has a head start on the country's tomato production. 
Watermelon
Harvested acres: 26,400
Annual production value: $208.55 million
Florida is a big name in the watermelon game, producing well over a quarter of the nation's watermelon supply over the year and 100% of watermelons specifically from December through April. 
South Florida has a better climate for growing watermelons, but the soil is better in the northern and central regions — meaning you're sure to find at least one or two farms no matter where you find yourself!
Sweet corn
Harvested acres: 31,600
Annual production value: $149.86 million
If you buy a fresh ear of corn at the grocery store, then there's a good chance it was grown in Florida. 
The Sunshine state is the nation's largest producer of fresh corn, most of which is grown in the northern counties and along the panhandle. 
Bell peppers
Harvested acres: 9,900
Annual production value: $137.58 million
There's a type of pepper called the bird pepper that is not only the only pepper native to Florida, but it's also considered to be the parent pepper of nearly all of the culinary peppers we cook with today! Wild, huh?
Today, bell peppers — the bird pepper's less-spicy descendant — are a wildly popular crop here in Florida, especially since this is the only place warm enough to grow and harvest bell peppers between the months of October to June. 
Peanuts
Harvested acres: 158,000
Annual production value: $130.08 million
Peanuts are grown all over the Southern United States, from New Mexico to Georgia and as far north as Virginia. And, of course, Florida! The crop likes warm soil and a decent amount of frost-free days, so it of course makes sense that the Sunshine State is a great place to plant them.
And, fun fact, did you know that peanuts are technically a legume, not a nut? They're classified as such because they grow in a pod with more than two seeds, whereas true nuts only have one seed per shell. 
Cucumber
Harvested acres: 21,200
Annual production value: $110.36 million
Florida is the nation's largest producer of cucumbers, thanks to ideal temperatures and good soil. 
Cucumbers also grow and harvest extremely quickly, with the crop yielding a hefty harvest during three separate growing seasons within just one year! 
Potatoes
Harvested acres: 20,000
Annual production value: $98.28 million
With so many juicy, citrusy, fresh fruits and veggies on this list, it seems odd that the common potato would make an appearance here among Florida's most popular produce. Yet, here we are!
Because of the warm weather and, more importantly, warm soil, Florida can produce potatoes year-round while states further north struggle with frost and frozen ground. Remember to thank a Florida farmer when you're making wedges at Christmas!
Next time you're at a farmers market in and around our luxury South Florida apartments, keep an eye out for these fruits and veggies that come straight from your backyard! And remember, when you buy local, you support local families, local farms and local economies — and what's better than that?
Enjoy!
Pin it!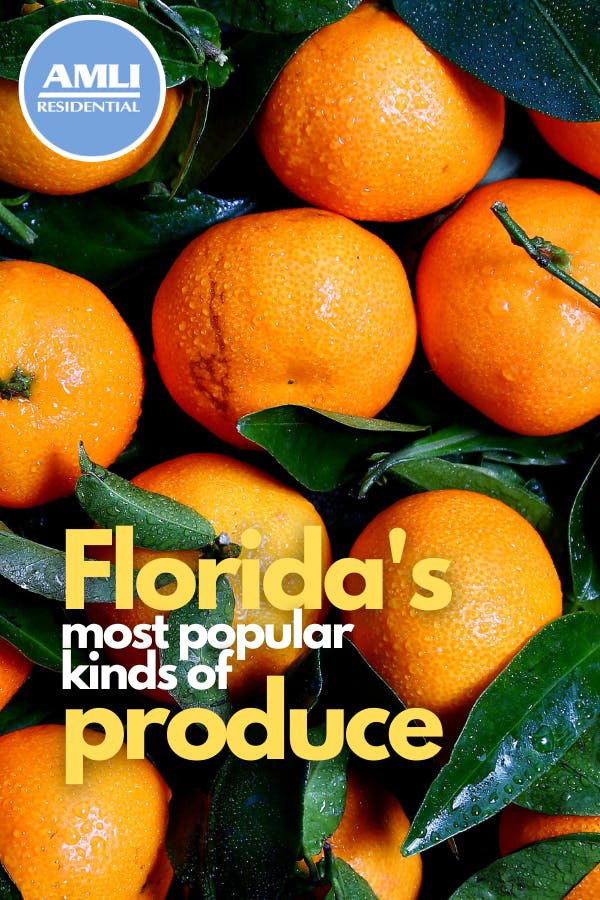 Featured photo courtesy Pixabay/Hans