For those of you interested in learning about science, arts or culture, Fort Lauderdale has a wide variety of museums both children and adults will love. Museums are a great way to expand your knowledge and imagination, all while keeping you informed on events of cultural, religious and historical importance. Here are some of the city's most popular museums, all within close driving distance to our Fort Lauderdale apartment rentals.
4000 W. Perimeter Road
With the simple, yet powerful mission to educate, preserve and honor heroes, Fort Lauderdale's Naval Air Station does just that. One of the museum's main aims is to keep the memory of Flight 19 alive, one of America's longest-standing aviation mysteries. A training flight after World War II, Flight 19 was taking part in a routine navigation exercise through the Bermuda Triangle when Lt. Charles C. Taylor reported that he had lost sight of his whereabouts. As weather conditions continued to worsen, Flight 19 ran out of fuel before crashing.
Now, the museum continues to tell the story of Flight 19, and works to preserve the stories of the men and women who risk their lives in the armed services. Multiple exhibits are available, including a flight simulator, photography collection, butterfly garden and the letters, artifacts, and displays of Flight 19. The Naval Air Station Museum is open from 11:30am-3:30pm on Thursdays, Saturdays and Sundays. Admission is always free.
1 E. Las Olas Blvd.
NSU Art Museum has more than 6,000 pieces of work to peruse. The extensive collection includes many pieces by artists of the avant-garde CoBrA movement of the post-WWII period, with work from renowned artists such as William Glackens, John Sloan, George Bellows and more. Closed on Mondays, NSU Art Museum is open every other day of the week, staying open until 8pm on the first Thursday of every month. General admission for adults costs $12, and entry for seniors and military personnel costs $8.
401 SW Second St.
Probably one of Fort Lauderdale's more interactive cultural offerings, the Museum of Discovery and Science allows visitors to get up-close and personal with the exhibits on display. Take yourself on a mock aerospace expedition traveling to the moon, or head over to the IMAX theater to watch a 3D showing a rotating cast of educational and blockbuster films. Home to a wide variety of exhibits, work your way through the Florida Ecoscapes or board the Everglades Airboat Adventure, where you ride a 20-person airboat on an exhilarating journey through the Everglades. Here, you'll be able to learn all about the ecosystem as you learn about the plants, animals and weather that make up Florida's unique wetlands. Other exhibits are included below:
Prehistoric Florida
Storm Center
Otters at Play
Go Green
Florida Water Story
The Museum is open 10am-5pm Monday through Saturday and from noon-5pm on Sundays. General admission for adults is $19, with a $2 surcharge if you purchase your ticket by phone. Tickets for IMAX are not included, but there are combination packages available. Be sure to check out their website for more information.
Built in 1920, the Bonnet House was created by artist Frederic Clay Bartlett. After his wife, Helen Louise Birch passed away, he remarried to Evelyn Fortune Lilly who continued to live at Bonnet House until 1995. Now a museum, the area serves as a unique historic estate for visitors to enjoy. With five distinct ecosystems making up the area, guests have access to a hibiscus garden, wetlands, a forest and more. Visitors will have the opportunity to see birds routinely fly in and out of the gardens, as well as manatees who occasionally swim in the Boathouse Canal. Tours of the estate are available Tuesday through Sunday, with general admission costing $20 for adults and $16 for children. Bonnet House Museum & Gardens is less than 20-minutes from our downtown Fort Lauderdale apartments.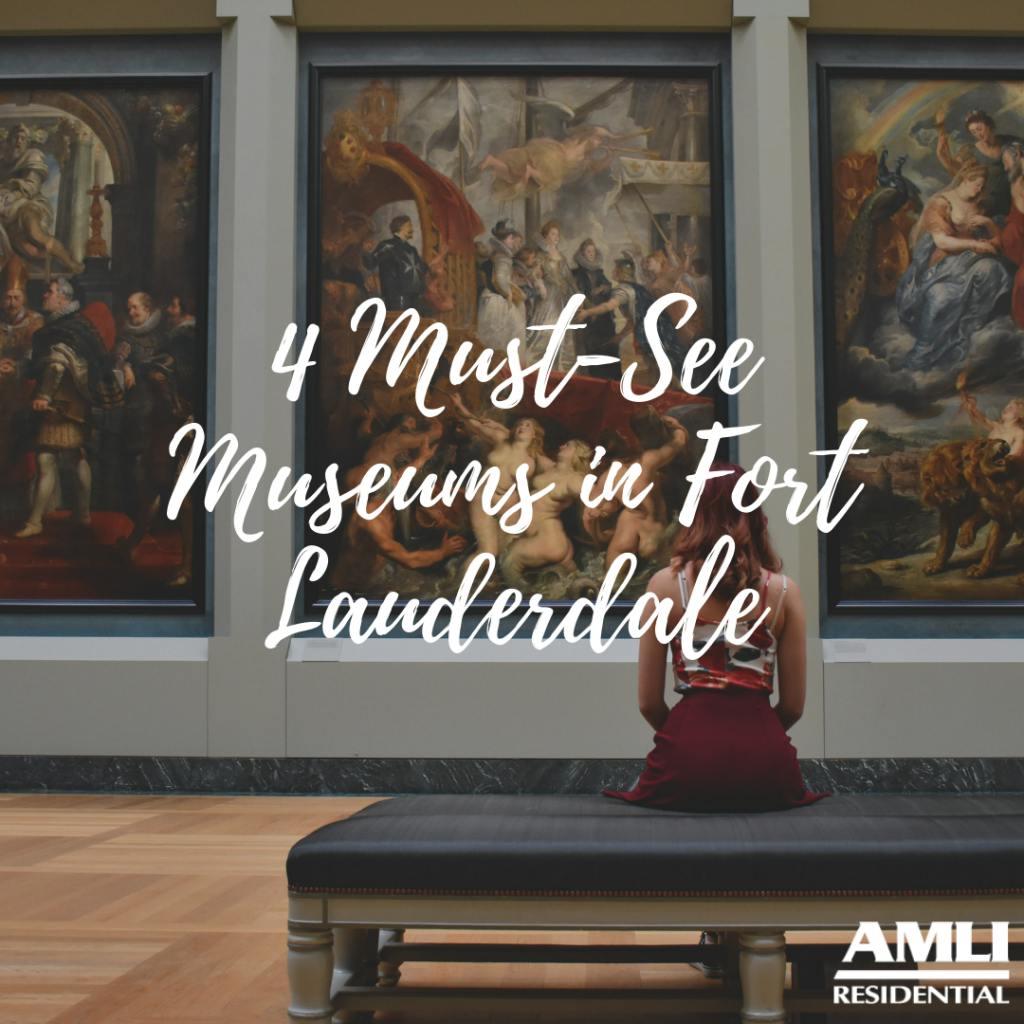 ***
Main photo courtesy Pixabay/StockSnap