National parks provide something that is quickly becoming more and more scarce each year: wilderness. 
As our cities grow and our suburbs spread out, we find ourselves further and further away from quiet country roads and peaceful forests. We find newly-developed neighborhoods in place of natural space, and our zip codes include more and more humans, and less and less wildlife.
It's not a surprise that with the exponential growth in human population that the amount of wild space has also shrunk. That's just what happens and what has happened throughout the course of human history. However, with the more recent (think of the past two centuries) advances in medicine, travel, accessibility and infrastructure, humans are utilizing more and more of the planet's resources than ever before. 
According to a 2016 study, the past two decades have seen an extensive loss of natural wilderness area across the globe, with an estimated 10% shrinkage between 1992 and 2009.
Within the United States, nearly 6,000 acres of open space, which includes all unbuilt areas such as ranches, fields, forests, streams, parks, grasslands and the like, are lost every day. That's like losing a forest the size of New York City every month. This loss of open space is mainly a result of urban expansion.
Although this can seem a little bleak, don't give up hope just yet! There are places in the country that are specifically protected by governmental agencies and studied by scientists to preserve the most beautiful open spaces in the land. Those, ladies and gents, are our national parks.
Now that you see why preserving the natural beauty of the world around us is so important, why not go visit some that are nearby? In addition to expansive open spaces, the National Park Service also preserves historical sites and monuments that display the area's unique history.
If you live in our luxury Atlanta apartments, then here are some of the national parks and monuments in Georgia that you can visit for yourself!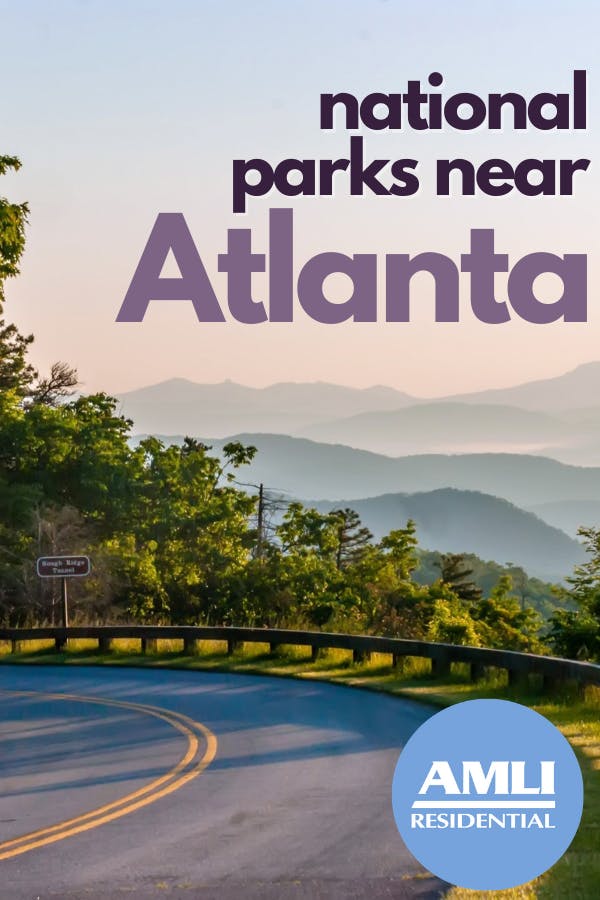 National Parks near Atlanta
National Recreation Area
Distance: 15 minutes
When the white noise of the city begins to get too loud, head over to the Chattahoochee River area for some much-deserved peace and quiet. In the summertime, the river is full of rafters, kayakers and swimmers alike, and in the winter it's a pristine wonderland. Hike along the banks, fish in the river or just bask in the sunlight while listening to the water float all your troubles away.
National Heritage Area
Distance: 30 minutes
The ancient granite outcrops around Flat Rock, Georgia, have guarded and defined Georgia's landscape for millions of years. Hiking through this area means stepping foot on ground that's older than humanity itself.
The Arabia Mountain National Heritage Area includes grand granite features, quiet trails, gorgeous views and a cultural environment that's as impressive as its landscape.
National Battlefield Park
Distance: 30 minutes
The Kennesaw Mountain National Battlefield Park is the preserved land on which both nomads lived and Civil War battles were fought. The two thousand acres of park land was once occupied by the Cherokee nation before their forced removal in the early 19th-century, after which it became a hotspot for gold diggers who had heard of gold being discovered in nearby Dahlonega. 
A few decades later, the Civil War brought armies from both sides through the Kennesaw area in what became known as the Atlanta Campaign. The site now known as Kennesaw Mountain National Battlefield Park was the scene of a battle that lasted nearly half a month in 1864, and the landscape still shows evidence of the conflict. 
National Historic Park
Distance: 1 hour, 23 minutes
This national historic park showcases the evidence of American Indian occupation as far back as the prehistoric era! 
Thousand-year-old earth-covered mounds that acted as housing and shelter for humans in the Mississippian Period still stand at the site today, and artifacts and remains of Ice Age-era settlers give us a glimpse of what the land was like so very long ago.
National Scenic Trail
Distance: 2 hours
Those who decide to hike the 2,180-mile-long trail need at least 5 month of free time to hike the whole thing, but luckily the scenic trail is open for day visitors, too!
Built in 1937 by citizens and now managed by the NPS, the Appalachian Trail winds through the Appalachian mountains from northern Maine to Springer Mountain in Georgia. The trail runs through forests, pastures and small Appalachian towns, and it's perfect for those looking for a day hike, a backpacking trip or a month-long sabbatical!
National Park
Distance: 3 hours, 35 minutes
While this park may be located outside Georgia's state lines, the western North Carolina park is just a few hours away from downtown Atlanta.
If you didn't already know, the Appalachian mountains are some of the oldest mountains in the world with a ripe old age of just over 1.2 billion years. The ecosystems that surround these mountains are filled with a wide variety of wildlife foliage, and the ancient landscape lends a totally unreal atmosphere to the already-gorgeous forests. 
Great Smoky Mountains National Park is the most-visited national park in the United States 
Next time you're itching to get some fresh air and escape the confines of city life for a while, consider these national parks near Atlanta. Be sure to check their websites to stay updated on the latest travel and schedule information, and always remember to leave the area as beautiful as you found it! Leave no trace!
Enjoy!
Pin it!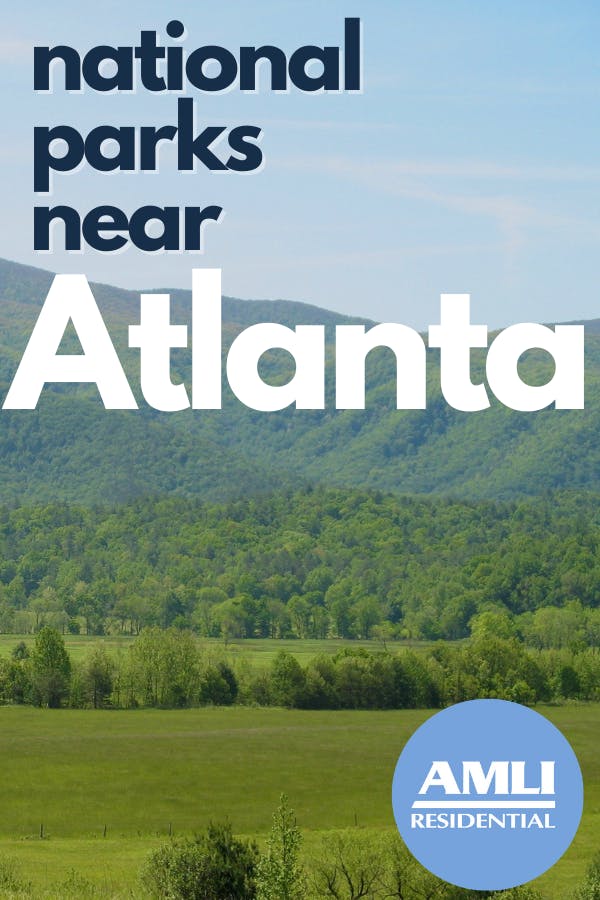 Featured photo courtesy Pixabay/theSOARnet