Pollinators are an essential part of our ecosystem. Without them, we would have no flowers, fruits, vegetables or berries!
Pollinators transfer pollen from flower to flower as they visit them in search of nectar, and that process keeps local flora alive and thriving despite so much habitat loss created by cities and urbanization.
Here at AMLI, we love supporting natural pollinators, especially here in Chicago. Our River North apartments and our  apartments near River North feature rooftop gardens and pollinator paths to attract and support the birds, butterflies and bees that come to the city in search of food. 
Here are a few pollinators that keep the fruits, veggies and flowers around Chicago happy and healthy, so keep an eye out for them next time you're out!
Pollinating bees, hummingbirds & butterflies in Chicago
Bees
A honey bee is probably the first creature that comes to mind when we think about pollinators, especially since the creation of honey is so closely tied to this insect's pollinating abilities.
Bees pick up pollen on their legs and bodies as they buzz from flower to flower in search of nectar. The pollen gets distributed along the way and fertilizes the female parts of flowers, allowing for the creation of fruits and veggies. 
This is how pollination works across the board, but bees do it so well that we can't help but start with them!
Here are a few of the local bee species that you're likely to find flitting around your windowsill, neighborhood park or botanical garden. 
Butterflies
Butterflies are also important pollinators, especially ones that travel far distances or migrate between different areas regularly. It takes a lot of nectar to fuel a cross-country migration, so these little guys are pretty intense when it comes to visiting as many flowers as they can. 
Flies
Apparently, flies have another purpose alongside annoying the heck out of every other living thing. Who knew? 
Certain adult flies feed on nectar and only head toward the less desirable sights and smells when they're ready to lay eggs. Fly larvae feed on the gross stuff, but the adults eat nectar just like bees and butterflies do.
Hummingbirds
Hummingbirds are a treat to spot, especially in the city or dense urban areas. Though they don't always land on flowers, their tiny beaks and faces pick up pollen as they sip on nectar from long, tube-like flowers. 
Moths
We may not think of moths as pollinators, but they are! They are sometimes the only pollinators for certain kinds of plants, such as flowers that open at night and flowers with pale coloration that other pollinators aren't attracted to.
If you live anywhere in or near our luxury Chicago apartments, keep an eye out for these pollinators next time you're out at one of the city's many parks or gardens. Maybe you'll recognize a few, and maybe you'll get to watch them hard at work ensuring the continued survival of our local flora!
Bee happy!
Pin it!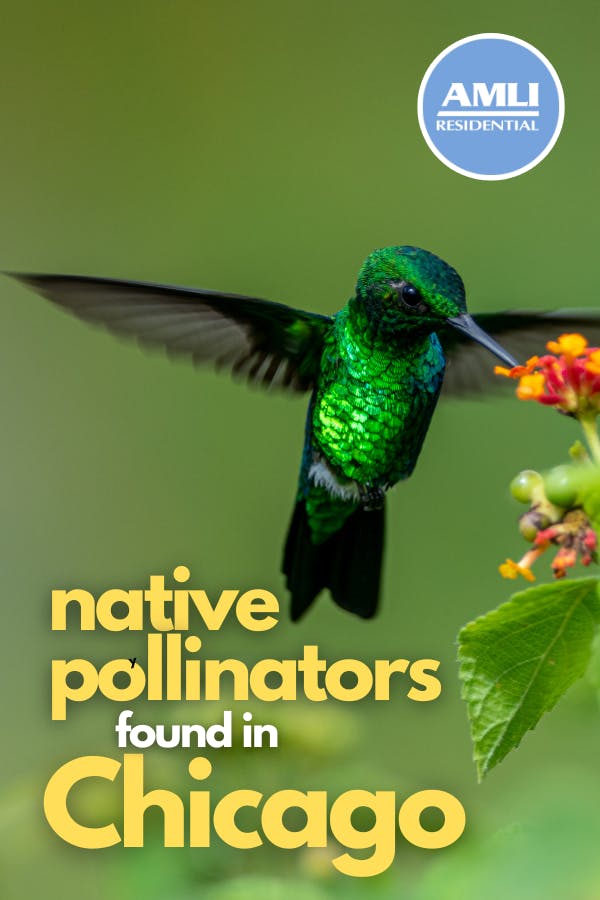 Featured photo courtesy Pixabay/WikiImages