Happy March! 
It seems as though January and February have just flown by, which means spring is just around the corner! Buds are growing on trees, birds are starting to sing and flowers are starting to peek their heads through the cold ground. 
There's not much to do in March in terms of holidays. The first half of the year runs a little slowly, so the few holidays and special events we have are extra fun to celebrate. February has Valentine's Day, April has Easter and March has St. Patrick's Day. 
So, celebrate in style and have fun this St. Patrick's Day at these fun events in and around your AMLI apartments!
Atlanta
Celebrate St Patrick's Day on Saturday, March 14 at the Park Tavern at Piedmont Park. Tickets to this festive party will include entry and access to live entertainment featuring DJ Qtip, so make sure you purchase your tickets soon! There will be food and drink, but it will be sold separately.
Enjoy your holiday beer guilt free after participating in this inaugural Atlanta Shamrock Run on Sunday, March 15. This 4-mile course weaves through Atlanta's Old Fourth Ward and ends with an ice-cold beer! Register now for your spot in this lucky race!
Austin
There's nothing like a St. Patrick's Day street festival to get you in the holiday's mood! There will be live music, bagpipes, Irish and American foods and all the green beer you could want. 
Complement your evening of partying with a fun St. Patrick's Day-themed run through downtown Austin on Saturday, March 14. The course, which runs either 3.5 or 5.5 miles across the river and through downtown Austin, starts and ends at the Austin American-Statesman office. Stop at The Loop Running Supply Co. halfway through the race to receive festive beads and special shamrock headbands, and enjoy snacks and drinks upon successful completion of the course.
Chicago
Everyone knows that there's no place like Chicago to spend St. Patrick's Day. Here's what you should try to experience!
Watch the Chicago River get dyed bright green at 9 a.m. on Tuesday, March 17. Don't worry, the dyes are environmentally friendly and will dissolve after just a few hours, so get to the river bright and early if you want to see the color at its finest!
The St. Patrick's Day Parade is on Saturday, March 14 this year, so don't forget to mark your calendars for this massive city-wide parade! As per usual, the iconic parade (which is one of the biggest St. Patrick's Day parades in the country) will be full of Irish dancers, bagpipes, floats, music and much, much more!
Celebrate St. Patrick's Day with a lively festival at the Irish American Heritage Center. Tickets to the festival, which are about $10 for ages 12 and up, include access to Irish dances, Irish foods, drinks, lectures, guest speakers and more!
Dallas
The vegetables at the Dallas Farmers Market isn't the only thing that will be green! Head over to the market on Saturday, March 14 to find some green beer and "green-aritas" (green margaritas), plus some live entertainment and a live bagpipe performance at 6 p.m.
Denver
Self-proclaimed as host to one of the biggest free St. Patrick's Day events in Denver, the ViewHouse Ballpark is sure to make the holiday weekend a memorable one. 
Friday, March 13: Let's Get Shamrocked Kick-Off Party
Saturday, March 14: Parade Day
Sunday, March 15: Luck of the Irish Brunch Party
Tuesday, March 17: St. Patrick's Day Party
All of these events are free to attend, and Irish food and drink are available to purchase Friday through Tuesday.
Houston
There's no place better to spend St. Patrick's Day than at an Irish pub! Starting on Saturday, March 14 and going through Tuesday, March 17 is a weekend-long celebration of the Irish holiday, complete with live music, DJs, crawfish, giveaways and promotional events. 
Seattle
Welcome spring to Seattle at the 36th annual St. Patrick's Day Dash through downtown Seattle on Saturday, March 14. Feel free to dress up for this 5K, as there's a good chance you will be joined by ten thousand other costume-clad participants, too! Make sure to sign up for the dash soon so that you can reserve your space and purchase the merchandise before it runs out!
Southern California
If there's one way to do this holiday its due diligence, it's through a pub crawl! Tickets include cover-free entrance to over ten different bars around the downtown Los Angeles area and access to food and drink specials. Buy tickets for either Saturday, March 14 or Tuesday, March 17.
South Florida
Spend your St. Patrick's Day at The Wharf on North River Drive sipping cocktails and munching on seafood! The Wharf Miami's third St. Patrick's Day Festival will feature Irish whiskey, beer, live music and a festive environment lasting well into the night of Tuesday, March 17. It is a 21+ event, but children and leashed dogs are allowed to accompany parents before 6 p.m. 
We hope you have fun and enjoy all of March's festivities in your AMLI region, both on St. Patrick's Day and every other day. So, happy St. Patrick's Day, happy March and a happy springtime! 
Enjoy!
Pin it!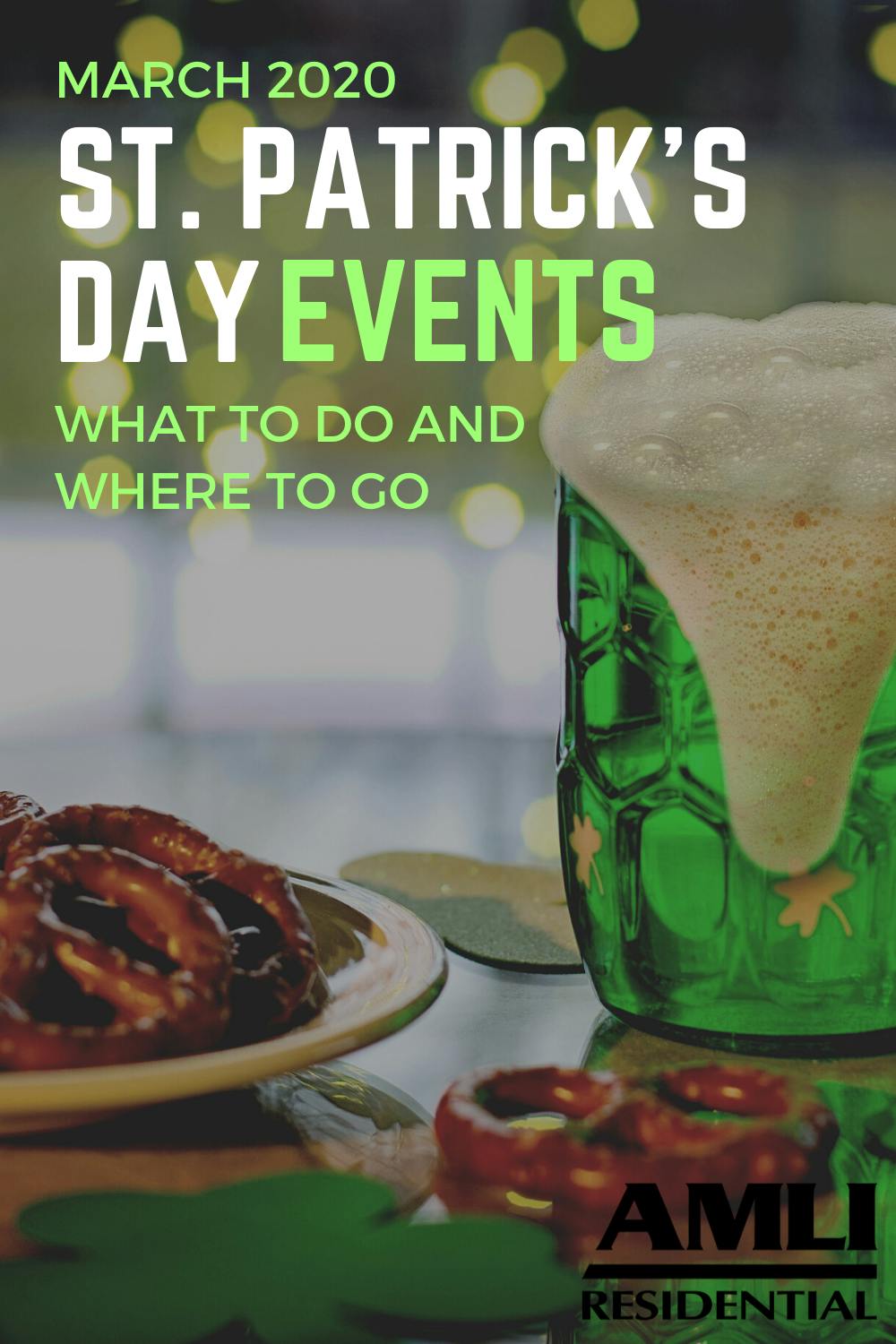 Featured photo courtesy Pixabay/JillWellington