It's springtime in Dallas! And what better way to enjoy the season than by catching some quality Vitamin D in one of the many parks in Uptown Dallas?
With us having spent so much time indoors and in social isolation, it's more important than ever to make sure that we are spending some quality time in the fresh air and sunshine. It could be a bike ride in the morning, a run in the afternoon or a walk after dinner, but the most important thing is that you find a way to enjoy your time in the outdoors and look forward to adding that to your daily schedule.  
If you live in our Downtown Dallas apartments, then you may already be familiar with some of the parks and green spaces in the area. You may have been to them before on walks, picnics or bike rides, but if you haven't then we're here to tell you all about a few of the green spaces close to our Uptown Dallas apartments.
Parks in Uptown Dallas
This place is not a park, per se, but it's still a beautiful piece of Dallas's history. There are plenty of old statues, gorgeous sculptures and the type of serenity that only a solemn place like Greenwood can offer. 
Turtle Creek Parkway Park
0.3 miles from AMLI Quadrangle
If you live at AMLI Quadrangle, this quaint little park is just three blocks away from your apartment, although it really stretches for miles along Turtle Creek. Turtle Creek runs from Curtis Park in the Park Cities neighborhood all the way down to the Trinity River in the Design District. The Turtle Creek Parkway runs alongside the creek through 23.7 linear acres of green space along the water, and the trail also runs through a few different parks, too!
Head north from AMLI Quadrangle to see Turtle Creek Park with its manicured lawns and riverside picnic spots. Keep heading north to stop at William Dean Park, which is just opposite the Kalita Humphreys Theater and Second Thought Theater for an evening of stroll and shows. Further up are the gorgeous views of Exall Lake at Lakeside Park, and don't miss out on taking a picture with the giant teddy bear statues there, too! This is where the trail ends, but the creek continues further north for a few more blocks through residential areas.
Reverchon Park is no mere park! It's a complex of sports areas, recreation facilities and trails, as well as a full baseball field and fitness classes. The park is also home to the largest oak tree in Dallas!
1.2 miles from AMLI Design District
Pike Park is not much bigger than a city block, but when it comes to finding a green space to be in there's no such thing as too small! If you wanted to, say, go on a quick run, then you could run to Pike Park and then grab a milkshake from Shake Shack on the way home. See? We're being healthy!
Klyde Warren Park
Klyde Warren Park is located above the Woodall Rodgers Freeway and right across from the Dallas Museum of Art. This manicured 5-acre park is home to over 37 native plant species and is frequently a location for outdoor recreational activities and city-sponsored events. The park connects downtown Dallas to the Arts District in a classy, stylish and green way!
Griggs Park
1.2 miles from AMLI Fountain Place
If you're looking for green grass and skyline views, then Griggs Park is the place to go! This triangular park nestled between Uptown and Bryan Place offers unobstructed views of downtown Dallas' skyline. Plus, you can see our new Fountain Place apartments from there, too! Take a picnic, relax on the grass and watch the world pass you by as you enjoy the views.
So, if you're itching to spend some time outside (but not in close contact with others), consider walking through these parks and green spaces to exercise not just your body, but your mind as well. Walking through these parks provides a great opportunity to listen to an audio book (or two, or three!) or catch up with a friend over the phone. You'll be surprised at what you can fill up your time with while on a nice walk!
So, get out there! Enjoy the sunshine, enjoy these Uptown Dallas parks, enjoy the springtime weather and, most importantly, enjoy all the physical and mental benefits that come with a walk in the park!
Enjoy!
Pin it!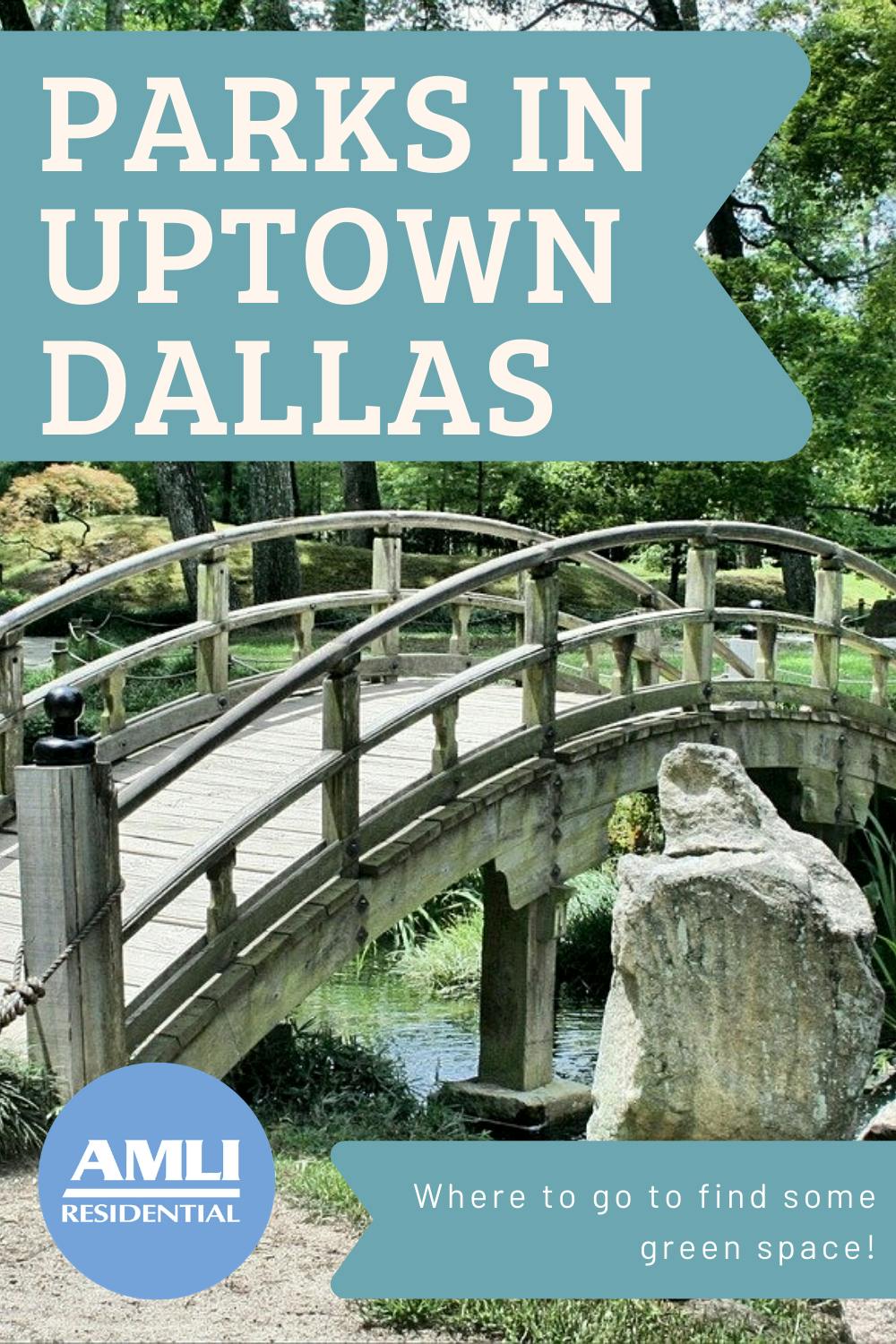 Featured photo courtesy Pixabay/JamesDeMers