In a place where the sun is (mostly) shining, it's nearly impossible to resist the urge to get outside and explore. And while Southern California is known for beautiful beaches and the picturesque locales like Malibu and Santa Monica, Woodland Hills is a neighborhood that combines the best of both worlds in its quiet, lush neighborhood. Bordering Calabasas and Tarzana, Woodland Hills includes high-end shopping, a delicious local food scene and lively night life for entertainment. At the same time, this beautiful community is known for its rolling landscapes and a host of outdoor activities that are sure to give you a boost. To make the most of the gorgeous weather, we've compiled a list with some of our favorite places to go outdoors near Woodland Hills, California.
West end of Victory Blvd.
Formerly known as the Ahmanson Ranch, this open space preserve became a public parkland in 2003 and spans nearly 6,000 acres for both visitors and locals to enjoy. Located at the western edge of the San Fernando Valley, partake in activities such as hiking, biking, or horseback riding with miles of trails to keep you occupied. Easily one of the area's most accessible and beautiful ranges, enjoy the lush hills and valley oaks as you spend your day exploring. The Open Space Preserve is a 20-minute drive from our Woodland Hills apartments, making it the perfect quick-escape from the hustle and bustle of daily life. To access the park, head over to the Victory Trailhead on the west-end of Victory Boulevard in West Hills. There is a parking fee upon arrival.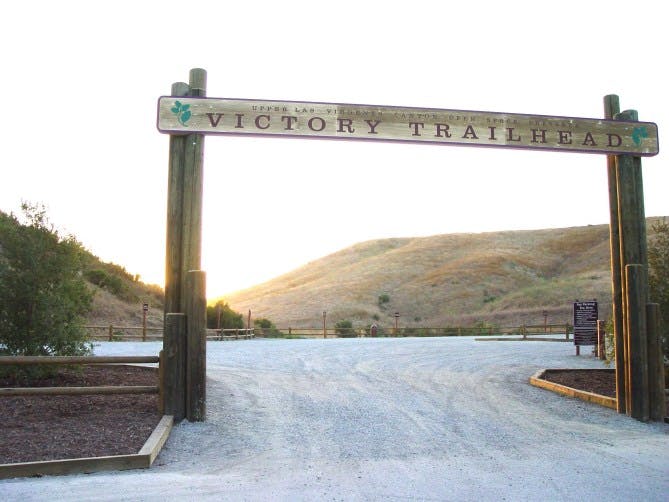 3400 N. Topanga Canyon Blvd.
Pack a lunch, put on your best hiking shoes and begin your expedition up to the top of Topanga Overlook. With breathtaking and panoramic views of the Santa Monica and San Gabriel mountains, as well as the San Fernando Valley, this is a short, yet great hike with even better photo opportunities. Take your pick to hike during the day, or, wait until night falls and take in the mesmerizing city lights surrounding you. A beautiful destination, Topanga Overlook is the perfect spot to sit back and watch the world go by. Amenities at this 9-acre destination include parking, restrooms and picnic areas for you to relax with friends and family.
20726 Wells Drive
If you're looking for a family-friendly place to bring your children, look no further than Serrania Park. Located just south of Ventura Boulevard in Woodland Hills, this park includes a 2.4-mile hiking trail, walking paths and a play area for your children. If you've got a four-legged friend, be sure to bring them along to enjoy the large, grassy areas provided. Make it a full day by packing snacks to enjoy at the picnic tables, or lay a blanket down and soak up some vitamin D in the Golden State sun. And don't worry, there's plenty of parking available! In no time at all, this will be your go-to getaway spot.
With plenty of sunshine and even more exploring ahead of you, we recommend filling up your water bottle and hitting the great outdoors. You won't regret it!
Interested in more blogs like this? Be sure to stay up to date with the AMLI blog!