It's not often that you get to play tour guide in your own city. Luckily, Seattle has tons of things to do with your visiting friends and family. When my friend booked her trip to Washington last year, my mind immediately began sorting through the hundreds of fun activities and sights we could see and do while she was here. In the end, my husband and I decided to trim it down to some popular things she would want to see while in the Emerald City. 
While we have all the time in the world to explore the city from our luxury Seattle apartments, our visitor only had a day. We made a simple travel guide packed with fun, touristy attractions within walking distance of downtown Seattle.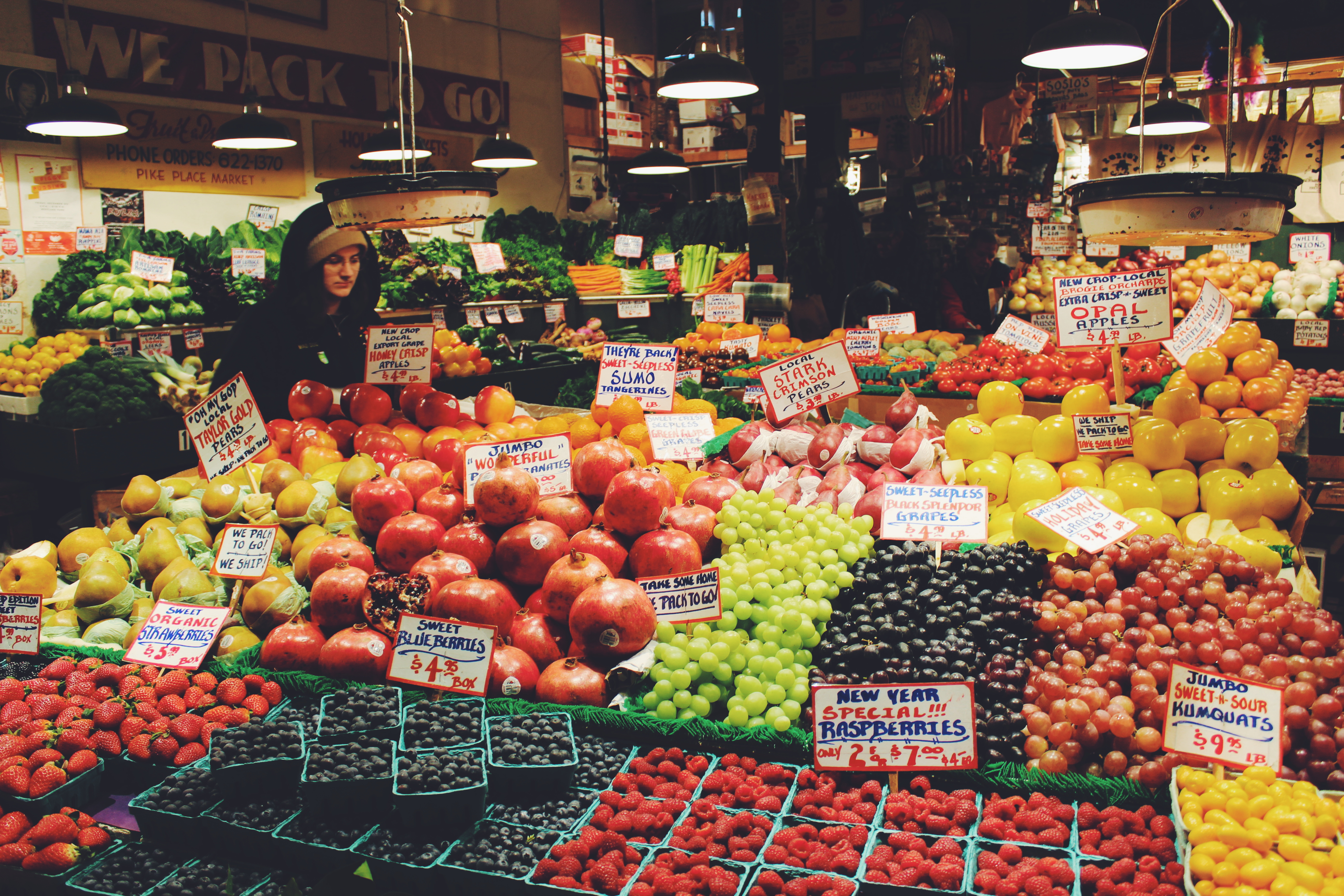 My friend prefaced her visit to Seattle with one request: "please take me to wherever it is that they throw the fish." It seems like word gets around fast that Seattle is the place to be to watch airborne seafood, but Pike Place Market is not a bad place to spend a morning at all, especially since it's a great spot for a local, too (hooray for supporting your local farmers and artisans!).
I'd say that the morning is the best time to visit the marketplace. The crowd is significantly smaller, and it's far easier to talk to vendors about their wares. Make sure to stop by the outdoor patio area to get a stunning view of the Puget Sound and the Olympic mountains beyond, as it makes for great Instagram pics. The original Starbucks store is far more manageable in the mornings, and we made it through the short line in just 10 minutes, which is a hundred times more bearable than waiting in the line snaking out the door later in the day. Finally, my friend stood with rapt attention as she waited for the sing-song fish-tossing tradition that's made the Pike Place Fish Market so famous over the years. After that, she was ready to move on.
Pro tip: I despise the Gum Wall with all of my might, but not nearly as much as my husband. Luckily for him, he found a great spot to take pictures of us through a window as my eyes watered from the smell of saliva-soaked spearmint and cherry bubblegum. If you are like me and detest that alley with all you have, take advantage of the little windows in the Economy Market building to take your friend's artsy photos.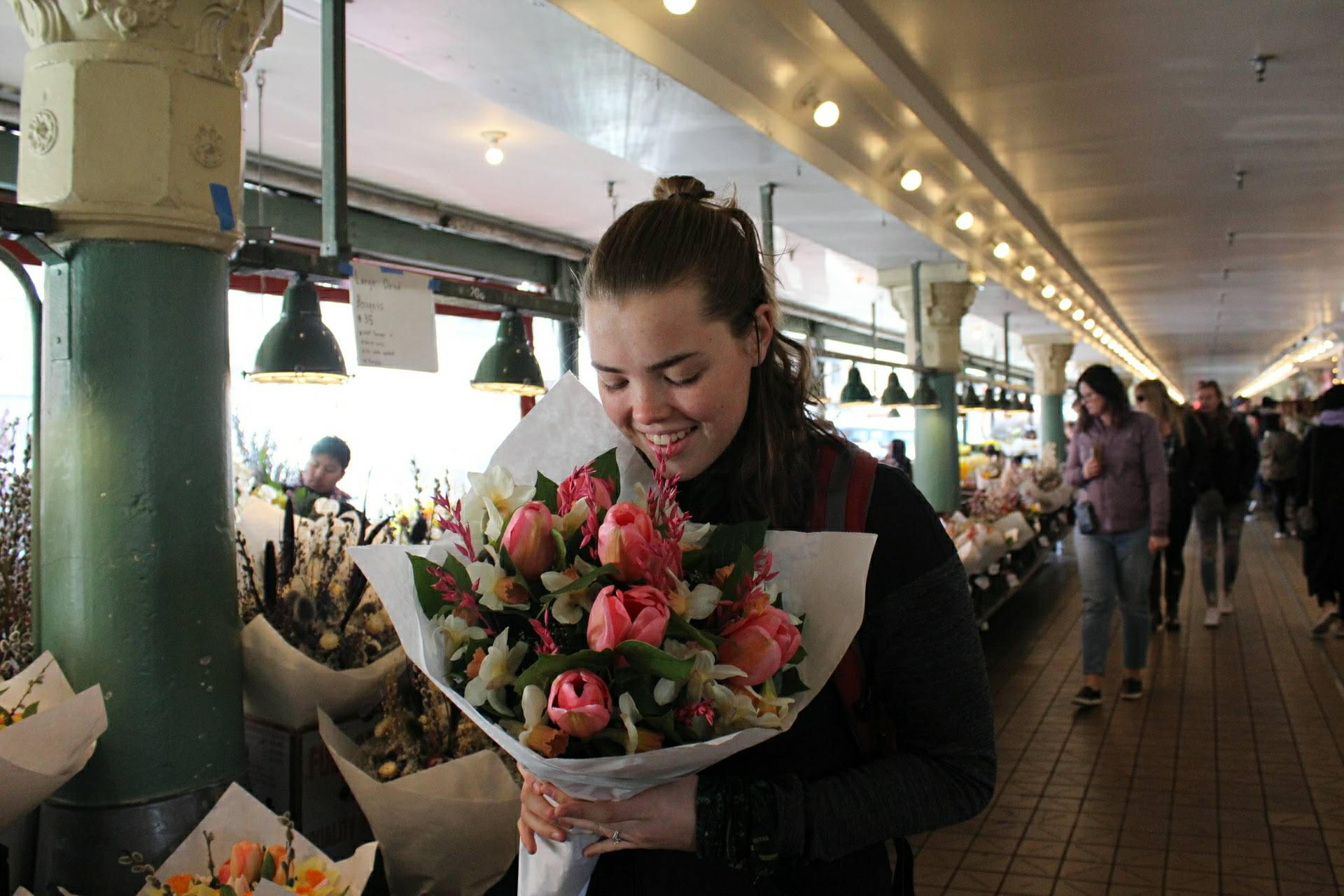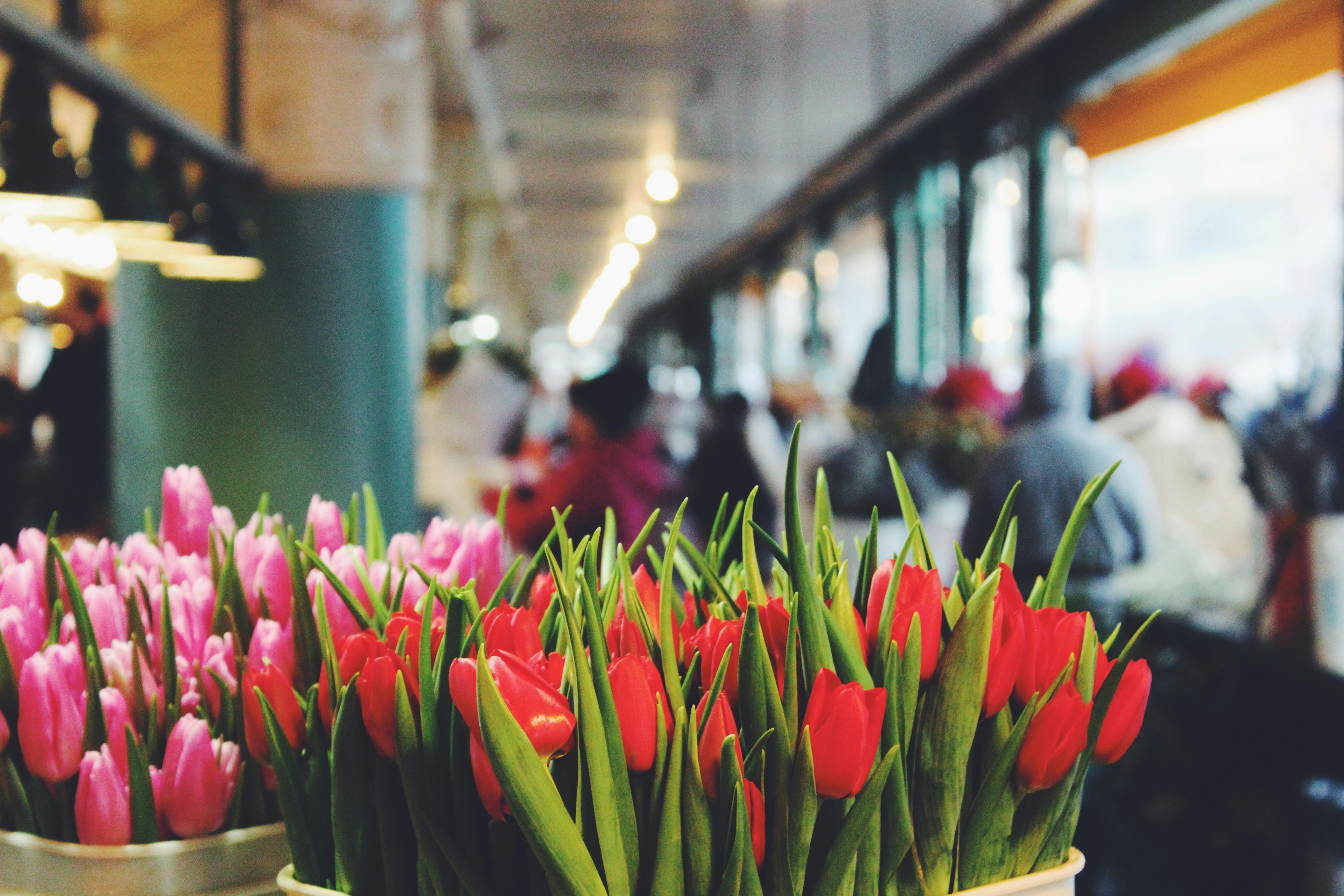 The thing about cities with iconic landmarks (i.e. The Space Needle, Mt. Rainier and the Seattle Great Wheel) is that it's almost impossible to appreciate the skyline from within the city. Now, I'm a sucker for public transportation, and the Seattle-Bainbridge Ferry probably has some of the best views of any public vehicle around. So, in true I-want-to-relax-while-still-showing-you-the-city fashion, my friend was treated to an awesome view of the city, and I was treated to 35 minutes of restful sitting; all for a whopping $8 round-trip. 
Pro tip: Travelling by foot on the Seattle-Bainbridge Ferry is free from Bainbridge to Seattle. The only cost is the initial $8 ticket to the island.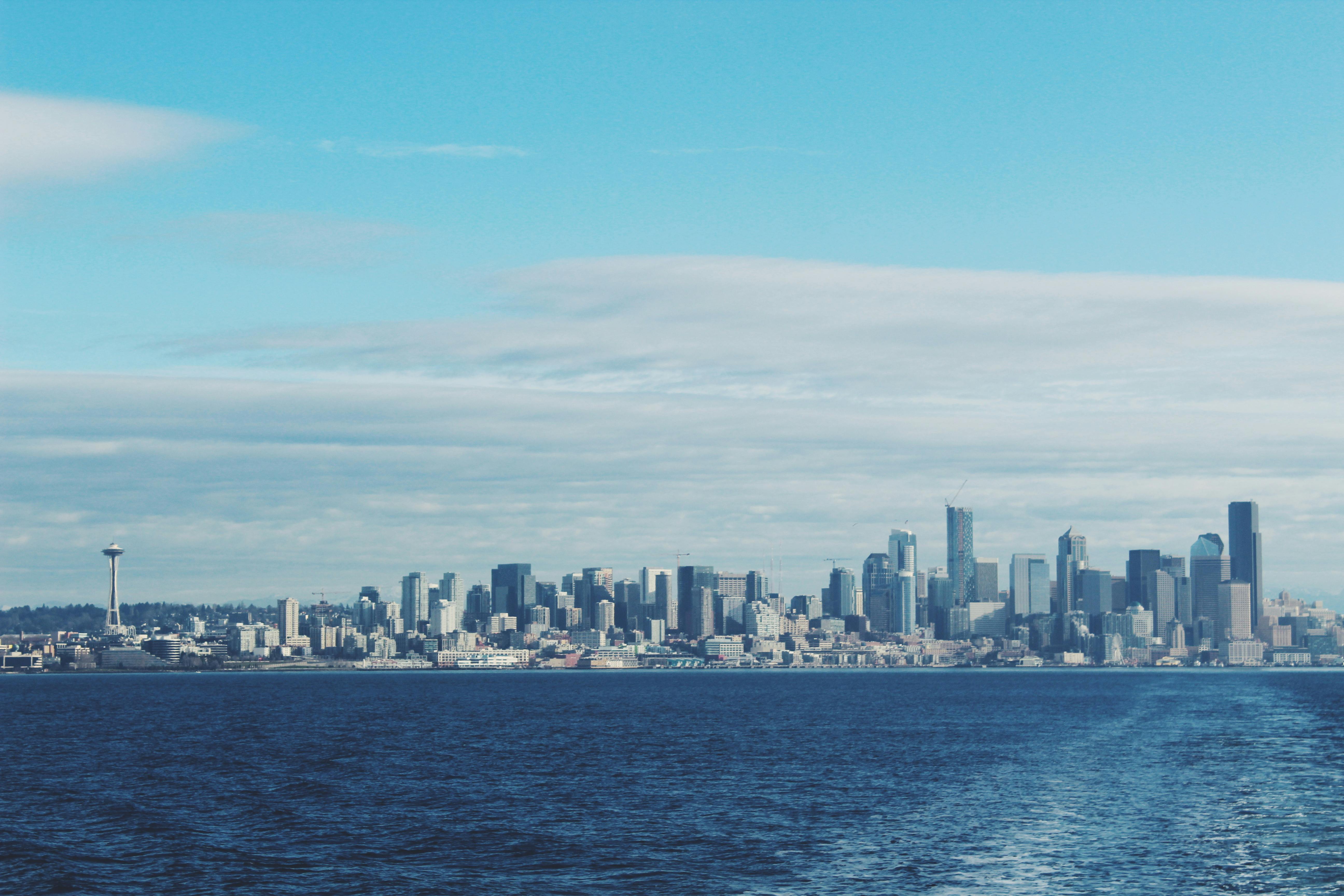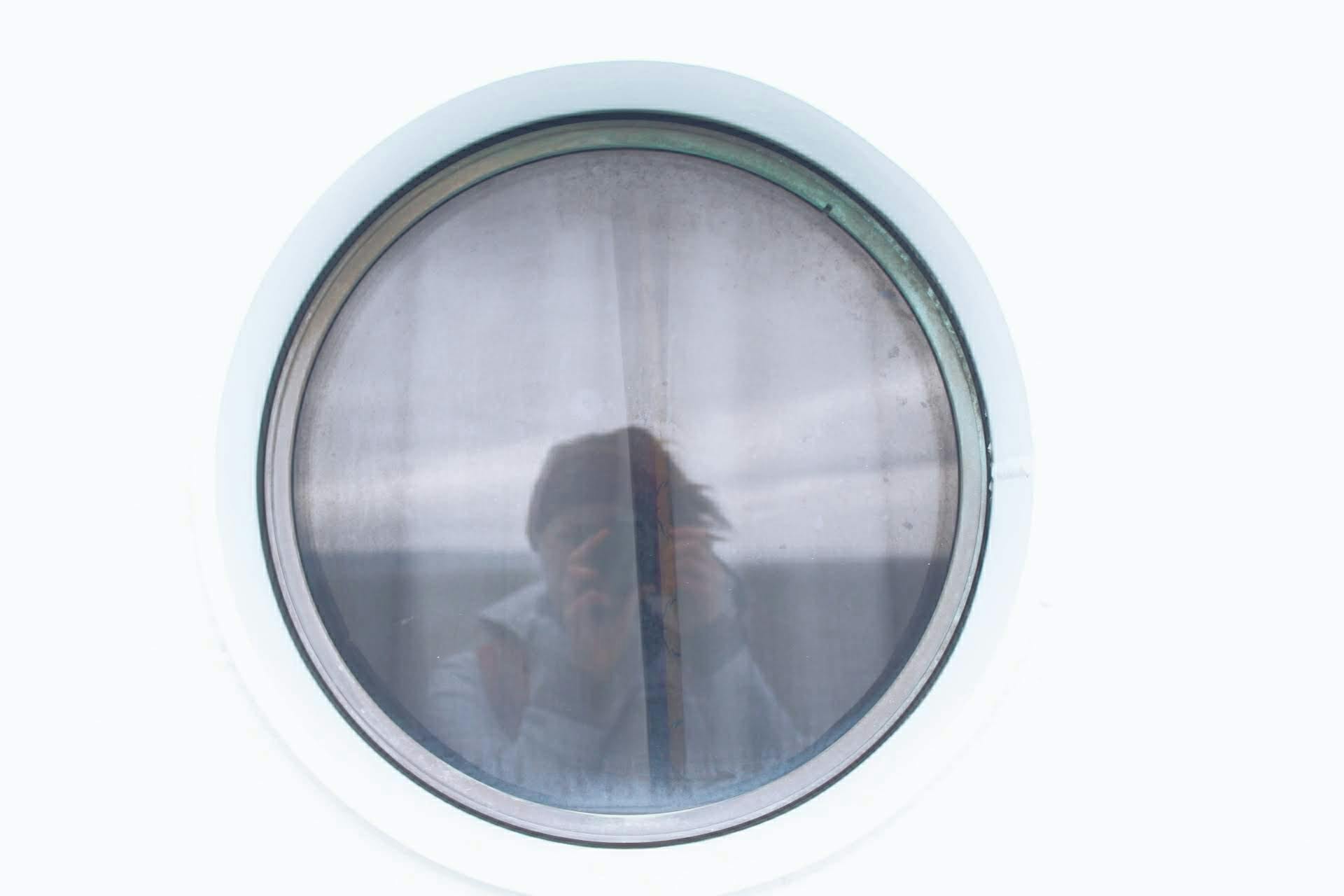 Downtown Bainbridge is less than a quarter-mile from the ferry port, so walking through the little village is easy and enjoyable. It's so relaxing, in fact, that the most stressful part of our island getaway was deciding whether to eat at the French creperie or the Blackbird Bakery.
Spoiler alert: we went to both.
Downtown Bainbridge is a single street's worth of boutiques, cafes, local businesses and real estate offices where the three of us drooled over pictures of waterfront mansions and cozy cottages. It's easily doable in an hour or so, but you'll need a car if you want to explore the wineries further inland. We veered toward what the three of us each considered the holy trinity of Bainbridge Island: a street corner home to Fletcher Bay Winery Tasting Room for me, the Bainbridge Island Museum of Art for my friend and the Bainbridge Brewing Alehouse for my husband. Needless to say, we got back on the ferry much later than we had planned. Worth it? Absolutely.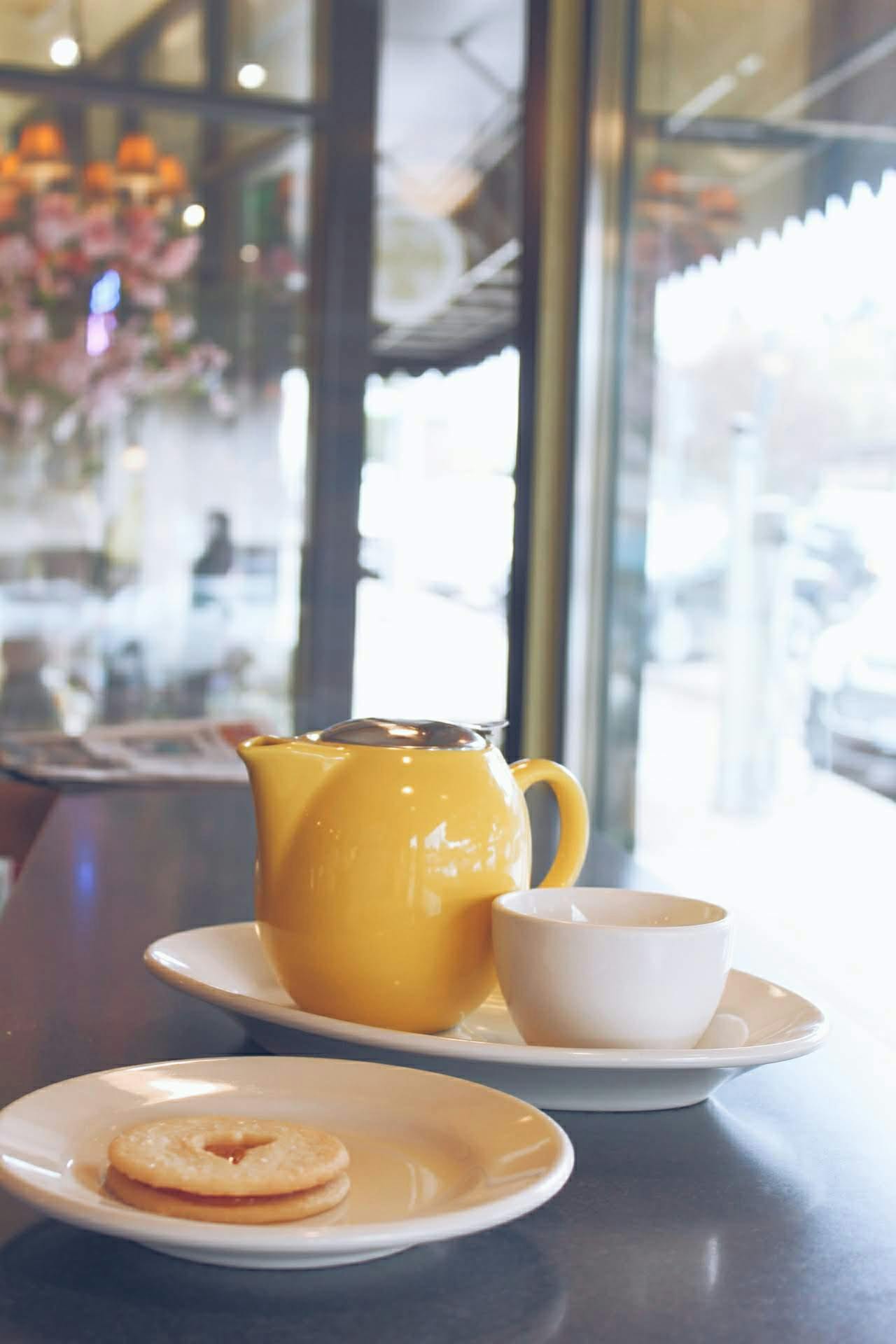 Our running joke of the weekend was pointing out any tall, thin object and, in an extremely obnoxious tourist-style manner, loudly declaring that to be the Space Needle. 
Call tower? Space Needle. 
Telephone pole? Space Needle. 
Eiffel Tower graphic on a t-shirt? Space Needle. 
Pro tip (or unpopular opinion?): The $40 crowded elevator ride to the top of the Space Needle isn't worth it. The whole point of finding a good view of the skyline is appreciating the Space Needle within it, so why go to the one place where the main attraction is impossible to see? 
(This passion may stem from the one time I stupidly asked where the Eiffel Tower was while standing at the top of the Eiffel Tower. I've made the mistake for all of us so you don't have to. You're welcome.)
The best views of Seattle are from just outside the city center. The views from the ferries are gorgeous, as is the view from the Gas Works Park across Lake Union (not too far from our Wallingford apartments, might I add). Some of the best views, though, are from Kerry Park in the Queen Anne District.
We managed to arrive right at Kerry Park as every high schooler in the city flocked there for prom photos, so not only did we get some great views, but we also were reminded how immensely glad we were to not be in high school anymore. It's a win-win situation.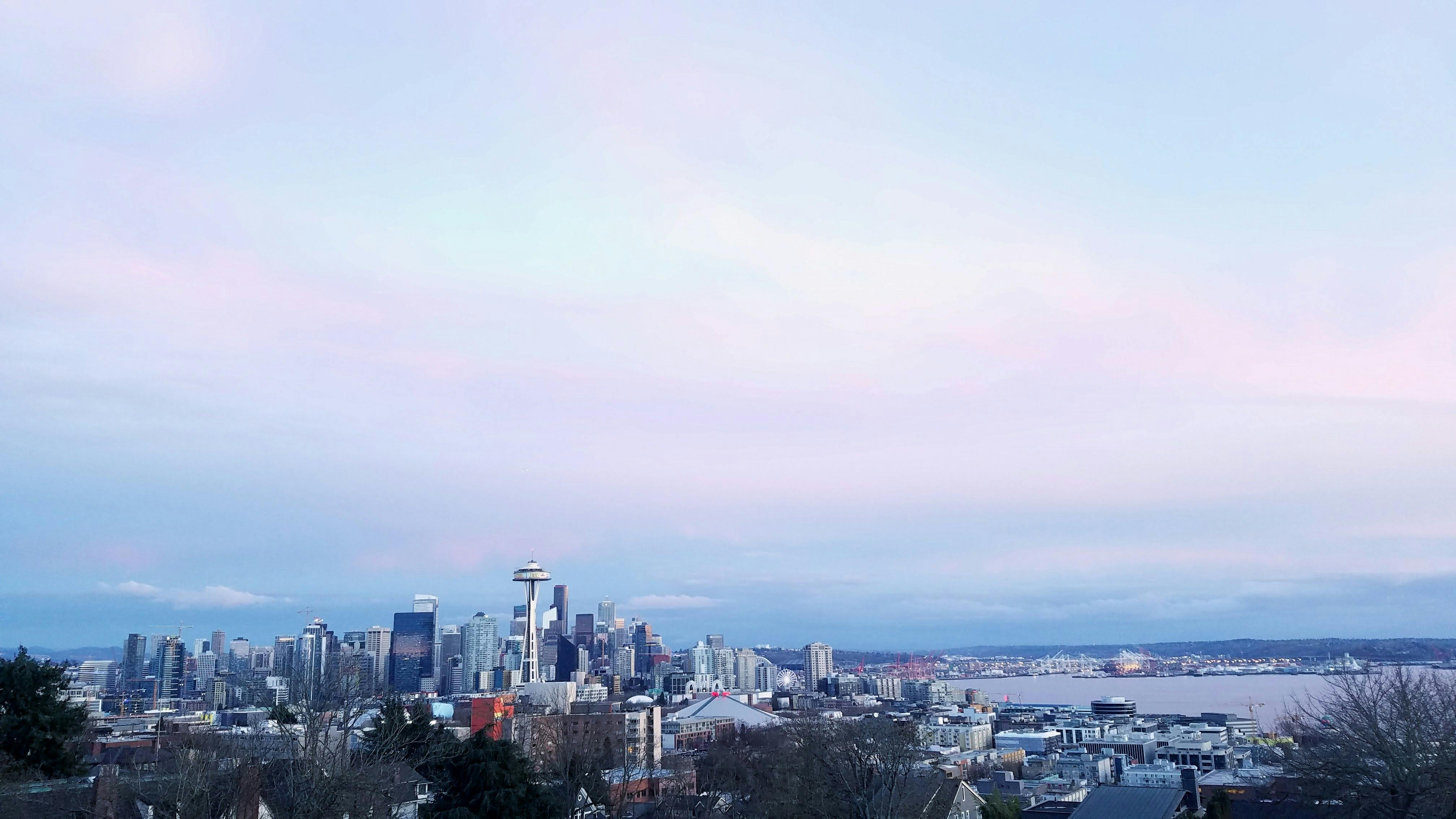 For those wanting to look at the city from within, we recommend the Smith Tower Observatory and Bar, which offers 360-degree views from a barstool or table, as well as the view deck just outside the windows.
Any visitor to Seattle is sure to find something they like at the Museum of Pop Culture. I may have been a little biased for heavily suggesting the MoPOP to my friend, but I firmly believe that one can never see Indiana Jones's iconic leather jacket from "Raiders of the Lost Ark" too many times. There are other attractions, of course, but why miss a chance to be less than a foot away from Harrison Ford's legacy?
Truly, though, the MoPOP is fun for all ages. The museum hosts special exhibits often and has a great collection of resident pop culture goodies from Luke Skywalker's lightsaber to Kurt Cobain's handwritten notes.
Pro tip: The City Pass grants access to a selection of attractions in downtown Seattle: the Space Needle, Seattle Aquarium, Argosy Cruises Harbor Tours, Museum of Pop Culture, Woodland Park Zoo, Chihuly Garden and Pacific Science Center. Buying the pass is a great value if your visitor is interested in visiting any of those sights, as pass holders could save almost 50 percent on admission costs.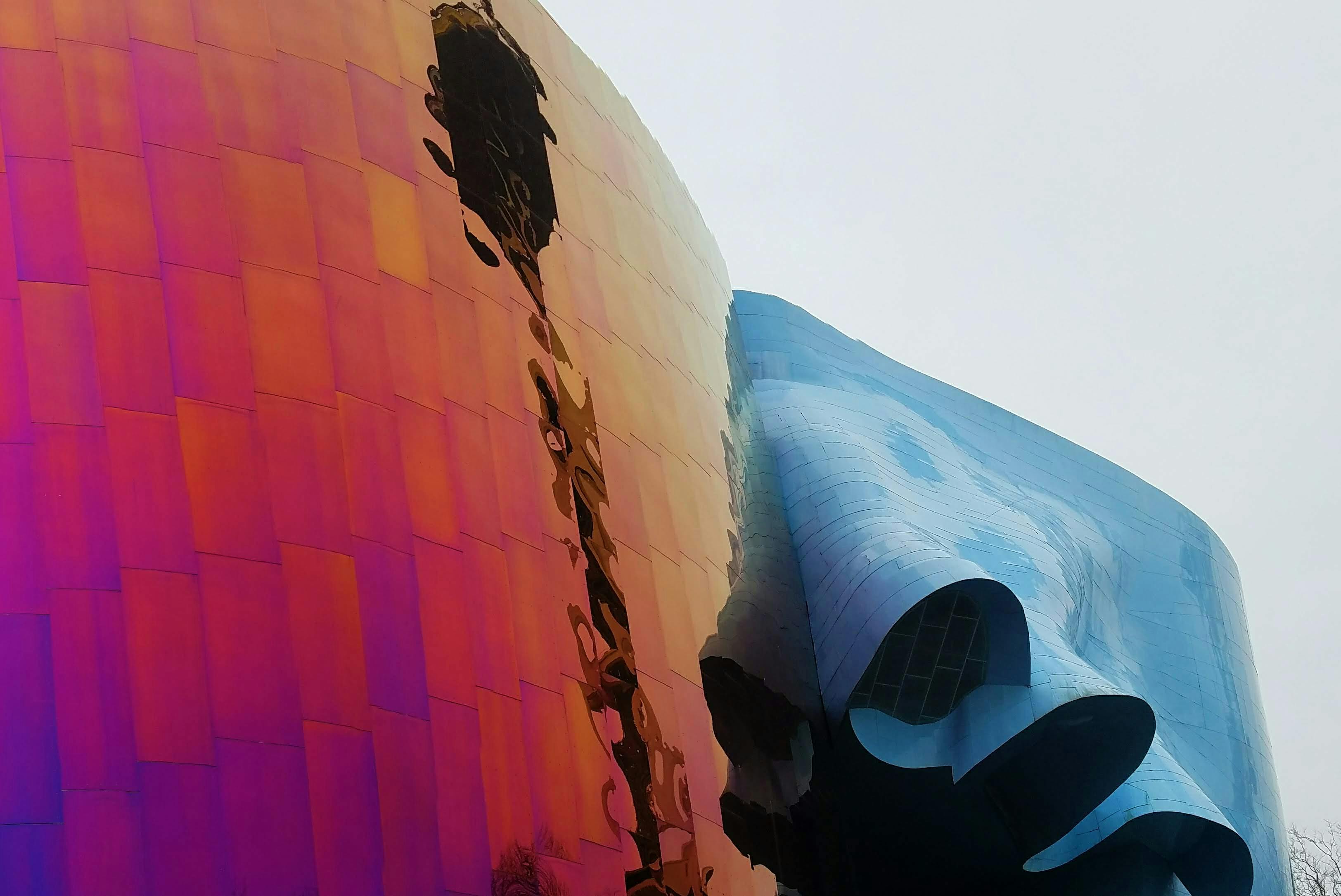 Wrapping it all up
The best part of the day was when we took our friend to our favorite Thai restaurant, Tup Tim Thai, in Lower Queen Anne, just down Mercer Avenue from AMLI's South Lake Union apartments. Our waiter was a hoot and made us laugh and smile with his friendliness and jokes, and the food was beyond delicious, too. It was a great end to a great day, and our friend was ultimately happy with all that she had seen and done on her short trip to Seattle.
Pin it!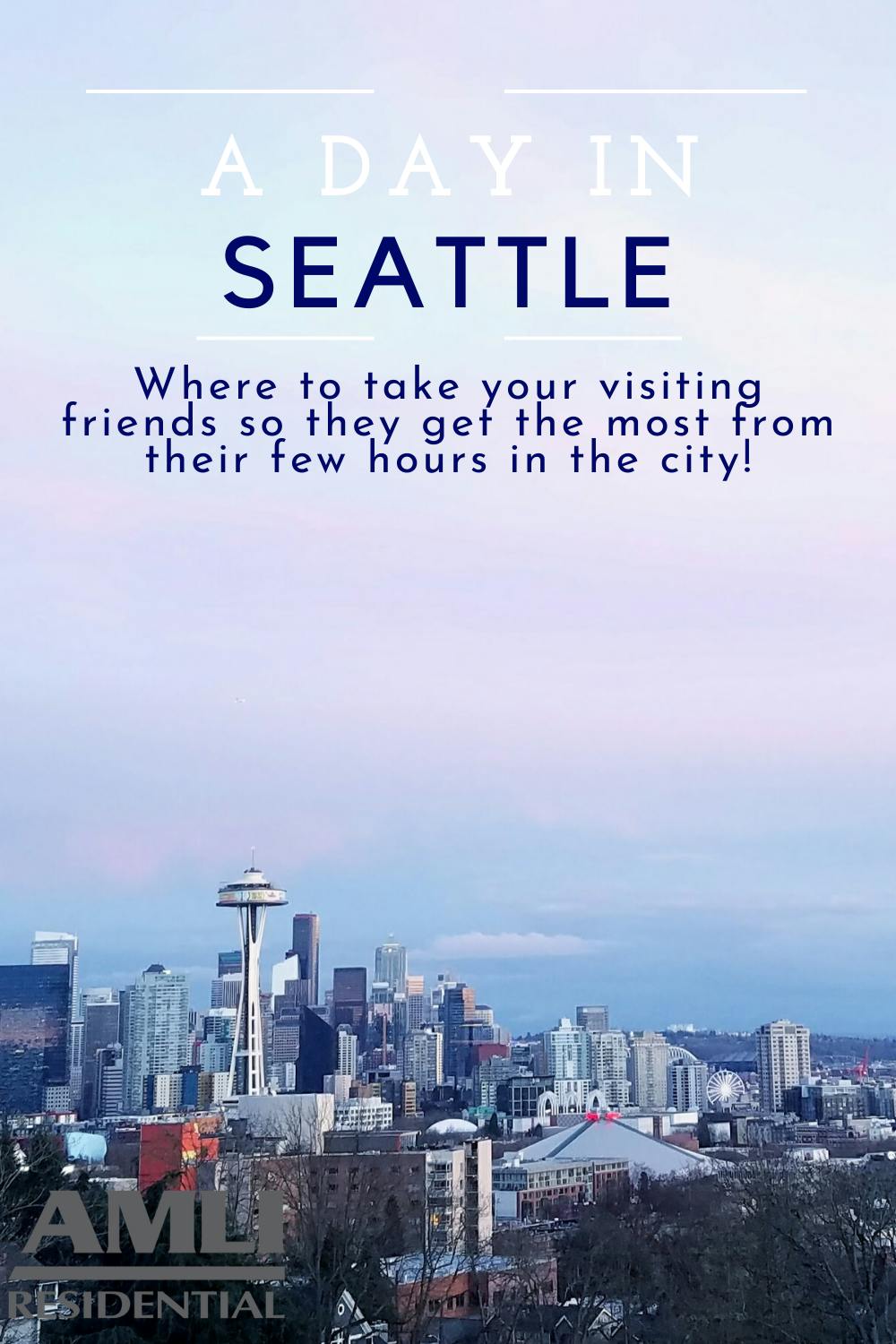 All photos courtesy Colleen Ford