It's time to break out the skis and goggles and shred some slopes. 
Seattle is a great place to live if you love the outdoors. You've got the expansive Cascade mountain range to the east, the Olympic range in Olympic National Park to the west and the Puget Sound and the San Juan Islands in between. Not to mention the Pacific Northwest landscape itself is teeming with easily accessible evergreen forests, freshwater lakes and verdant streams. Canada, northern Idaho, Oregon and Montana are also only a few hours' drive from downtown Seattle, all of which offer heaps of snow and slopes to explore.
Here are some great mountain resorts and slopes for skiing near Seattle that are within a three-hour drive, where you can finally break out the snowboard and skis (and maybe even snowshoes) for some winter fun. 
Drive time: ~1 hour
Acres: 1,994
Lifts: 25
Ticket price (adult): $52-$95
Slope difficulties:
Beginner: 14%
Intermediate: 33%
Advanced: 42%
Expert: 11%
Night skiing: Yes
There aren't many cities which have a ski resort less than an hour away. Skiing in Seattle is almost laughably easy to come by. Self-proclaimed as "Seattle's Home Mountain," The Summit offers nearly 2,000 acres of skiable slopes and 25 lifts to anyone passing through the I-90 corridor. Plus, if you are into night skiing, The Summit boasts the most night skiing terrain in the United States with over 600 acres of after-dark fun. Not ready for the dark yet? Learn to love with these tips for night skiing!
Maybe you're not into skiing or snowboarding but still want to partake in winter activities. You're in luck! In addition to its four separate mountain faces for skiing, The Summit also hosts two terrain parks, over 30 miles of snowshoe and Nordic trails and 20 lanes for snow tubing. 
Did we mention the 18 restaurants and bars? No? Well, restaurants at The Summit offer snacks, meals and drinks ranging from Greek gyros to Asian curries to local craft beer. 
Honestly, you could spend a week at The Summit without ever hitting the slopes at all (although we know you definitely will want to).
Drive time: ~1 hour, 30 minutes
Acres: 1,125
Lifts: 10
Ticket price (adult): ~$89
Slope difficulties:
Beginner: 11%
Intermediate: 54%
Advanced: 35%.
Night skiing: Yes
Steven's Pass is nestled on U.S. Highway 2 in both the Okanogan-Wenatchee National Forest and the Mt. Baker-Snoqualmie Forest. The grand view of the Cascade mountains from the slopes is just one of the many reasons skiers and snowboarders alike choose the iconic Steven's Pass resort and region to ski near Seattle.
The 1,100 acres of dry, snowy terrain spans 52 big runs strewn with gorgeous glades of fir and hemlock, and challenging bowls and faces suited to all levels of expertise. The isolated resort also offers some of the most beautiful snowshoeing and Nordic trails around. But don't take our word for it, go see it for yourself! Get ready for your big showshoe adventure with this beginner's guide to snowshoeing by one of the foremost experts in all things outdoors.
Drive time: ~1 hour, 48 minutes
Acres: 2,600
Lifts: 10
Ticket price (adult):  $63-$99
Slope difficulties:
Beginner: 9%
Intermediate: 29%
Advanced: 55%
Expert: 7%
Night skiing: Yes
Tucked in the scenic Mount Rainier National Park, Crystal Mountain is known for its year-long calendar of festivals, events, competitions and outdoor activities. You could arrive at Crystal Mountain at any time of the year and find something exciting to do! Luckily, though, its ski season and its the best time of the year to be on the mountain. 
Whether you're skiing, boarding or snowshoeing, Crystal Mountain's exposed peaks and gorgeous slopes make this resort one of the most scenic in the state. After you're done tearing up powder from any of the 85 runs available, dine "in the shadow of Mt. Rainier" at the highest restaurant in Washington. 
Drive time: ~2 hours, 40 minutes
Acres: 1,000
Lifts: 10
Ticket price (adult):  ~$63
Slope difficulties:
Beginner: 24%
Intermediate: 45%
Advanced: 31%
Night skiing: No
If you're looking for snowfall, Mt. Baker is one of the best places in the world to go for it. Seriously. This ski area unofficially has the highest average of snowfall across the globe with around 641 inches of snowfall annually. In fact, nearly 1,140 inches of snowfall was recorded in the 1998-1999 season, a world record that has yet to be broken.
Point is, there's a lot of promise at Mt. Baker Ski Area. Not only are the views gorgeous and the slopes beautiful, but the runs pass through trees, over domes and over gentle hills in a peaceful, yet exciting atmosphere. It's a little further away, but the trip is worth it for such a unique skiing experience surrounded by the Mount Baker Wilderness.
Drive time: ~3 hours
Acres: 2,000
Lifts: 6
Ticket price (adult): $75
Slope difficulties:
Beginner: 10%
Intermediate: 60%
Advanced: 30%
Night skiing: Yes
The west side is the best side, but there's no doubt it's sunnier east of the Cascades. That's why Mission Ridge, located just outside Wenatchee, can promise the most bluebird days for hitting the slopes. Stay awhile and enjoy the scenery from the mountainside, terrain parks, snowshoe trails, restaurants and lodges, and if you don't want to leave, park your RV overnight and do it all again the next day!
Drive time: ~3 hours
Acres: 1,402
Lifts: 8
Ticket price (adult): $53-$73
Slope difficulties:
Beginner: 30%
Intermediate: 50%
Advanced: 20%
Night skiing: Yes
Finally, we can't not mention this resort with a killer view of Mt. Rainier. This ski and snowboard resort is known for its family-friendly atmosphere and gorgeous slopes and runs. With Nordic trails, RV lots, friendly service and, best of all, some killer food, White Pass is the perfect spot for a day trip or weekend retreat in the heart of the Cascades. To make the most of your Nordic experience, check out REI's Cross-Country Skiing Tips!
So, there you have it! These are six of the closest ski resorts near Seattle, all of which have glowing reviews and outstanding experiences. Depending on how much time you have, make your first ski trip of the season a great one by using this guide to find out exactly which resort would suit you best. 
Enjoy the winter weather, Seattleites. You live in the best spot in the country for enjoying the outdoors, so make use of it! Have fun!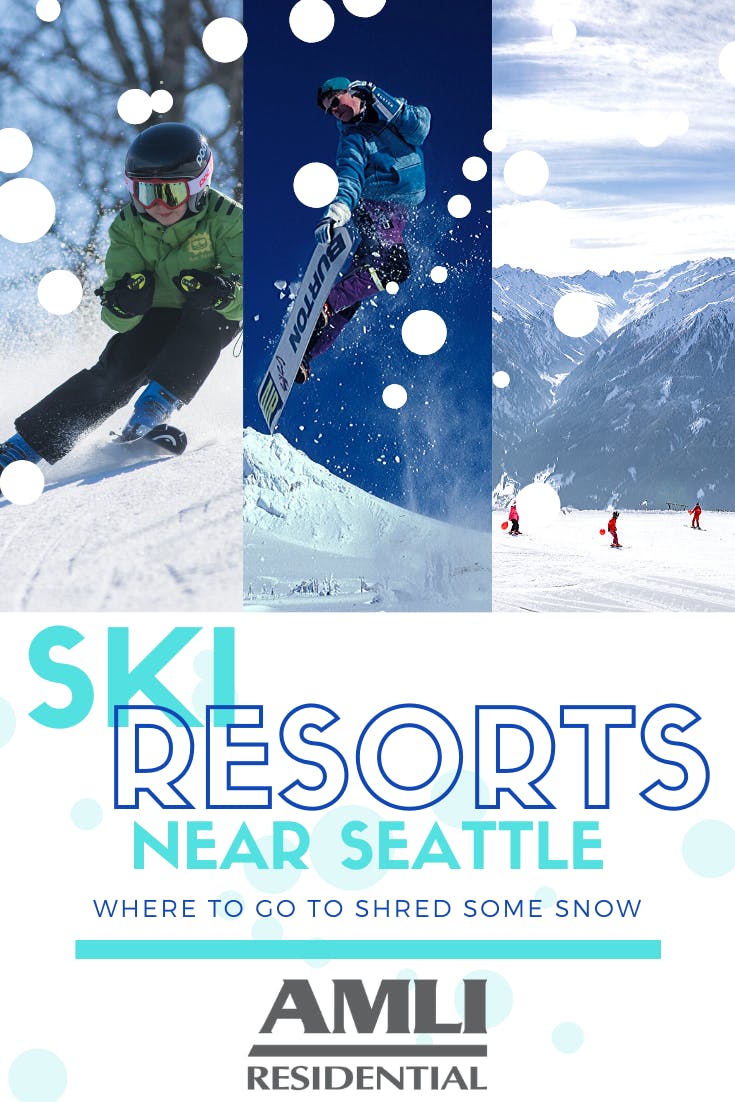 Featured photo courtesy Pexels/Visit Almaty