Have you ever been in the mood for a summery-fresh smoothie? You're in the right place! Step up your smoothie game by using these great ingredients in your next blended beverage.
Here are some of the most common smoothie ingredients that you may have seen or used before:
Blueberries
Bananas
Strawberries
Apples
Raspberries
Milk
Apple juice
Smoothies don't have to be limited to just strawberries and bananas. There are plenty of other ingredients that will boost your smoothie game and add a heap of extra nutrients to your drink. 
Avocado
When you don't want to toss in a banana to thicken your smoothie, try an avocado instead! Avocados have more potassium than bananas, less sugar and more protein. 
Citrus 
Citrus fruits like oranges, lemons, limes and grapefruits all pack a healthy dose of vitamin C, but they also offer a decent amount of folate and fiber. Fiber keeps your gut healthy and folate keeps your cells healthy, and vitamin C, of course, helps your muscles repair themselves after sickness or injury.
Flaxseed
Sprinkle a tablespoon or two of flaxseed into your smoothies for an extra dose of anti-inflammatory omega-3. 
Chia seeds
"Chia" is actually the Mayan word for "strength," so that should tell you how great these little guys are! Chia seeds are loaded with fiber, protein and calcium, and two tablespoons of these crunchy black seeds offers nearly a third of your daily dose of phosphorus and magnesium.  
Greek yogurt
Not only does Greek yogurt add a creamy quality to your smoothies, but it is also packed with calcium, protein and probiotics for gut health. The calcium content in Greek yogurt is nearly three times as much as in regular yogurt, and the protein count is almost double. 
Kale
Kale is full of vitamins A, C and K and is full of minerals and nutrients like fiber, calcium, magnesium, antioxidants and iron. The antioxidants in kale help your body get rid of unnecessary or unwanted toxins, while vitamin k is what helps your blood clot healthily. Just one cup of kale is more than enough to fulfill your daily vitamin k allowance. Basically, kale is one of the most nutrient-dense foods around. It's easy to add to smoothies and it can add a boost of nutrients to any blended beverage.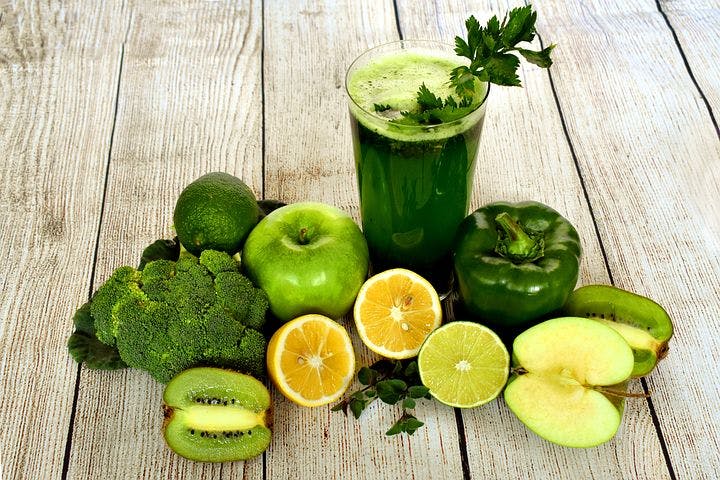 Oats
Adding some oat bran or oatmeal to a smoothie is a quick and easy way of thickening up your drink and adding an extra serving of fiber. Just ¼ cup of oats adds nearly 4 grams of fiber, and high-fiber meals tend to fill you up faster and keep you full for longer. 
Nut butter
Peanut butter, almond butter, cashew butter, you name it! A serving of natural nut butter can add a good heap of protein, fiber and good fats to your smoothie. Just make sure that you get the natural versions of these butters, as most brands add all sorts of extra sugars and fats to their mixtures. 
Spinach
Popeye the Sailor approves of this being added to your smoothie. Spinach is high in iron and zinc, both of which are important if you exercise frequently. The folate in spinach also promotes the production and maintenance of new cells in your body, so you really can't go wrong. Popeye says so, anyways.
Liquid base
If you're using fruit juice as a base for your fruit smoothies, you could be adding more sugar to your drink than you intend. If you do decide to use a juice base, try finding zero-sugar-added cranberry juice, as cranberries are chock-full of antioxidants.
If you want to use a milk base, make sure to use unsweetened milk or other unsweetened alternatives like plant-based milks. Even the vanilla or original-flavored milk alternatives pack a decent amount of added sugar. 
Carrots
"Carrots?" you ask. Yes, carrots are a great addition to a smoothie or juice! They are high in antioxidants that your body turns into vitamin A which, in turn, promotes healthy immunity, good growth, healthy development and good vision. After all, have you ever seen a rabbit wearing glasses?
Ginger
Ground ginger and fresh ginger make for a tasty and fresh addition to any juice or smoothie. The antioxidant and anti-inflammatory effects of gingerol, the main compound in ginger, is what gives ginger its great medicinal value. Ginger can be effective in battling indigestion and is a great spice to ingest regularly, as it appears to help reduce muscle soreness and cholesterol. 
Smoothie and juice combinations to try out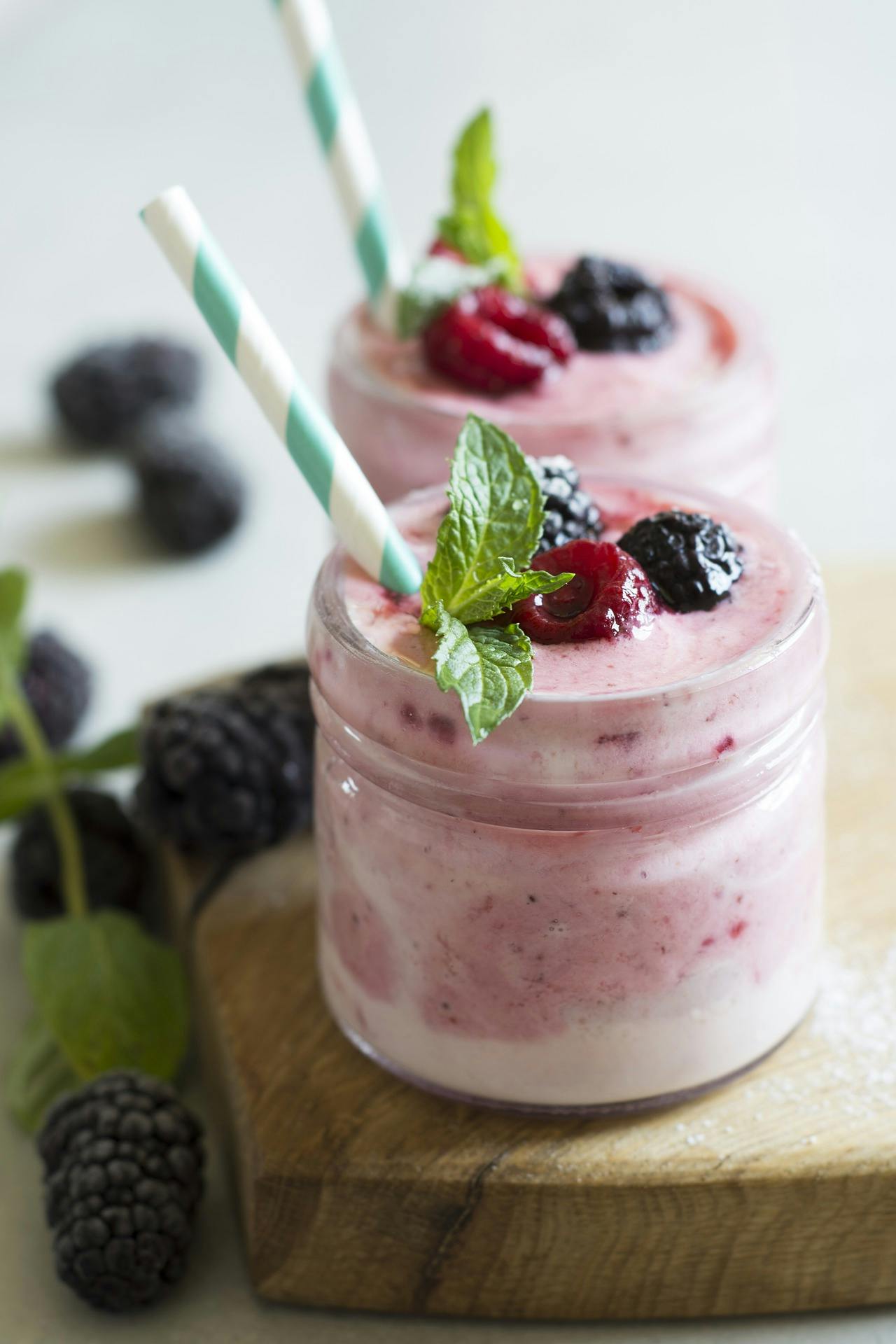 It can be hard to figure out what combination of ingredients to use for your next smoothie or juice. But, now that you have all these great ingredients at your disposal, here are some great combinations that will deliver a flavorful, filling and nutritious drink!
Very berry bliss
1 Tbsp almond butter
¼ cup blueberries
¼ cup strawberries
1 banana
1 date, chopped
½ cup almond milk
Pinch of cinnamon
Blend together. Add liquid as needed.
Green machine
½ avocado
1 handful spinach or kale
¾ cup almond milk
½ cup green grapes
Blend together. Add more avocado for a creamier texture, or add more milk for a thinner texture.
The not-so-Bloody Mary
½ carrot
1 celery stalk
¼ red bell pepper
½ cup V8 vegetable juice 
Small handful kale
Blend. Add a small pinch of salt if necessary
Carrot citrus zinger
1 orange
1 carrot, grated
1 tsp fresh ginger, grated
1 tsp turmeric
Blend oranges to make an orange juice. Add carrot, ginger and turmeric and blend. Add a splash of water to thin if necessary.
Next time you're in the mood for some smoothies or juices, try using recipes with these ingredients! You'll be surprised at how tasty they can be and how beneficial they are to your body and health.
Enjoy!
Pin it!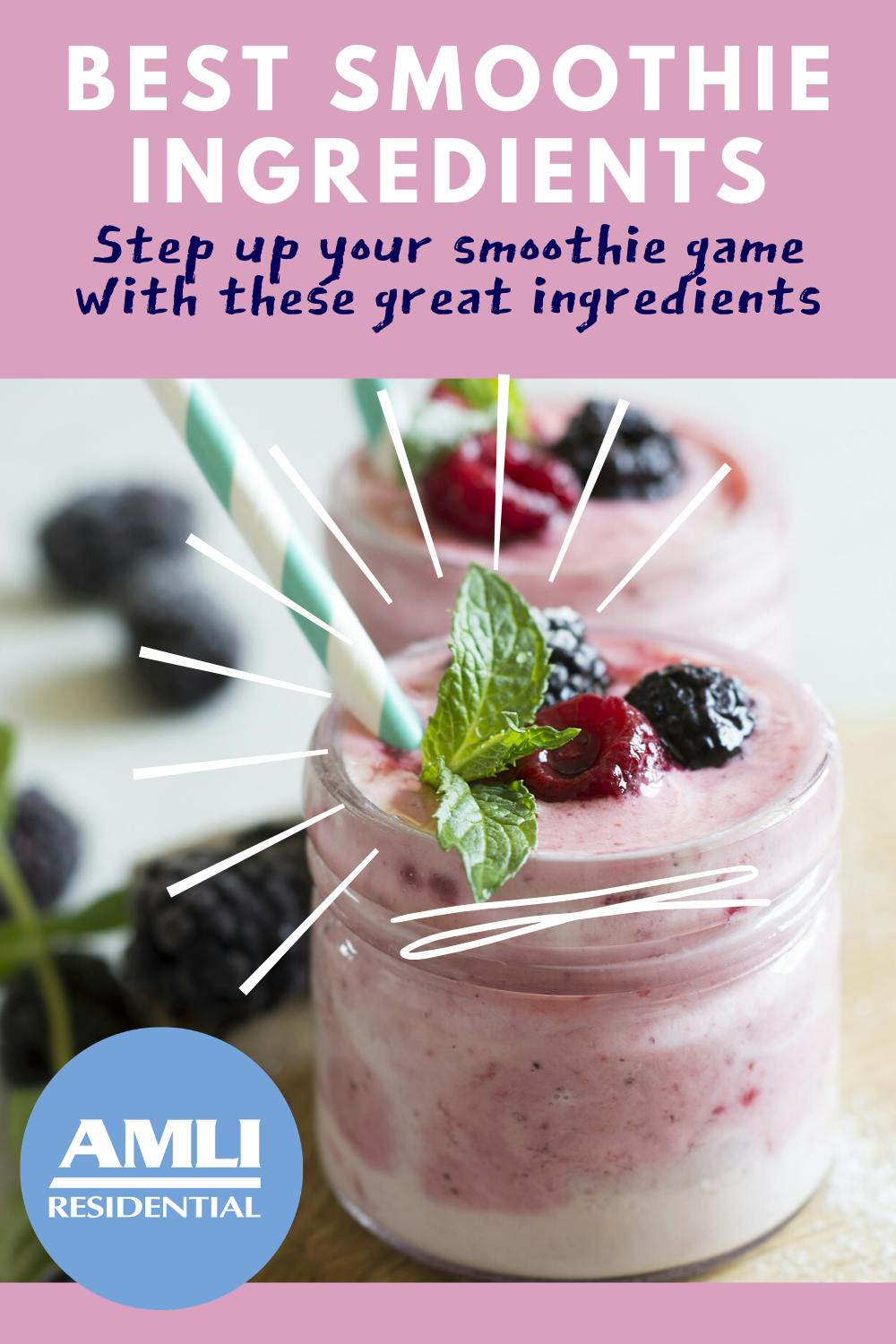 Featured photo courtesy Pixabay/silviarita
Second photo courtesy Pixabay/marijana1 
Third photo courtesy Pixabay/DagnyWalter