Austin's nickname is Boomtown, and for good reason!
In 2020 alone, despite a global pandemic, around 154 companies announced plans to expand or relocate to Austin, with 109 of those companies coming from out of state.
With the technology space skyrocketing at an unprecedented speed, having some of the biggest names in tech set up shop right here in Austin is like hitting the bitcoin goldmine, if you will, of the industry. Global powerhouses like Tesla, Google, Amazon and more have chosen Austin as a home, which means more jobs, more community development and more infrastructure (and, of course, more expensive everything!). 
Why are tech companies moving to Austin?
Silicon Valley in the San Francisco Bay area has long been the intellectual center of technology in the world, just as California itself has been a popular location for dreamers and entrepreneurs in the United States for over a century.
But with the wild success and insane wealth comes high competition, which drives up taxes, prices, costs of living and more. And even some of the wealthiest companies in the world recognize that at some point, it's just too expensive to live there anymore. 
California has strict business regulations, high tax rates and constantly-rising housing costs that is making it harder and harder for companies to expand and for employees to live, pushing hundreds of corporations to abandon sunny California for greener pastures. 
And it just so happens that these greener pastures are right here in Texas, where tax rates are lower, housing costs are more affordable and regulations are more relaxed. 
In fact, enough big names in tech have moved here to Austin that the city has been nicknamed "Silicon Hills", and some of you in our Austin apartments may have been drawn here for that very reason! 
Here are a few of the largest corporations in tech that have made Austin their new home.
Big tech names that grew or relocated to Texas
Tesla
In addition to constructing a multi-million square-foot manufacturing center outside the Austin-Bergstrom International Airport, Tesla CEO Elon Musk moved the company's headquarters to Austin in December of 2021. When the manufacturing plant reaches full function, it will employ over 10,000 local people from the immediate area. 
Amazon
With a footprint of over 3.8 million square feet across 95 acres of land, Amazon's Pflugerville fulfillment center is one of the largest buildings in the city, employing over a thousand people and becoming one of the city's largest employers. 
This is in addition to the centers in Kyle, Buda and Round Rock, which bring the total employee number closer to three thousand across the city.
Google 
By the end of 2023, Google will own over 1.5 million square feet of office space in Downtown Austin as part of its continued expansion into Texas. The tech giant has also partnered with the Housing Authority of the City of Austin to provide free gigabit internet to over nearly 900 families across Austin, all of which is part of a larger program aimed at expanding Google services to the area in a bid to boost the city's local economies and community services. 
SpaceX
Though SpaceX is still officially headquartered in California, Elon Musk's space venture company has two existing facilities in Texas and is working on a third manufacturing plant right here in Austin. Musk is slowly moving his business ventures out of California into Texas, citing Texas' tax rates and business regulations as the draw to the Lone Star State. 
Apple
Apple is no newcomer to Austin's business scene, having opened its first office in Texas' capital over 25 years ago. Now, though, the company has planned a 133-acre campus in North Austin that will employ over 5,000 people in a wide variety of industries such as engineering, research, finance, sales and more. The project is estimated to cost around $1 billion, with the first phase of the construction set to be completed by the end of 2022.
Facebook/Meta
 Meta, Facebook's parent company, has been in the Austin market for a while now and has recently announced that it will occupy half of Austin's newest and tallest skyscraper when construction is completed.
Canva
The wildly popular online design toolbox Canva started in Australia and, in 2020, opened its very first United States office right here in Texas' capital!
The startup company, which was founded nearly a decade ago in 2013, has thousands of templates for use in graphic design that are readily available to anyone from students to content creators to small businesses to corporations and more! In fact, every single one of AMLI's blog posts contains a Pinterest image designed on Canva! Check below for our Canva-designed graphic and know that if this wonderfully-average writer can make something fairly decent, so can everyone else on the planet.
So, in case you're wondering why Austin is getting so busy lately, this is why! Good luck finding cheap coffee around , cause that's certainly not going to happen.
Pin it!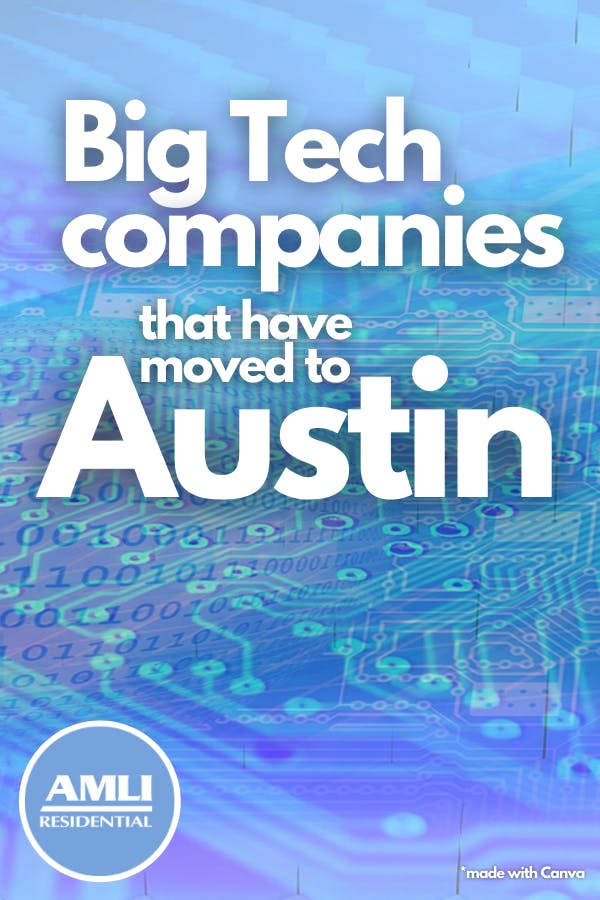 Featured photo courtesy Pixabay/JESHOOTS-com