Roughly 25 miles south of Los Angeles and a 20-minute drive from our Long Beach apartments lies the quiet community of San Pedro, an area where scenic cliffs and a beautiful shoreline make for great views and even better photo opportunities. In this neighborhood, you'll find parks and playgrounds, as well as a light house and museum located in Point Fermin. However, if you continue on your path towards Paseo Del Mar, you'll be greeted by a cryptic-looking fence, rising 8 feet and warning trespassers to keep out. Here, is where you'll discover the Sunken City of San Pedro.
While its been closed off to the public since 1987 due to its staggering drops and loose rocks, thrill-seekers in California are periodically making their way over to the Sunken City to explore. Also known as Atlantis City, the history of this sunken land goes way back to the 1920s, when George Peck began developing elegant bungalows and homes situated next to a beautiful oceanside view. Seen as an exclusive neighborhood, it wasn't long until residents found themselves being evacuated, due to the land shifting that caused an eventual landslide in 1929.
After some investigation, it was noted that the land began shifting an average of 11 inches per day, with the neighborhood slowly yet surely nearing closer and closer to the ocean's edge. Before long, a crack in the ground that started in Point Fermin's inland ran through the neighborhood, causing a water and gas line to burst open. Homeowners and their families began evacuating the area. The eventual landslide wiped away more than 6 acres and 40,000 feet of land. Luckily, all but two homes were relocated before its final demise.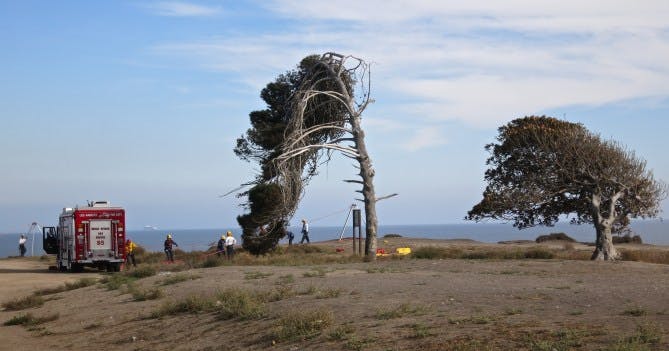 Although the site is technically closed off to visitors, adrenaline junkies and rule-breakers still make their way to the broken ruins of San Pedro, where foundations of homes, sidewalks and empty streets still remain. Whether it be climbing over or crawling under the concrete fence, many have frequented the area and have left their mark with graffiti, creating a unique voice and character for the otherwise desolate landscape. Famously known, the Sunken City has made an appearance in the 1998 film The Big Lebowski, as well as on a recent episode of Fear of the Walking Dead.
For those of you who are interested in exploring the area without breaking the law, you may be in luck. Although nothing has been set in stone, there have been recent discussions of cleaning up the Sunken City in an attempt to make the area open to the public. Ideas such as installing drainage and clearing away the ruins would create the opportunity for hikers and pedestrians to explore legally, rather than trespassing visitors risking their safety. The project and restoration is projected to cost million, so travelers may be waiting a little while longer. In the meantime, we do not advocate breaking the law to explore
If you're lucky, you might be able to grab some pretty noteworthy photos of the graffiti painted on the rocks and ruins. If all else fails, you'll at least have some mesmerizing views of the Pacific Ocean. Just remember, as of now—venturing to these ruins would mean trespassing. You might be stuck looking at pictures on the internet.
Interested in more blogs like this? Be sure to keep up with the AMLI Blog!