Looking forward to those fresh, summer peaches? We certainly are!
There are around 40 varieties of peach trees grown in Georgia today — both for personal use and commercial sale — and though each one of them is delicious in their own way, there are great advantages to growing different varieties, even if some are more popular than others. 
First, different varieties of peaches have different blooming and harvest times. Many varieties means there is a steady supply of peaches all summer long, and us peach-lovers need never go without a fresh Georgia peach in our hands.
Second, different peaches require different amounts of chilling hours — meaning they need to have a certain amount of cold weather to properly ripen. With the amount of chilling hours ranging between around 350 to 1,100 per season, this allows peach growers in all regions of Georgia to grow a successful crop, no matter the temperature.
And finally, the demand for Georgia-grown peaches doesn't end at the farm stand. Peaches are bought from farms and turned into jams, jellies, frozen produce, canned produce, syrups, dried goods and much, much more. Each of these peach production processes require different kinds of peaches — jams and jellies require softer, more juicy peaches, while canned peaches and peaches used for baking need to be firmer and more balanced in flavor.
The wide selection of peach varieties grown in Georgia allows Georgia farmers to capitalize on different streams of income through their different varieties, and it means we get to have plenty of great fruit products to choose from.
And isn't that just peachy?
Peach tree varieties you can find around Atlanta
Elberta 
Ripens in: late July
What better peach to start with than an Elberta peach — or, as it's more commonly known, the Georgia peach! 
This peach variety is what put Georgia on the map in terms of peach production, and it's also one of the most planted varieties in the world in both home gardens and in commercial orchards.
This fruit is firm and sweet, with yellow-red skin and juicy yellow flesh absolutely packed with flavor. Elberta peach trees can produce a huge amount of fruit each season, therefore creating plenty of supply throughout the summer months. These are a type of freestone peach, too, which means that the pit is loosely attached to the flesh around it and comes out easily during preparation. 
All these qualities make for a popular, convenient and tasty fruit that's enjoyed all over the world — especially here in the Peach State!
Flameprince
Ripens in: early August
Flameprince peaches are another classic variety that's great for snacking, canning, preserving and freezing.  These only become ripe in the late summer and early September, so you'll have to wait to enjoy this variety a little longer than you would for most other Georgia-grown peaches.
Flavorich
Ripens in: mid May
The first peaches to ripen during peach season are the Flavorich peaches, a variety that's well known for its dark red color and tender, juicy flesh. You'll find these on orchard trees ripe for the picking around mid-May, and their large, fragrant flowers will grace the air with sweet smells as early as March. 
Flavorich peaches are neither too sweet nor too sour, and their slightly-acidic flavors are perfect for both munching on and for canning.  If you're looking to get into jam-making, these are a great variety to start with. 
Flordaking
Ripens in: mid May
These peaches are primarily grown in the southern parts of the state where it's warmer and more humid, as well as all the way down into Florida and along the Gulf Coast — hence the name Flordaking.
These peaches are a little more firm than most, and the flesh a little more yellow, too. It's not a great peach for snacking on right off the tree, but it's a great variety to use if you're looking to pickle or preserve any peaches, as their firm flesh will keep its shape and texture far longer than softer varieties. 
Harken
Ripens in: early July
Harken peaches are the poster-peach of the peach world, if there were such a thing. These peaches are large, have a gorgeous orange-yellow skin and are irresistibly juicy and sweet. Their soft yellow flesh is ideal for eating and snacking on right off the tree, and they're a great variety to use in salads and on artisan sandwiches. 
Even the trees and blossoms are a beauty to look at, with picturesque foliage and fragrant flowers that blossom between late winter and early spring.
The soft flesh and high sugar content of Harken peaches does mean they go brown a little faster than most other varieties, but while they're still fresh they're an absolute dream come true!
Jefferson
Ripens in: late July
Jefferson peaches are hardier than most and will grow well in the cooler regions of Georgia, like in the northwestern regions nearer the Appalachians. If you make a trip up to those orchards around early to mid-July, then you can enjoy these juicy, firm fruits right off the trees!
June Prince
Ripens in: mid June
These peaches are so named because, well, they're picked in June. 
June Prince peaches are a pretty decent variety, with nothing in particular making them stand out too much from other mid-summer peaches. Their yellow flesh is sweet and juicy, and they're a popular pick for baking and cooking since they're just firm enough to hold up in a pie or peach crumble.
O'Henry
Ripens in: early August
These peaches stand out among the rest for a variety of reasons. The first is their almost fuzz-free skin, which makes handling and washing them easier to manage. The second is their dark red skin over a light yellow blush, which is peach-farmer-speak for the skin's base coloring. Essentially, the peach skin goes from a pale yellow to a nearly blood-red color on the outside, making for a striking fruit that's popular all over the state. Even the inside of the fruit is highly contrasting, with dark red streaks of color nursing out from a dark pit into tender, yellow flesh. 
All around, O'Henry peaches are a super-tasty, strikingly beautiful fruit that's well worth a trip to the local farm stand. 
Monroe
Ripens in: early August
The Monroe peach variety is another great cold-tolerant one that's more commonly grown in the cooler regions of Georgia. The pits are loosely attached to the flesh inside, so they're an easy fruit to cut, prepare and either bake with or enjoy on the spot. 
Next time you're looking for the freshest of fresh peaches during the summer months, head to a farmers market near your luxury Atlanta apartments and look for any of these peaches. Ask your farmer what they recommend for that particular week, and you're sure to be stocked up with fresh Georgia peaches all summer long!
Enjoy!
Pin it!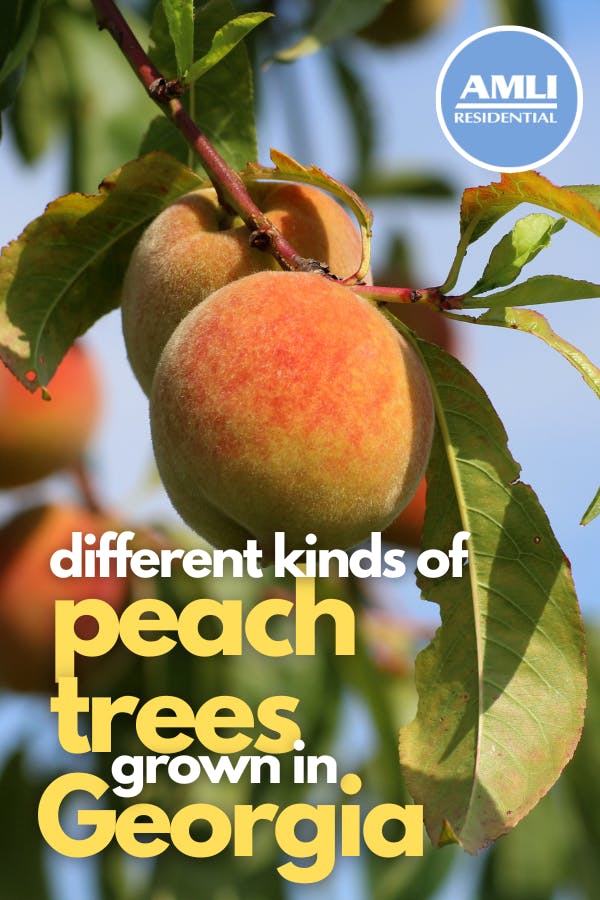 Featured photo courtesy Pixabay/Bru-nO