As the snow begins to fall in Denver, one thing becomes typically prominent in everyone's mind: hitting the slopes. And while skiing and snowboarding may be the most popular winter sports in Colorado, it may not be everyone's cup of tea. For those of you who aren't interested in booting up, there are plenty of other activities to help in keeping you occupied.
A favorite for local and out-of-state concert goers alike, Red Rocks Ampitheatre is a great venue and park that you can enjoy with friends and family year-round. Open daily from 9am-4pm, walk the 1.4-mile Trading Post Trail, taking you through picture-worthy moments of rock formations and valleys. Red Rocks is also home to the Colorado Music Hall of Fame, where you can learn all about the state's musical legacy. Although a trip to Red Rocks during the winter may have you putting on some additional layers, it's absolutely worth the snowy surroundings and natural beauty.
Dog sledding
An exhilarating experience you're sure to never forget, dog sledding is one activity in Colorado that is a must. There's nothing quite like stepping out your cabin to be greeted by a bunch of excited dogs to get you in the winter spirit! Although you might have to drive a little ways to experience the joys of dog sledding, tours are available in areas such as Snowmass, Breckenridge, Steamboat Springs, Telluride and Vail. The closest opportunity is probably Dog Sled Rides of Winter Park, located about two hours our Broomfield apartments.
Winter amusement parks
When people hear of amusement parks, they typically only think of the ones you can attend in the summertime. However, Colorado offers a wide variety of alpine adventures year-round that you're sure to love! Take your pick from the 3,400-foot alpine coaster at Adventure Ridge in Vail Valley, or zip line at Breckenridge Ski Resort to take in the stunning views of the Colorado countryside.
Snowmobiling
With miles of trails, beautiful scenery and enough horsepower to spike your adrenaline, snowmobiling offers a unique way to explore everything Colorado has to offer. Take your choice from either guided snowmobile tours to unguided snowmobile rentals, and start exploring the Rocky Mountains!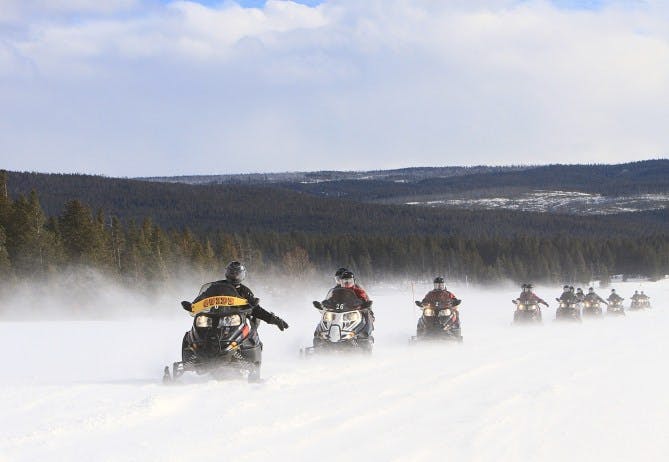 Only 25 minutes from our LoDo apartments, the Pepsi Center provides hockey entertainment on both the professional and amateur levels, offering fun and affordable options for everyone. Sports fan or not, there's nothing quite like a hot dog, cold beer and some friends to make every outing here a memorable one! Our advice? Just make sure you don't cheer for the wrong team! For a list of all their upcoming games, be sure to check out their calendar of events here.
Taking place Saturday, Jan. 25 and  Sunday, Jan. 26, Denver Winter Brewfest is an annual event celebrating all things beer! With over 40 micro brews to choose from, you'll be able to get your hands on some of the best brews around. To top it off, listen to some live music while trying out all of your food vendor options. With tickets starting at 0 for general admission and 0 for VIP, you don't want to miss out!
Interest in more blogs like this one? Be sure to check out the AMLI blog!