If you live in our luxury Miami apartments and have ever experienced an insatiable urge to be surrounded by monkeys of all shapes and sizes, then you're in luck! Miami is home to one of the few primate sanctuaries in the United States, and it's the only one open to the public.
Miami's Monkey Jungle is located in Miami-Dade County just off U.S. Highway 1 and a little southwest of the Zoo Miami. The Monkey Jungle story began in 1933 when an animal behaviorist named Joseph DuMond arrived in Florida. He had with him six Java monkeys, also known as crab-eating macaques, which he then released into Florida's subtropical forests. The monkeys, native to South-East Asian regions, were introduced to the Floridian forest as a part of DuMond's study of primates in their natural environment. 
Joseph DuMond's interest in monkeys and primates began when he was just a young boy in New York City. He noticed an ill-looking monkey in the window of a pet shop and felt compelled to care for it and bring it back to full health. His mother, although she and her husband were artists by trade and had no experience at all with pet primates, agreed to let Joseph care for his new animal. I'm sure there aren't many parents who would be too excited about bringing a monkey home on a whim, but the DuMond parents encouraged their son's interests. It's a good thing they did, because Joseph's interest in primate behavior pushed him to move to Florida as an adult to study the animals further.
In 1933, the Connecticut native DuMond bought 10 acres of land near Redland, which contained foliage and environment similar to the primates' native hardwood hammock environment. Hardwood hammock is a type of habitat that is usually found in dry, high elevations and is characterized by a dense collection of hardwood tropical trees. The trees found in this environment usually have lithe branches that weave and twist together, forming a canopy that shades the forest floor. 
The Florida Everglades supports these types of hardwood trees very well, which is why Joseph DuMond chose the Miami area for his relocated monkeys. He released his six monkeys into the then-unenclosed forest area in 1935 so he could study the primates' behaviors up close. He found that the monkeys kept returning to the same few acres of land, despite having access to all the surrounding land and forests. 
DuMond began opening his land to visitors in an effort to fund his studies in the midst of the Great Depression. He charged just ten cents per ticket, which is the equivalent of about $1.92 today. However, DuMond quickly discovered that the monkeys were not big fans of having their new home invaded by visitors. In an effort to protect the monkeys and keep his visitors safe, Joseph DuMond came up with an idea that would become the slogan of the now-85-year-old park: he put cages around the visitors' area and let the monkeys run wild! 
"Where humans are caged and monkeys run wild" is the slogan that makes the Monkey Jungle different from many other preservations. Instead of keeping the primates under lock and key in order to study them, DuMond realized that the best way to care for and learn about them was to let them roam free. Besides, the primates were very territorial and tended to stick to their home area, so there was little chance of them running away. 
As the park became more and more popular, the DuMonds bought more acreage to accommodate the growing monkey families. The Monkey Jungle is now spread over 30 acres of hardwood hammock forest in Miami and is one of the few protected parks for endangered primates in the United States. Today, there are over 400 animals living at the Monkey Jungle, including crab-eating macaques, gorillas and Golden Lion Tamarins, which are slowly inching away from extinction thanks to programs and conservation efforts run by groups like the Monkey Jungle. 
Visitors to the Monkey Jungle can watch the java monkeys swim in the Wild Monkey Swimming Pool and dive for treats. The Cameroon Gorilla Forest features the gorilla King who, along with his keepers, helps viewers learn more about how gorillas live. 
The Amazonian Rainforest is quite a feat of man-made environment engineering, as it is the only semi-tropical rainforest in North America. Frank DuMond, son of Joseph DuMond, spent years planting trees and shrubs that would create a suitable environment for the monkeys who live there: squirrel monkeys, black-capped Capuchins (think of the monkey from Raiders of the Lost Ark) and howler monkeys.
Far less primate-oriented but just as fascinating to visit is the Wings of Love Foundation, a nonprofit dedicated to providing a safe home for pet parrots who no longer have personal owners. The Monkey Jungle has taken it upon itself to give captive birds large free-flight domes filled with trees, plants and flowers to mimic their natural environment. 
The DuMonds started the DuMond Conservancy for Primates and Tropical Forests, as a result of the Monkey Jungle's successful efforts to study, observe and protect primates in their natural environment. This nonprofit is an affiliate of the park that focuses on science and education, and it is comprised of volunteers, staff and students. The team works with a wide variety of people from universities and conservancies who are dedicated to protecting primates and keeping their environments intact. The mission of the DuMond Conservancy is, according to the website, "to engage scientists, students and the public in the understanding and stewardship of nonhuman primates and their typical forest habitats." The conservancy also works with youth in the surrounding communities in an effort to create interest in the animals' welfare and to give kids an opportunity to grow academically.
The Monkey Jungle in Miami is a one-of-a-kind primate habitat that you will not be able to find anywhere else in the United States, and it's just 23 minutes from our apartments in downtown Dadeland. If you find yourself in the area, definitely go give the Monkey Jungle a visit. You'll go bananas for it!
Enjoy!
Pin it!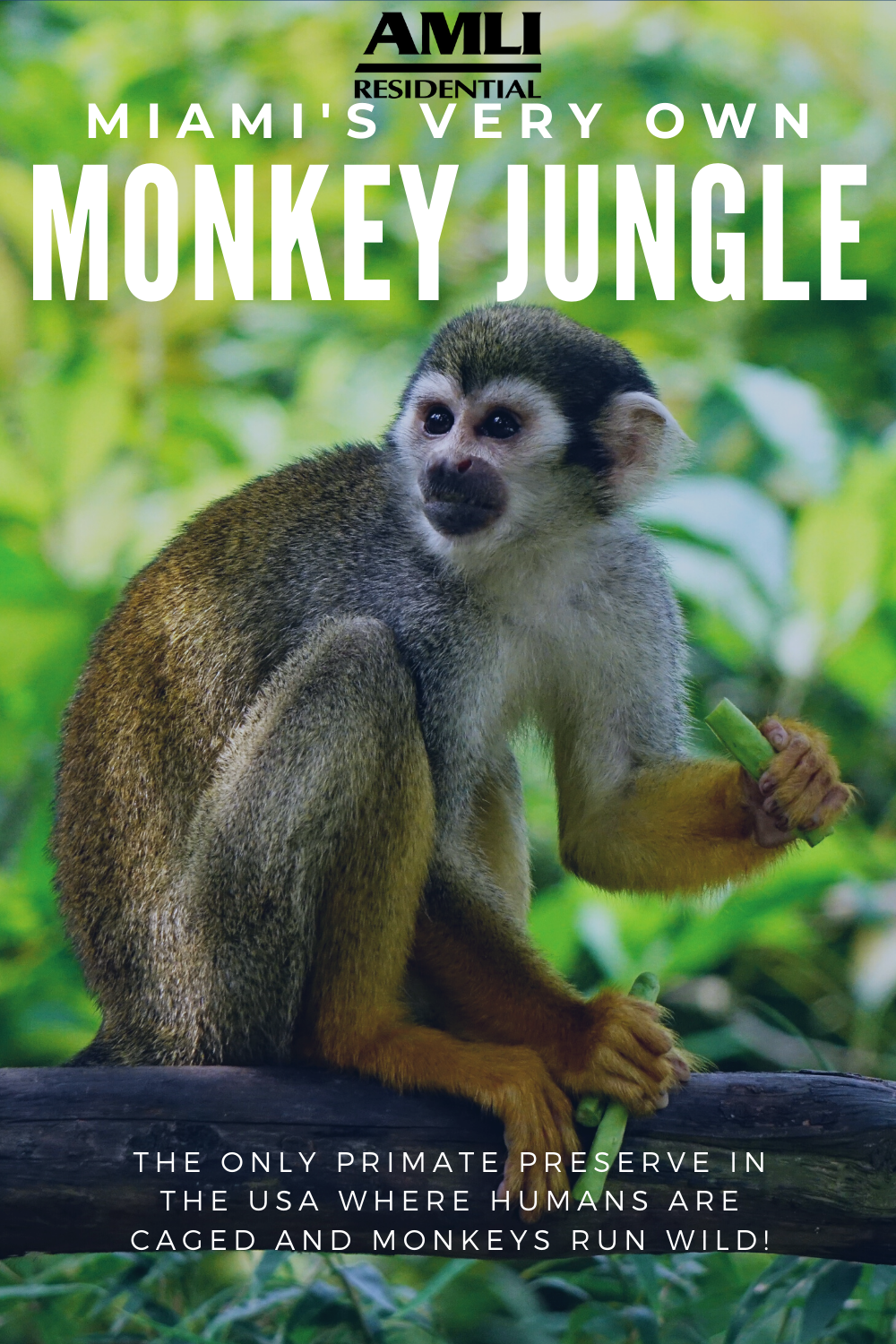 Featured photo "Monkey Jungle, Miami" by humbertomoreno is licensed under CC BY 2.0