It's widely known that in-laws are, by far, the most relaxed and easygoing visitors one can have. That's all we have to say, so enjoy your visit and have fun!
Yeah, right.
In-laws have a bad reputation of causing stress and tension, so a set of visiting parents can sometimes be a challenge to manage. Luckily for you, Dallas has many shiny objects to distract and entertain your in-laws.
Operation In-laws will proceed as planned and without a hitch, don't worry.
The method
Establish boundaries
With children, boundaries are extremely important to maintaining a functional family dynamic. If you don't want your kids to watch TV all day while their grandma is babysitting, then make it known. Maybe your children have a bad habit of snacking on junk food before dinner, so don't let grandpa provide excessive treats of candy or popcorn.
If there are no kids, then it's still important to chat with your spouse about what boundaries you want to set. Perhaps your mother-in-law likes to play music in the shower — at 1 a.m. — and you have to get up early for work. Maybe your father-in-law likes to rearrange cabinets while no one is home. Avoiding these quirks is as simple as making a list and just bringing them up in the car from the airport.
"Hey, Mom, I know you like to do workouts in the living room at 5 a.m., but I get back from my night shift at 3 a.m., so I'll need a bit of sleep before I'm ready to get going again. Uptown Yoga is just a few blocks away from here, and it is super nice if you want to try that out."
Boom. Crisis averted and you tactfully introduced a sightseeing spot in Dallas.
Boundaries don't have to be a pain to manage, but you do need to know what they are in order to keep your lives harmonious.
Be realistic
While enforcing boundaries are important to keep your home running smoothly, don't be too overbearing.
Yes, you don't want your kids watching TV late every night, but maybe the grandparents appreciate watching old-timey cartoons with them and laughing with them. Maybe the in-laws like eating Chinese food out of takeout boxes on Christmas Eve instead of the three-course meal you're used to.
"Hey, Dad, I know you guys grew up eating orange chicken out of a paper box on Christmas Eve, but I've always had a big, fancy meal. How about we meet halfway and go to Royal China Dallas, a locally-owned restaurant with a touching story of family and love?"
Okay, maybe don't sound as if you are an ad campaign, but you get the picture.
It's important to remember that different families have different traditions, and it's important to accommodate those traditions. Be realistic with expectations and be open to accommodating your family members' own lifestyles. It's all about balance.
Make a plan
The in-laws are visiting you, so make sure the expectations for the visit fit your schedule. Carve out alone time for yourself, establish who cooks dinner when, mark down work times and make a list of what you all want to do.
Having a calendar that is both agreed-upon and visible will prevent the constant influx of "what do you want to do" questions or "don't worry about us sweetie, just give us something to do" comments that might pop up. It will also help reduce the stress of hosting from your shoulders.
Now that you are mentally prepared, here's a list of fun ideas to help you make your in-laws' stay as comfortable and fun as possible.
Treat yo'self
Visitors don't want to be burden on their hosts, so don't let them.  Having visitors who are also family can be a blessing in disguise. You may feel obligated to play the gracious host to friends, but sometimes family can provide a helping hand without any further expectation.
For example, in-laws provide valuable babysitting service if you are looking for a night out with the hubby or wifey. Not only do you get the peace of mind that comes with knowing the kids are in safe hands, but the grandparents probably value that special one-on-one time with the children. It's a win-win.
If you're a lousy cook, allow your mother-in-law to make those famous chicken dumplings she always talks about. Just sit back, enjoy that glass of Chardonnay you've been storing in the fridge for weeks, and allow your mom-in-law to feel valued and appreciated.
Housing in-laws in Dallas
Here's some alternate accommodation options if having your in-laws over for an extended stay isn't your cup of tea. Or if you end up having one of those "we really need our own space if this is going to work" moments.
Places for in-laws to stay in Las Colinas
Places for in-laws to stay near Addison and Frisco
Places for in-laws to stay around downtown Dallas
Entertaining in-laws in Dallas
Here's a few more entertainment options for things to do with your in-laws in Dallas.
Outdoor entertainment
Fun with the grandkids
Indoor outings
The bottom line is this: in-laws are your family, and they will travel vast distances to spend quality time with you. Take advantage of all the excitement Dallas has to offer, and make every family vacation a memorable one!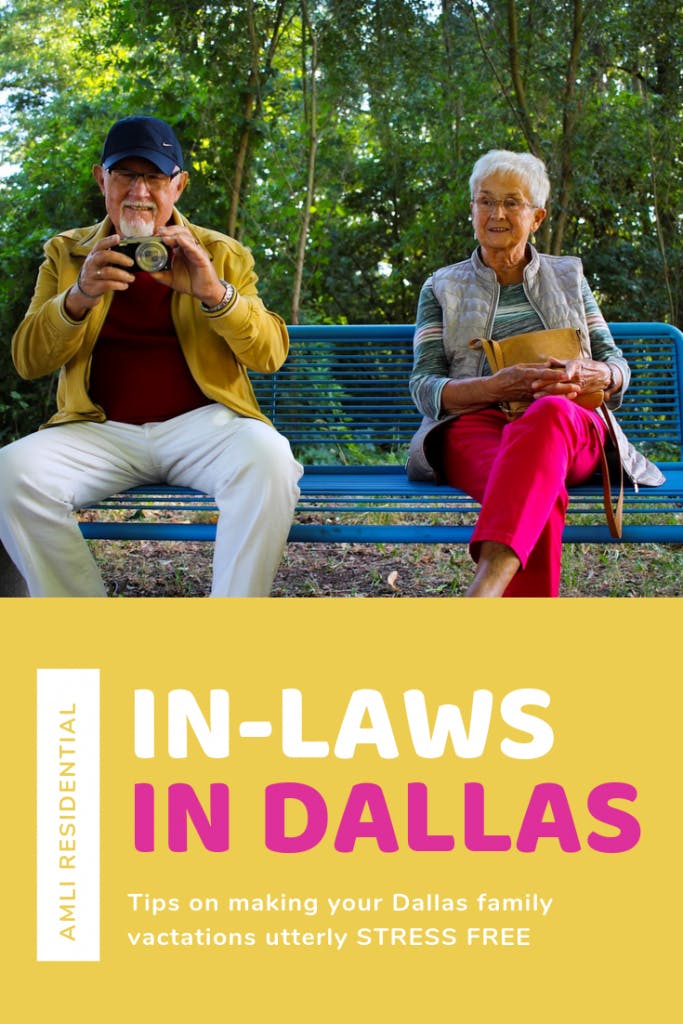 Feature photo courtesy Pixabay/un-perfekt