If you live in or near our luxury Denver apartments, then chances are that you've passed by more than a few Denver Public Library branches. 
The Denver Public Library system services a large portion of the city and its residents. In addition to the many physical books, magazines, audiobooks and resources available at their physical branches, the Denver Public Library also has an extensive collection of online resources and databases that are accessible at the tip of your finger!
Here's how to get a library card and, of course, all the cool things you can do with one!
Things you can do at the Denver Public Library
How to get a Denver library card
Library cards are available at no cost to Colorado residents and students attending a college or university in Colorado. 
The permanent library card must be applied for in-person at a Denver Public Library branch. Applicants must bring a valid form of ID that has their name, picture and address. This card will grant full-access to all the services, resources and privileges offered by the Denver Public Library. 
There is also an eCard option that grants users access to the online databases only, which includes streaming services and a variety of research databases. This card can be applied for online, as long as you have a valid Colorado address.
What can I use my library card for?
Small business research help
If you're interested in starting or growing your small business, then the Denver Public Library has some great specialized resources available to library card holders.
One of those resources is the Bizboost program that gives you 30-60 minutes with a reference librarian who will delve into all the questions you may have or find the information you're seeking. This is handy if you're looking for consumer data, statistics for your industry or even resources you can take advantage of throughout your career!
There are also appointments to help with patents and trademarks, as the Denver Public Library is a designated Patent and Trademark Resource Center with all the tools and information you need to make your decisions. 
Museum passes
Yes! You can use your Denver Public Library card to check out museum passes to some of the city's best cultural institutions. The passes are either completely free or come at a highly discounted rate, so make sure to double-check them when you check them out.
Here are some of the museums you can gain access to using a Denver Public Library card:
Library of things
It's exactly what it sounds like!
The library of things is a collection of, well, things that you can check out just like you would a library book.
(Although a library book is technically a thing already… but we'll overlook that for now).
These things include everything from Chromebooks and Wi-Fi hotspots to State Park passes, GoPro cameras, sewing machines, draft check meters, air quality monitors, bicycle repair kits and more!
Student & educator resources
The Denver Public Library offers a variety of resources to students, parents and educators living and working within Denver city limits. 
Students can get help with book assignments by utilizing the research librarians, or they can utilize the study rooms and technology checkout systems to complete whatever projects they're working on. There's homework help and databases for all grade levels and an abundance of online services that both kids and teens can take advantage of. 
Teachers likewise have access to learning aids, reading lists, teacher sets, classroom visits and additional education that is designed to support your curriculums. Homeschool parents and caregivers also have access to select educator resources like story times, in-person book clubs and much, much more. 
IdeaLAB makerspaces
Got an idea for a craft, project or creation? Head to the ideaLAB!
These makerspaces at many of the Denver Public Library's branches offer the tools and equipment you need to pursue all your hobbies and interests. These include 3D printers, laser cutters, music studios, produce videos, sewing machines, soldering irons, scanners, digital art tablets and so much more!
You can also access services like this online through the collection of how-to videos that cover everything from bookbinding to paper mosaics to macramé weaving and everything in between.
Home delivery services
If, due to physical ability or age, you can't make it to a Denver Public Library branch, the Home Delivery service can bring the library right to your door! Simply sign up for the service, provide proof of eligibility and you're good to go!
Community rooms
Whether you're meeting with your book club, hosting a board meeting or practicing for a debate, the Denver Public Library's community rooms are just the spot to host it. These reservable rooms are available for library card holders to book, provided they have at least four people in their group and follow the branch's community guidelines. 
So, next time you're around a Denver Public Library branch, head inside and sign up for a free library card! It'll cost you nothing but give you access to more than you can imagine. 
Happy reading!
Pin it!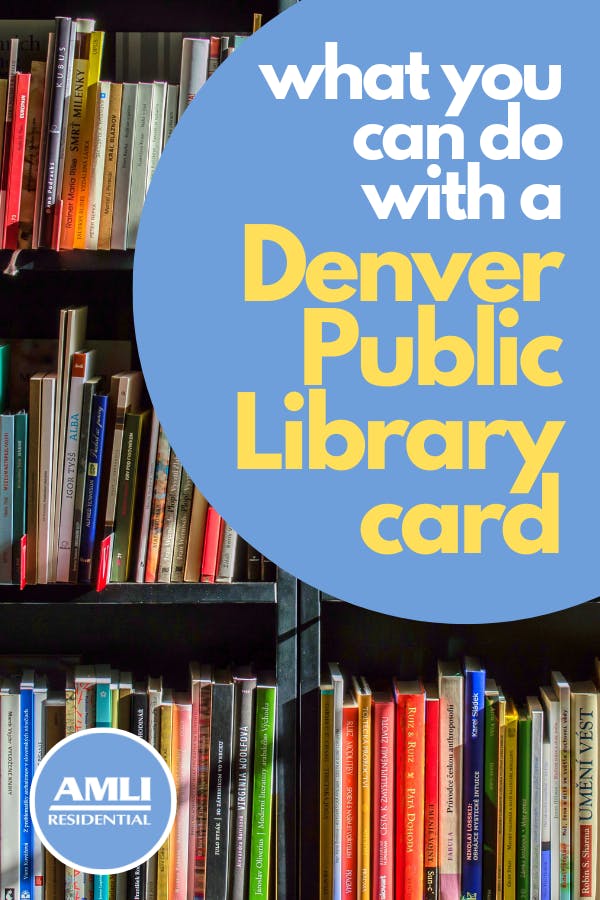 Featured photo courtesy Pixabay/12138562