If you live in or near our luxury Austin apartments then you've undoubtedly passed by more than a few of Austin's public libraries. 
Libraries today have so much more to offer than they used to, thanks to the modern wonders of the internet. From streaming movies to listening to audiobooks to binging language courses and more, here are a few of the resources that the APL offers!
Resources and services available through the APL
About the Austin Public Library
The Austin Public Library has 21 branches across the city of Austin, as well as a shop, a history center and a bookstore. The Central Library in downtown Austin is the headquarters of this sprawling organization that serves students, teachers, residents and visitors throughout all of Austin.
A library card is key to accessing all of the resources available through the Austin Public Library. Thankfully, it's pretty easy to apply for a library card and, if you live within the Austin city limits, you can get your library card free of charge. Just head to a library branch close to you to fill out an application and present proof of identification. After that, you're good to go!
Here are some of the services and resources that you can access through the Austin Public Library, including but not limited to the wealth of books, magazines and newspapers available at each library branch.
The interlibrary loan
Whether you're looking for the next book in the series you've been reading, a research paper in a niche industry or a textbook from another state, the interlibrary loan will get you what you need.
The interlibrary loan allows anyone holding an Austin Public Library Card to request books from other libraries within the network. That may include other libraries in the city, other libraries in the state or even other libraries across the country. Usually these books take a little longer to get to your local library branch, and you may need to pay a small fee to cover the cost of shipping.
Meeting rooms
The Austin Public Library offers meeting rooms and collaborative spaces free of charge to APL library card holders. These rooms are designed to hold meetings that are educational, informative and non-commercial, such as cultural lecture series, group discussions, book clubs and educational conferences.
These reservable meeting rooms can be reserved online or in-person at your local library branch and are great for hosting larger meetings in a professional setting. There are also shared learning rooms that are useful for smaller groups and study groups, so you are sure to find something that meets your group's needs.
Scheduled events
The Austin Public Library hosts a wide range of events free of charge. These include everything from children story times to book clubs to writing workshops, toddler events, film discussions and more.
Head to your local library branch to find out what events they are hosting each month, and whether you need to sign up for them or arrive on a first-come-first–serve-basis. The Central Library also has a rotating collection of exhibits, most of which are focused on local history and communities.
Computer classes
With technology ever changing around us, staying up-to-date with the latest skills and techniques in the technology industry is paramount to success. 
Luckily, the Austin Public Library offers a wealth of free computer training at its many library branches.  From resume classes to QuickBooks workshops to Microsoft Office tricks and social media savviness, the library's computer and technology classes are sure to boost your knowledge.
Visit your local Austin Public Library branch to find out what classes they are offering next! 
Virtual library
The Austin Public Library offers so much more than the books you see on the shelves. With an Austin Public Library Card, you can access a virtual library that includes thousands of eBooks and audiobooks right at your fingertips, as well as magazines and newspapers from all over the country.
The virtual library allows library card holders access to online databases for studying foreign languages, boosting grade school level class work, accessing genealogy information, keeping up-to-date with business essentials  or just exploring the vast wealth of information available at our fingertips. You can even stream your favorite movies, TV shows and music through these digital libraries!
Youth & teacher services
The Austin Public Library has a wealth of resources dedicated to supplement literacy and childhood education from birth to age 18. 
Children up to the age of four can enjoy free story time sessions that include learning aids specific to their developmental stage. Puppet shows are a common event at Austin Public Library branches, as are dedicated children's areas where learning and playing combine in a clean and stimulating environment.
Students using the Austin Public Library have access to free tutoring and online homework help, as well as free library cards and use of library study spaces. Physical and virtual resources are designed to engage children at every reading and learning level., including reading lists, author interviews, summer reading programs and STEM-based programming for children and tweens. Teenagers have access to the Austin Public Library's Wealth of resources that include volunteer opportunities, learning and tutoring sessions, job resources and much, much more.
Finally, the Austin Public Library also provides a wealth of resources for teachers, parents and caregivers teaching or living within Austin city limits. These include teaching aids, Wi-Fi hotspots available for checkout, field trip opportunities and personalized recommendations from librarians on any interest or subject. 
Whether you think you'll use your library card often or if you only plan on using it one time, having a valid Austin Public Library Card is 100% worth the very little effort to gain one. After all, you will have access to not just the 20 branches within the city, but also to a host of online and virtual resources that you can access free of charge.
It's a win, win, win!
So, head to your local Austin Public Library branch and check out what they have to offer you. You may be surprised at what you'll find on the library shelves.
 Enjoy!
Pin it!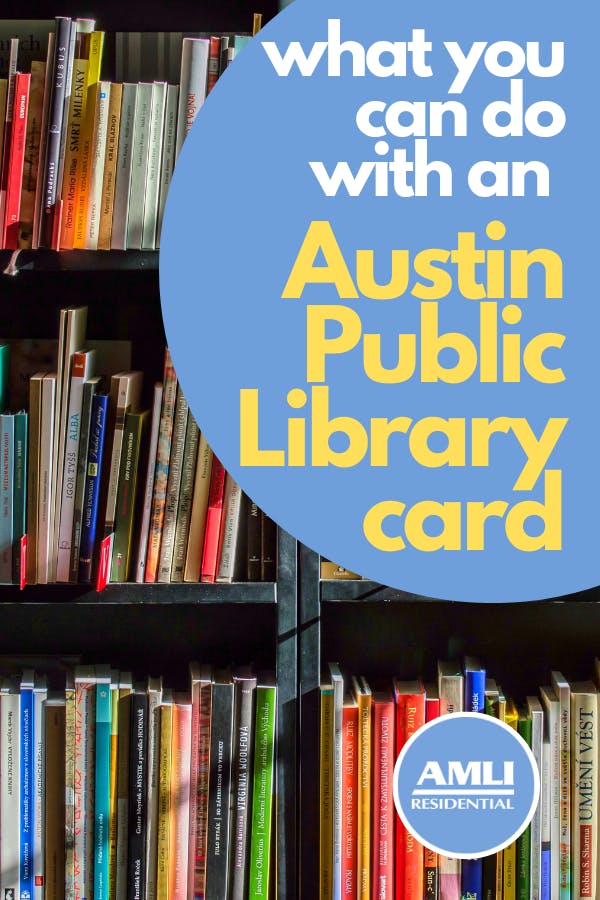 Featured photo courtesy Pixabay/AhmadArdity