Fall is coming to Southern California, and along with it come the knit sweaters, tiny pumpkins, hot apple cider and, of course, pumpkin spice everything. 
With national forests and mountain foothills so close to the city and our Southern California apartments, there is ample opportunity to seek out some glowing fall foliage all around Los Angeles. Check out these trees that you're likely to see on your travels, and head to some of these locations to make the most out of your fall foliage fun!
Fall foliage in SoCal and where to see it
Best trees to see fall color in California
Ginkgo
Ginkgo biloba
Also known as the maidenhair tree, ginkgo trees have been lighting up fall landscapes for well over 170 million years, making it one of the oldest species of trees still around today.
The ginkgo biloba species of tree we see today is the last surviving remnant of the order Ginkgoales, which, at the height of its reign, covered most of the northern hemisphere during the late Jurassic period over 290 million years ago. The species we have today is all that is left of this order of trees, having shrunk in population and isolated itself to a small region in China. 
Ginkgo trees have magnificent displays of fall colors during the cooler months. The delicate, deep green leaves turn bright yellow seemingly overnight, streaking forest canopies and urban parks with swathes of gold. These elegant leaves fall quickly, though, so make a point to see these autumn beauties within their two-week prime.
Quaking aspens
Populus tremuloides
With delicate leaves that tremble with even the slightest breeze, it's no wonder that these aptly-named trees are gorgeous sights to see in those waning summer months. 
Quaking aspens are easily identifiable by their white bark and round leaves, and they usually grow in large groves together. They are also the most wide-spread species of tree on the continent, as they are extremely hardy and can grow at a wide range of altitudes all over the world. 
These golden beauties are gorgeous in the fall, especially when hiking at higher altitudes.
California black oak
Quercus kelloggii
The California black oak can be found in forests of all kinds, ranging from mixed evergreen to coniferous to woodlands and more. You're most likely to see it in the foothills of nearby mountain ranges, rather than in cities and streets. The California black oak is also extremely adaptable to wildfire conditions, with its thick bark and strong root system allowing the tree to resprout after wildfires. 
Though it's closely related to other red oaks, the California black oak is easy to identify by its dark, furrowed bark. When the leaves turn deep orange or red in the fall, it's even easier to see the high contrast between the bright foliage and the dark wood. Keep an eye out for these throughout fall and into early winter, as they are some of the last trees to lose their leaves.
Big leaf maple
Acer macrophyllum
You'll find these broad-leaved beauties lining canyon furrows and stream banks in the foothills of mountain ranges all across the United States. Here in Southern California, you'll get the best luck finding them in the Angeles National Forest and the Santa Monica Mountains. 
The big leaf maple is named so for a reason: namely the 11-inch leaves that completely cover the tree. In the fall, the dark green leaves turn a beautiful yellow, coating the forest floor with carpets of gold.
Where to find fall colors around Los Angeles
Difficulty:🍂🍂🍂
Distance from L.A.: 🍂🍂
With a round-trip hike of about 6 miles and a little under a thousand feet in elevation, this hike is perfect for finding those sweeping views of fall foliage and the mountains beyond. Keep an eye out for the big leaf maples as you head through Cat Canyon and Spruce Canyon, as there are a few clusters along the valley floor. 
Difficulty:🍂🍂
Distance from L.A.:🍂🍂
This particular location is a gem in the fall, as the golden deciduous trees contrast beautifully with the evergreen forests around them. Hike along the Woodland Trail's gentle loop for views of the fall colors reflecting in the lake, or head up the trails north of the lake for more sweeping vistas.
Difficulty:🍂
Distance from L.A.:🍂🍂
Aspen groves and black oak clusters dot the edge of the water at Lake Gregory, making it perfect for those late October—early November fall trips. 
Difficulty:🍂
Distance from L.A.: 🍂🍂🍂
Lake Hemet is the spot to be if you're looking to do some fall camping right under the golden foliage. Massive cottonwoods bathe the campsites in golden light during their October peak, and the lake itself reflects the shimmering reds, golds, yellows and oranges of the forests beyond.
Difficulty:🍂
Distance from L.A.:🍂
A little closer to home but no less impressive, the Los Angeles Arboretum & Botanic Gardens offer a glimpse of nature's vibrant fall foliage in the midst of intricate and meticulous greenery. Here you will find the black oaks, big leaf maples and aspens so common to the surrounding mountains, but also a variety of rare and non-native trees that you won't find out in the wilderness. 
Difficulty:🍂
Distance from L.A.:🍂🍂
No fall outing is complete without some picturesque apple orchards and flaming fall colors, both of which Oak Glen provides. This area is full of local orchards and farms, so stop by one to pick some apples or just drive through and enjoy the scenery!
So there you have it! Six great fall foliage spots and all within three hours of central Los Angeles. Keep an eye out for the golds, yellows and reds of all these deciduous species, and you'll be a local fall expert in no time!
Stay cozy!
Pin it!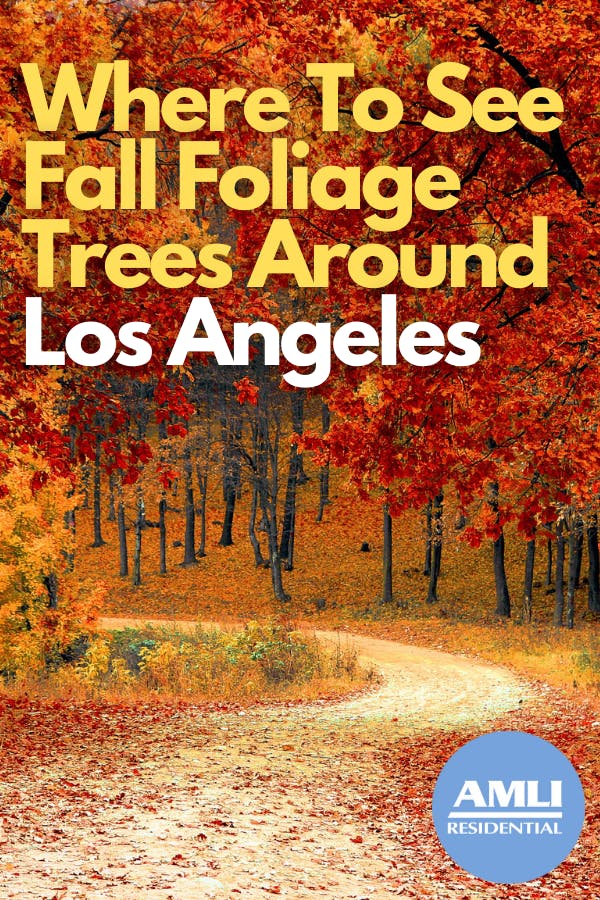 Featured photo courtesy Pixabay/Valiphotos