The Central Cascades of Washington are a short and scenic drive from Seattle. With so much outdoor space to choose from, it can be overwhelming to narrow down to which hikes you should try and tackle. Luckily you are in the right spot! We have curated a list of hikes you shouldn't miss, and the best part is they are all dog-friendly!
Know before you go:
It is your responsibility to have your dog under control at all times. 
Always leash up or use an e-collar appropriately to keep the trail enjoyable for all users.
Be sure to carry poop bags and pick up after your dog — pack it in and pack it out. 
Don't forget water and a bowl to keep your dog hydrated and happy! 
Make sure you check land-use guidelines for any additional pet rules. 
Follow Leave No Trace Principles for everyone's benefit.
5 Must-Do Dog-Friendly Hikes in the Central Cascades
Difficulty: Moderate
Distance: 7.3 miles
Trail type: Loop
This trail offers great opportunities to be in the outdoors year-round. It can be a wonderful snowshoe in the winter or a gentle hike in warmer weather. The elevation gain is quite mild and makes for outstanding trail running conditions. While exploring this loop you can find various cave, old structures such as a cabin, multiple streams to dip your toes in and plenty of beautiful foliage. A short side trip up Cheese Rock Trail offers even more exploring of unique rocks that resemble Swiss cheese and give the area its name. Keep in mind this loop trail is multi use so keep an eye out for other visitors sharing the space. Bikers yield to hikers and horses, hikers yield to horses, and dogs yield to everyone.
Difficulty: Moderate
Distance: 6.7 miles
Trail type: Out-and-back
Snow Lake is almost as popular in the winter as the summer. This lake is the most visited lake in the Alpine Lakes Wilderness and for good reason. This moderate hike starts with a steep climb and then mellows out for a very friendly hike to the lake. Just before the lake there is another steep climb that is worth every ounce of energy to get to the lake. Throughout this hike you will see talus slopes, forested landscape, incredible views of Chair Peak towering above, and of course the lake. Every time you think the views are great, keep going because they just keep getting better. To secure your parking spot, plan to arrive early on the weekends or better yet, visit midweek or during the off season. 
Difficulty: Moderate
Distance: 5.1 miles
Trail type: Out-and-back
This trail begins at the trailhead for Cathedral Rock Trail, and though you will not see signs for Nosh Nosh Wahtum Lake, you can't miss the lake once you're on the trail. 
From the parking lot you will take some winding switchbacks up through an old growth forest — this section of the hike is wonderful relief from the sun on a hot summer day. Throughout your hike you will see Cathedral Rock rising above the landscape. 
Just before the lake, it gets a bit steep but that steepness is short lived. Upon arriving at the lake, you'll see winding trails leading to various spots along the lake for a perfect picnic spot., and there are ample camping spots if you are interested in making it an overnight adventure. Whether you are spending the night or up for a very early morning, sunrise at this lake is nearly unbeatable. In the late summer you can find huckleberries to snack on along the way.
Difficulty: Hard
Distance: 8.1 miles
Trail type: Out-and-back
The trail to Blanca Lake is a great example of why switchbacks were created. In just under three miles you will gain nearly 3,000 feet but, rest assured, the work is worth the prize at the top. 
After three miles you'll have gained a ridgeline with the final few switchbacks heading up a rock face. The surrounding mountains are breathtaking and, on a clear day, you can see Glacier Peak standing tall and proud. After the steep climb up the ridgeline you will have easy walking through a meadow with brilliant wild flowers for the final push to the lake. 
Just before Blanca Lake there is a small snowmelt lake called Virgin Lake. There are no inlets or outlets, so the lake is made entirely of snowmelt and rainwater. If the mountainous views along the way were not enough, upon reaching Blanca Lake you will see Monte Cristo, Columbia Peak, and Kyes Peak all towering over the north end of the lake.
Difficulty: Moderate
Distance: 8.6 miles
Trail type: Out-and-back
On a map it may appear this hike could be a casual lakeside stroll — but be sure to note the moderate rating is a gracious way to describe the winding ups and downs of this trail to avoid cliffs with only periodic access to the lake. 
From the parking lot you'll head towards Box Creek Canyon where you get to choose your own adventure across the creek — the supports of an old bridge remain but the bridge itself is gone. Spring and early summer months may require you to ford the river until late summer when the water level will have significantly dropped. As you climb your way through the forest you will likely spot kayakers and other recreationalists enjoying the lake and tents for campers sprinkled along the shore. In the final stretch along the lake you will cross a solid bridge giving access for a swim or the perfect spot for a picnic. 
From here it is just a short walk to the end of the lake where you will continue on for the final mile of the hike. This final section is a very mellow grade and only has the sounds of nature as you are now distant enough from boaters and lake goers. The Little Kachess Trail concludes when you reach the junction with Mineral Creek Trail. 
Bonus: Some parts of this trail allow for dogs off-leash!
If you live anywhere near our luxury Seattle apartments and are looking for a pet-friendly hike to some gorgeous natural scenery, give these a try and see how you — and your dog — enjoy them!
Have fun!
Pin it!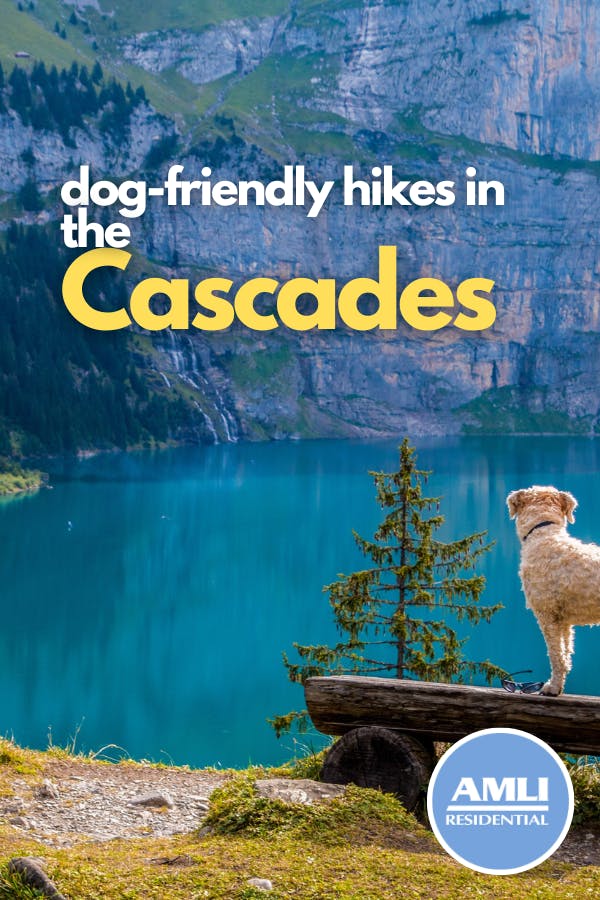 Photo courtesy Pixabay/Pfüderi