Austin is no stranger to fame and fortune. 
With all the art, music and culture present throughout the city and the surrounding hills, Austin has long been home to many an artist's muse. Plus, now that Austin is quickly becoming a hub for tech companies seeking greener pastures, there are more people, a larger economy and, of course, more creative expression than ever.
We've already looked at a handful of popular movies filmed in Austin, the likes of which include classics like "Dazed and Confused," comedies like "Miss Congeniality," horror films like "Friday the 13th" and heart-wrenching tales like "What's Eating Gilbert Grape." 
Here are a few popular and recognizable TV shows that have been filmed in Austin, as well as a few that are still filming in and around town. Keep an eye out for them, and you may find yourself as Crowd Member #164 in the next episode of your favorite show!
Television series filmed in Austin, Texas
1993–2001
Fun fact: the reason physicists know that the universe is expanding is because it's all trying to run away from Chuck Norris. 
Okay, not really, but it's a miracle that bad guys still exist in Austin at all after Chuck Norris spent so much time here filming "Walker, Texas Ranger." The popular 1990s show was filmed all over Texas, but watch it carefully and you'll see plenty of Austin landmarks pop up throughout the western show. Chances are, you can find the exact locations Chuck Norris himself stood, gracing the city with his presence.
Legend says he's still out there, just waiting to roundhouse kick anyone who dare say that Austin just isn't all that cool anymo– (whack!).
2006–2011
Based on both a book and a movie of the same name and set in West Texas, all five seasons of this popular television series were filmed in and around Austin and Pflugerville, with the show's headquarters centered in Austin.
In addition to its star-studded cast and award-winning storylines, "Friday Night Lights" also endeavored to shoot the majority of its scenes on-location, rather than on a set. This means that viewers will recognize landmarks and familiar locations all throughout the 76-episode show. In fact, the show was garnering such praise (and revenue to local businesses) that other cities were trying hard to get production to move out of Austin! In the end, the show decided to stick to Austin, and we're all pretty glad about that!
2014–2017
Though production moved location nearly every season, filming of "The Leftovers" took place in Austin for nearly two years before moving to Australia. 
2015–2023
The fourth season of this popular spin-off series was filmed in and around Austin starting in 2018. If you watch carefully, you'll recognize the now-demolished Brackenridge Hospital, the Onion Creek neighborhood and Round Rock's Dell Diamond stadium.
2020–present
Okay, so despite being set in Austin, the majority of this show has been (and will continue to be) filmed in Los Angeles. 
Weird, right?
The show follows a New York City firefighter who moves to Austin to help rebuild a firehouse's team, and it may be because that lead is played by Rob Lowe that the series is closer to Hollywood than Central Texas. The guy's a popular actor, and he's got places to be, I guess. 
There are a few shots that were definitely shot in Austin, like many of the exterior shots and panoramic views that are used to set the scenes in the show. However, don't hold your breath trying to catch a glimpse of the cast and crew in and around town. They may never actually come!
2021–present
This 21st-century reboot of "Walker, Texas Ranger" is set, filmed and produced entirely in the Austin area, and stars local Austinite Jared Padalecki of the CW's "Supernatural."
In addition to representing the city on screen, the showrunners' decision to film over 50% of its series on-location in Austin has some serious benefits to the local economy. The show hires local crewmembers, it brings in revenue to local restaurants and hotels and it stands as a prime example of the city's filmmaking potential (here's looking at you, "9-1-1 Lone Star").
If you're a fan of any of these shows, then watch them again and see if you can recognize any of the locations filmed right here in Austin. And, who knows? Maybe you'll see a new show being filmed near our Austin apartments!
Happy watching!
Pin it!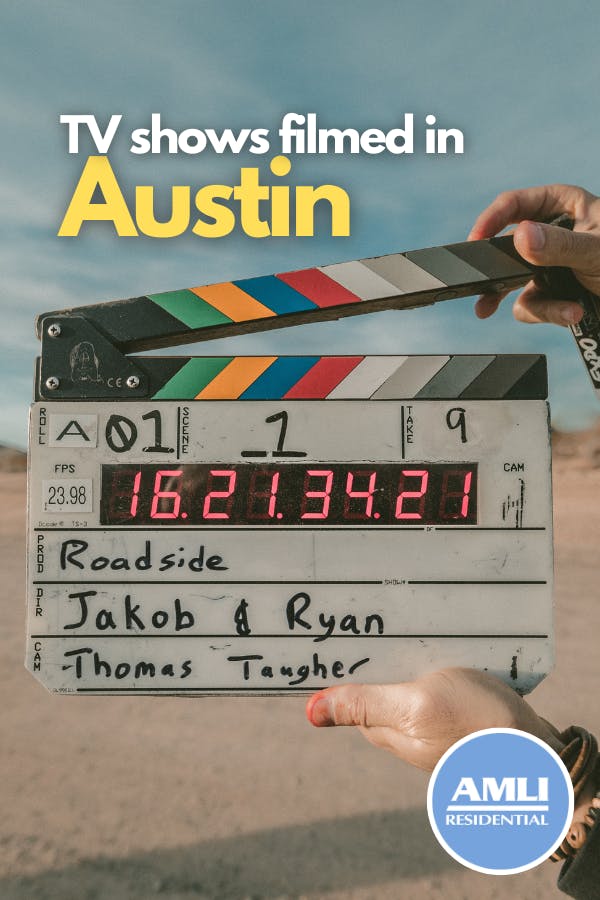 Featured photo courtesy Pixabay/Clonedginger