Atlanteans don't always agree on everything, but there's one thing we all know for certain: Georgia has some great, great food!
We've already spent some time going over the best Georgia food in Atlanta, but what foods are truly representative of Georgia?
Here are Georgia's state foods and, if you're interested in trying some adventurous cooking, the recipes you can use to cook with them!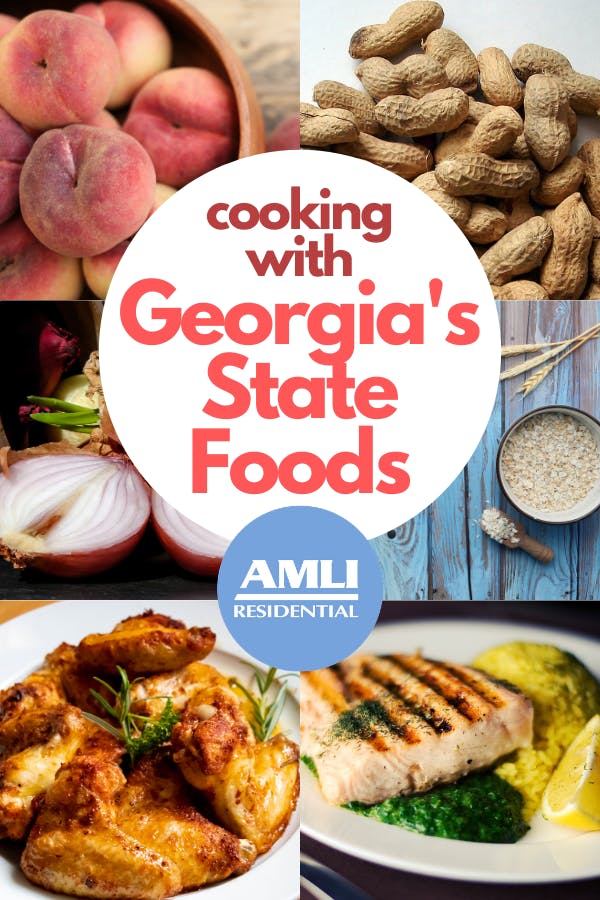 Cooking with Georgia's state foods
Georgia is known as the peach tree state, despite not actually producing the nation's largest supply of peaches anymore (California does!). But when it comes to peanuts, it's a whole other story! 
Georgia produces about 50% of all the peanuts in the United States, more than any other state. And over half of that supply is used for making peanut butter. The United States consumes about 700 million pounds of peanut butter annually, so thank Georgia's farmers next time you take a bite of your PB&J! 
Here are over 70 recipes that you can make using peanuts!
This special onion is so sweet that it's been said you could eat it like an apple! 
Farmers in Vidalia, GA, have been growing their sweet onions from granex seed for years, giving the usually tear-inducing vegetable (yes, a vegetable -- I had to Google that to be sure) a sweet, juicy taste.
Although farmers around the world can alter the flavor of their onions by feeding them with certain seeds and soil, Vidalia onions from this specific region in Georgia are considered to be the sweetest in the world. 
Here's a recipe for Vidalia onions with grape tomatoes and spaghetti that's sure to bring tears of joy each and every time!
Georgia's state fruit has contributed much to the economy and iconography of the southern state. 
Peaches aren't native to North America, and definitely not to the state of Georgia! In fact, they were first introduced to the United States in the 1500s by Franciscan monks who had discovered the juicy fruit on their travels through Asia. Because of their scarcity and exotic quality, the public began to see the fruit as a symbol of wealth and prosperity. Peach festivals celebrating the fruit became popular in Georgia in the 19th century, and by 1928 the peach industry was a vital part of Georgia's economy. 
Georgia was officially nicknamed "The Peach State" in 1995, which, through no coincidence, is the same year that the fruit was named as the state fruit. 
If you're looking for some exceptional peach recipes that celebrate Georgia's favorite fruit, check out this list of Georgia peach recipes!
Is it porridge? Is it a type of oatmeal? Is it soggy cornbread? 
Grits are on almost every menu in the Southeast, but where did this southern staple first appear on the dinner table?
Although making grits today is as simple as pour-heat-mix-enjoy, grits have deep ties to all the different people who have called the South home. Native Americans were the first to use ground corn in dishes all across Central, North and South America, where the recipe of milled maize cooked over heat dates back thousands of years to 8700 B.C. (yeah, grits is ancient).
British colonials imitated the Native American recipe and created their own version of grits, adding butter and sugar to their recipes. As diverse communities increased in number, the flavor and taste of grits changed subtly based on the type of corn used, the soil in which it was grown and the preferred seasonings of those serving the dish. 
Grits, essentially, is a food that has its roots buried deeply in the South., both in culture, land and history. The dish can be made in a multitude of ways, from sweet and syrupy to savory and seafood-y. 
Here's a recipe for some truly excellent shrimp and grits, made by a cook named Gritz!
The largemouth bass became Georgia's state fish in 1970 and is a popular trophy for fishermen all over the Southeast. If you're a fishing fanatic and manage to catch a largemouth bass (within Georgia's regulation, of course!), then here is a recipe for some tasty pan fried largemouth bass with lemon garlic sauce!
This sweet feathered fowl has contributed to Georgia's unofficial moniker as the "Quail Capital of the World," so it's no wonder the popular quail has made it to the state symbol level. 
Also known as a partridge or simply as a quail, the bobwhite quail is a popular prize for hunters during the October-March quail-hunting season in Georgia.
If quail hunting is your cup of tea, then use this great roast quail recipe to make sure that none of your catch goes to waste!
If you live in our luxury Atlanta apartments, then give these Georgia state foods a try to see for yourself why they deserve a spot in the state's lawbooks. You won't be disappointed!
Bon appetit! 
Pin it!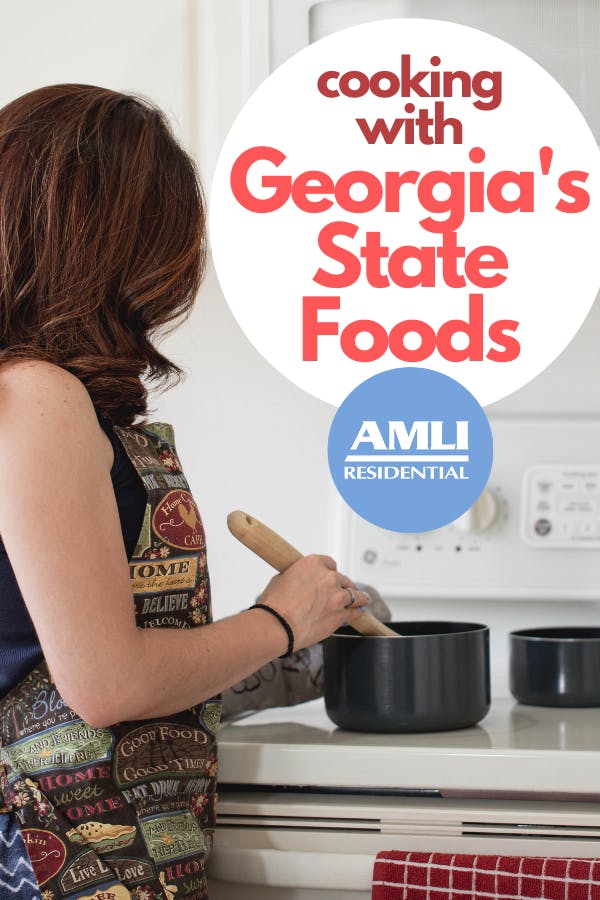 Featured photo courtesy Pixabay/forwimuwi73