One of the things we love, love, love about Atlanta is that it's got some seriously amazing food. 
Like, really really amazing food! 
From soul food to barbeque to peaches and more, Atlanta is certainly no stranger to a wide variety of high-quality food that's not just astoundingly delicious, but that also reflects the people and history of the city. 
Here are some of our favorite cooking classes in and around Atlanta, all of which can guide you through the process of making the perfect dish. After all, if you're gonna live in a luxury Atlanta apartment, you're gonna have to know your food!
Culinary classes in Atlanta, Georgia
Location: 1345 Piedmont Ave. NE
Class type: one-time classes
Cost per person: ~$40-$60
Specialty: variety
The Atlanta Botanical Garden is a haven for outdoor enthusiasts, bird-watchers and gardeners alike, with an impressive class list ranging from art lessons, gardening workshops, children's education classes and more available to the public. Add to that list a variety of cooking classes catered and hosted by local chefs and experts who teach students to cook with home-grown herbs, international veggies and more. 
Location: 675 Ponce De Leon Ave. NE, N-131 
Class type: one-time classes, two-part classes
Cost per person: ~$55
Specialty: Italian cuisine
This Italian-inspired restaurant, along with its accompanying bar and market, is packed with the freshest and highest-quality ingredients with either grown locally or imported from Italy. Attend one of Bellina Alimentari's famous cooking classes and workshops that bring Tuscan kitchens right to your Atlanta tables where you can learn to craft dishes like pizza, seafood and, of course, fresh pasta, all taught by seasoned chefs who know all the secrets of romancing this fine cuisine.  
Big Green Egg Bootcamp
Location: 3786 DeKalb Technology Parkway
Class type: one-time classes
Cost per person: varies
Specialty: Grilling  
The Big Green Egg is best known for their, well, big green egg grills. With such a well-known and well-loved grilling reputation, it makes sense that the Big Green Egg Culinary Center offers a wide variety of cooking classes that instruct visitors on the intricacies and secrets of grilling the perfect meal.
Classes include how-to's on tailgating for game day, classes on specialty cooking techniques and EGG 101 courses that cover all the basics for cooking with a big green egg. 
Location: 660 Irwin St. NE
Class type: one-time classes
Cost per person: ~$95
Specialty: variety 
This Old Fourth Ward cooking school has a course for everything: Southern brunch, chicken noodle soup, fried green tomatoes, handmade tortellini, Spanish paella and sangria, low country boils, tacos and fajitas, margaritas and mixed drinks, and so so much more!
Location: 1544 Piedmont Ave., STE 403-R
Class type: One-time classes
Cost per person: ~$100
Specialty: variety
Arguably one of the city's most well-known cooking schools, The Cook's Warehouse offers a wide selection of both children and adult cooking classes taught by professional chefs and using high-quality ingredients. 
Here's a sampling of what they offer:
Intro to puff pastry 
Knife skills 101
Savory pies and tarts
Cast iron cooking
French macarons
Sushi bar favorites
Modern Mediterranean spice
Gluten-free comfort food
And more!
Location: 4305 State Bridge Road, Alpharetta
Class type: one-time
Cost per person: ~$50
Specialty: variety
What's better than our favorite grocery store? Our favorite grocery store's very own cooking school! 
Alpharetta is home to Publix's only cooking school in the state, and what a school it is! Class types include hands-on demonstrations, workshops, expert demonstrations, couples' classes, family events, technical skill-based classes and more! Guided by professional chefs and designed for any skill level, these culinary classes vary in theme, cuisine and technique so that there's something for everyone in the end! 
Vino Venue
Location: 4478 Chamblee Dunwoody Road, Dunwoody
Class type: one-time, 5-week classes 
Cost per person: ~$65-$250
Specialty: Wine
Looking to expand your viticulture horizons? This one's for you!
Vino Venue in Dunwoody offers a host of cooking classes that center around wine, both as a pairing and as an ingredient, as well as just on its own. 
Learn about wine fundamentals and how to taste wine like a pro. Take a professionally led cooking class that pairs state-of-the-art meals with a wine pairing selected by a sommelier. Test for your very own wine certifications to turn your passion into a career. Attend a food and wine pairing class to discover what it means to design the perfect pairing. There's so much to choose from!
There you have it! These classes can take you from ramen-noodles-in-a-microwave-cup culinary skills to yeah-I-make-my-own-pasta level in no time, and you're likely to meet some amazing people along the way! 
Bon appetit!
Pin it!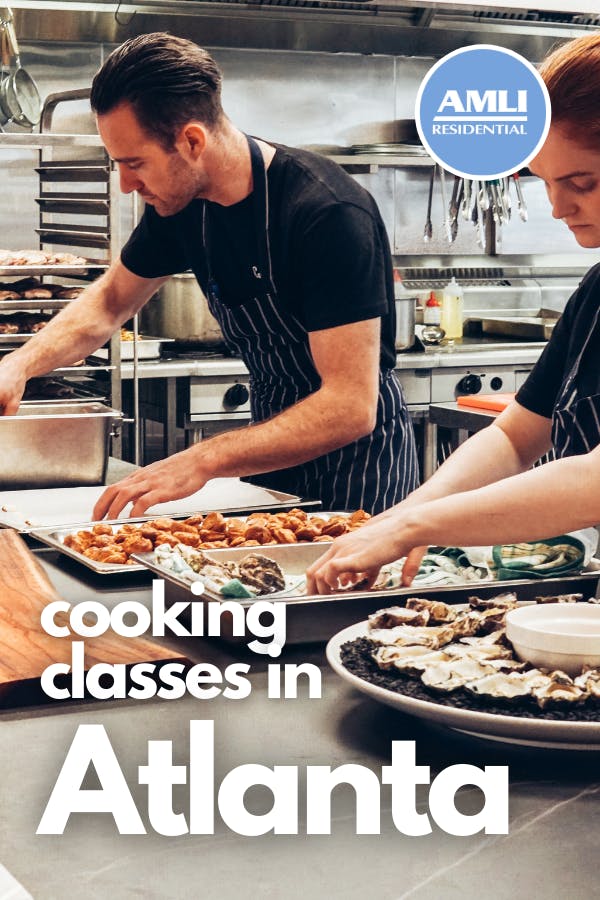 Featured photo courtesy Pixabay/salahgraphic