There's no place like home, but sometimes you've just gotta get out of the neighborhood for a change of scenery. 
If you live in our Southern California Apartments, then you're probably pretty familiar with the city and your surroundings. There are so many great things to do in Los Angeles that you never really have to leave the city to be entertained, like visiting Point Mugu State Park, eating at this Titanic-themed restaurant or checking out these haunted places in LA.  
But the great thing about LA is that there are SO MANY great things to do outside the city, too! Honestly, the other side of the city can seem like a whole day's drive away, but if you go a little further then you might find some really great day trips around Los Angeles. 
Here are a few destinations that are far away enough to feel like a good vacation, but that are also close enough to get home again at the end of the day.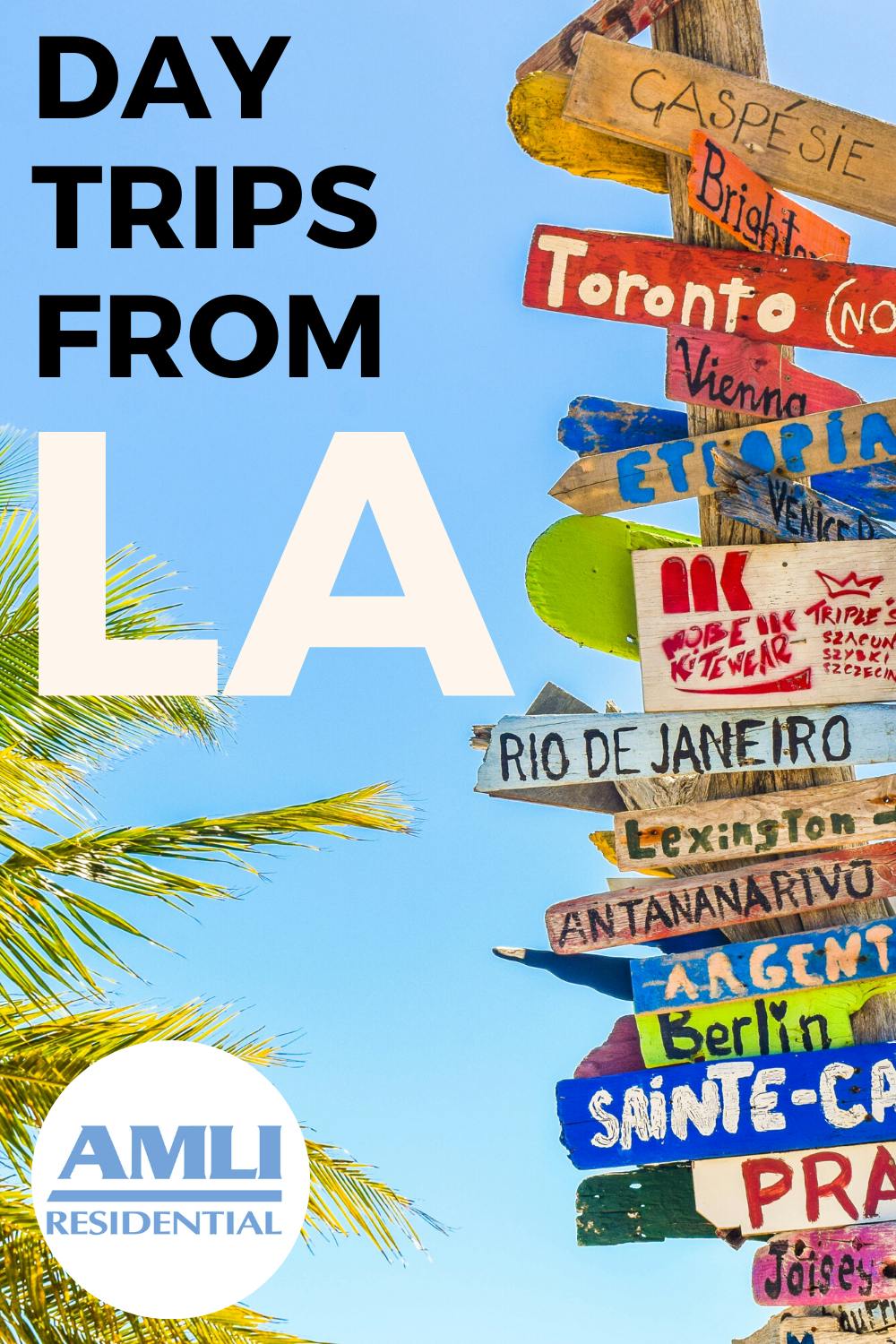 Day trips from Los Angeles
Joshua Tree National Park is about 2 and a half hours from the Anaheim and Irvine region, so it will probably take a little longer if you're driving from a neighborhood in Los Angeles. Nonetheless, the park is a totally doable day-trip from Los Angeles, but it will feel like another world altogether!
The geography of the Joshua Tree National Park is what makes it so iconic. The Mojave Desert and the Colorado Desert both meet right at this national park, creating an ecosystem that is composed of both deserts' own specific qualities. You can find the iconic Joshua trees at the higher, cooler areas where the Mojave desert ends, and you can experience the grand sand dunes and expansive grasslands in the lower, hotter region that the Colorado desert occupies.
The park offers hiking, camping, ranger programs and rock climbing to visitors, and it's a magical place to see the stars on those crystal-clear nights.
Santa Catalina Island
Want to take a day trip but hate to drive for hours on end? Then a ferry ride to Santa Catalina Island is the perfect solution!
The Catalina Express ferries from the mainland to Santa Catalina Island leave from three places: San Pedro, Long Beach and Dana Point in San Clemente. You can't take your car across to the island, but you can take a bike or surfboard if you'd like. 
The main tourist destination is the city of Avalon, which is located on the southern end of the island. It's got shops, restaurants, spas and so much more, but it's every bit the laid-back, Mediterranean-esque coastal town that makes the island so famous. 
The other destination on Santa Clarita Island is the small town of Two Harbors. If you're looking for some quiet time spent outdoors or on the water, then this is the spot for you! Two Harbors doesn't have much in terms of restaurants or stores, but it makes up for it on expansive coastal views, extensive plant life, hiking and biking trails and quiet waters perfect for boating. 
Santa Barbara isn't just for the rich and famous; it's for everyone who has a love for the California charm and gorgeous coastline. The town is filled with Spanish-style buildings which have been painstakingly cared for over the years, and the grand palm trees lining the charming streets just complete the picturesque scene of this beautiful beach town. 
There are hiking trails, restaurants, the Santa Barbara Zoo, The Santa Barbara Museum of Art, botanic gardens and so much more available in this quaint little town that you could easily spend an entire week, never mind a day, enjoying Santa Barbara.
What would you find on the other side of a bridge to nowhere? Honestly, the answer eludes us all, which is why the Bridge to Nowhere in the San Gabriel Mountains is such a popular tourist destination!
Nestled in the Angeles National Forest and along the San Gabriel River is a fully-functional bridge that leads to… well, nowhere. The bridge was originally built as part of a road to connect the San Gabriel Valley to Wrightwood, but a flood wiped out the road and practically put an end to the project.
You can hike to this bridge via the Bridge to Nowhere trail, and along the way you'll pass through some truly beautiful areas. The trail, which follows the San Gabriel River, passes through canyons and gulches, past grand rock formations, crosses the river a few times and offers plenty of opportunities for swimming and wading in the cool river. The trip is about 10 miles there-and-back, so be prepared and bring adequate sun protection and water!
Pristine beaches, thriving nightlife, sandy coves and a city centered in art is what makes Laguna Beach one of the best coastal destinations in Southern California. Although it's just an hour south of Downtown Los Angeles, the 20,000 acres of protected wilderness around Laguna Beach makes it seem like you've traveled to another world. 
For outdoor enthusiasts, there are plenty of hiking and mountain biking trails around the wilderness, and the waves at the hidden coves are perfect for a day of surfing in the sunshine. There are art galleries galore and no small amount of fine dining options. It truly is one of the most beautiful locations on the coast.
So, next time you're looking to get out of town for the day, consider these great day trip locations around Los Angeles for your next weekend destination. Who knows? You may end up satiating your travel bug every weekend with a brand new destination to check off your list!
Enjoy!
Pin it!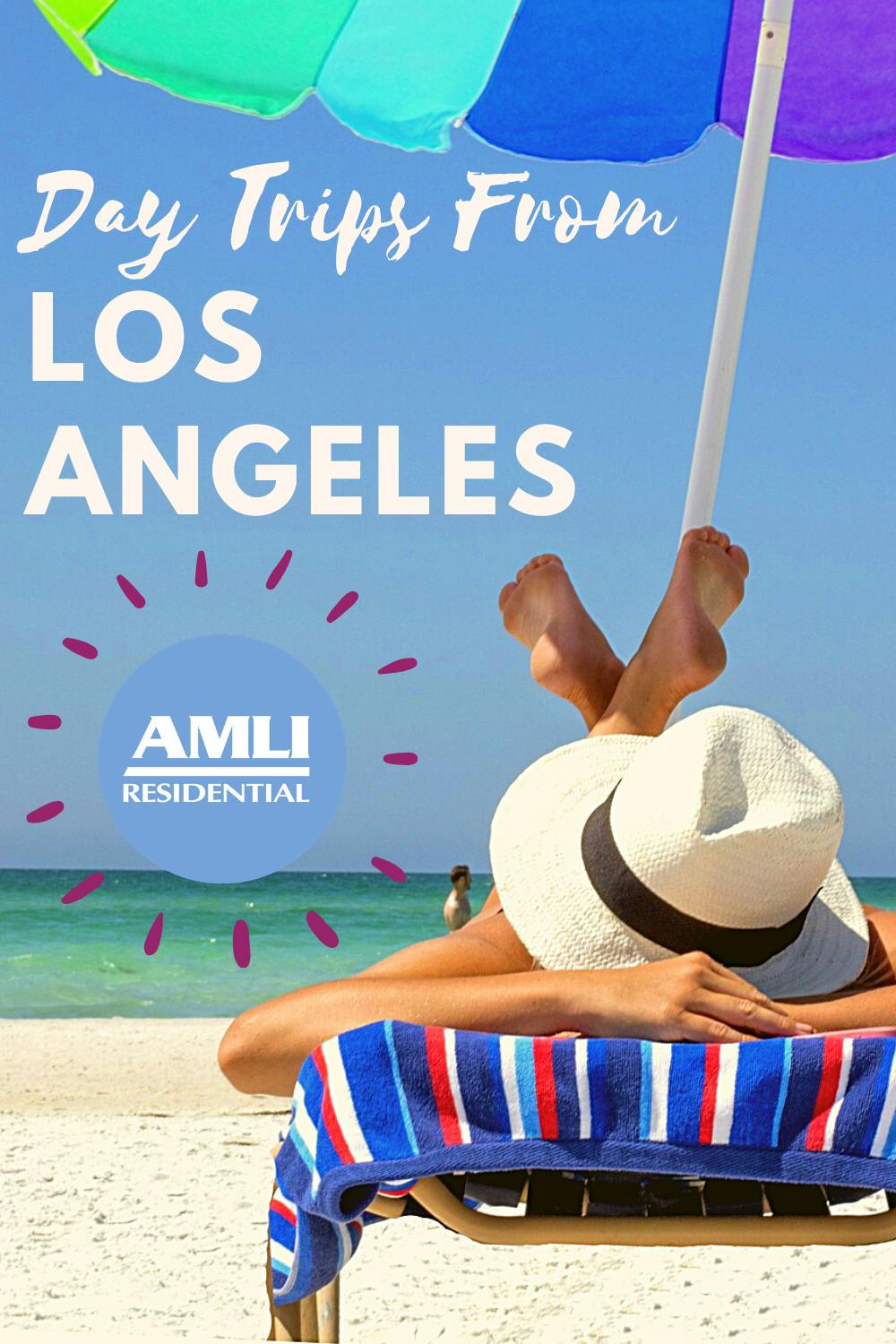 Featured photo courtesy Pixabay/TerriC