With so much natural scenery surrounding our very own city of Atlanta, it seems a shame to spend all year indoors. Yes, even if you're living in one of our luxury Atlanta apartments!
Luckily, though, Georgia's many state parks and national forest areas offer plenty of opportunities for camping. Whether you're looking for an isolated patch of forest to hike through or a busy, adventure-packed stay on the shores of a lake, you're guaranteed to find a place that you like somewhere here around Atlanta. 
To get you started, here are just a few of the many campgrounds around Atlanta that offer an easy, breezy and beautiful stay in Georgia's great outdoors.
Enjoy! 
Camping spots around Atlanta, Georgia
Sweetwater Creek State Park
Location: 1750 Mt Vernon Road, Lithia Springs, GA 30122
Fees: $27 per night
Dogs allowed: Yes
Reservation website: Book here
Sweetwater Creek is already a popular spot for day hiking here in Atlanta, and so it's no wonder that it's up there on the list of great camping spots, too!
A handful of primitive campsites dot the scenic riverside, allowing campers to enjoy the trails and riverfront just steps outside their tent flaps. Plus, if you're looking for something a little more…indoorsy, there are yurts available for rent, too. 
Deep Hole Recreation Area
Location: Deep Hole Campground Road - U S F South, Suches, GA 30572
Fees: $15 per night
Dogs allowed: Yes
Reservation website: Book here
It may be small, but this recreation area boasts a gorgeous campground and a scenic system of trails. It's also a whole 17 miles from the nearest town, so you are guaranteed some actual peace and quiet out in the depths of the Appalachian mountains.
There's fishing, there's hiking, there's mountain biking and much, much more! 
Stone Mountain State Park
Location: 4003 Stonewall Jackson Drive, Stone Mountain, GA 30083
Fees: $28–$34 per night
Dogs allowed: Yes
Reservation website: Book here
This popular camping spot is a hit with car campers, as it has everything one might need for a night, weekend or week out in the fresh air. 
With over 400 sites for tent, trailer and RV camping available, there is ample opportunity for outdoor recreation for campers of all kinds on the 3,200-acre park. Drive-in sites come with standard grills, fire circles and picnic tables, of course, but the real selling point are the trails, fishing spots, volleyball courts, playgrounds and swimming pools just steps away. 
There's no way you can get bored here!
Three Forks 
Location: Appalachian National Scenic Trail, Blue Ridge, GA 30513
Fees: None
Dogs allowed: Yes
Reservation website: N/A
This camping spot isn't nearly as fancy or well-equipped as, say, Stone Mountain State Park is, but its seclusion and hiking trails make it a popular one for campers looking to spend their days hiking and enjoying the mountains. 
The name comes from the three trout rivers that join right by the campsite, so fishing is obviously a highlight in the area. Small trails lead to hidden waterfalls, and spur trails lead right to major routes like the Appalachian Trail and the Benton MacKaye Trail. Three Forks is truly a must-try campground if you're looking to experience some of Georgia's best scenery. 
Red Top Mountain State Park
Location: 50 Lodge Road SE, Acworth, GA 30102
Fees: $35.00 per night
Dogs allowed: Yes
Reservation website: Book here
Located right on the bank of Lake Allatoona, Red Top Mountain State Park and campground draws thousands of visitors to its scenic shores.
The 12,000-acre lake is ideal for water enthusiasts, offering boating, swimming, fishing, tubing and more all over the lake.  On dry land there are over 15 miles of hiking trails that wind their ways along the water's edge, making the park itself a haven for recreational adventures of all kinds. 
But it's the 93 campgrounds that really draw in the crowd. The large campground offers car campers a quiet and scenic space to rest and relax during warm months, especially being just steps from the water. For those looking for something a little more structured (literally), there are cottages and yurts for rent right by the water. 
Just try to name something we can't like about this place — we'll wait. 
So, there you go, folks! We've got you all ready to go for a year full of outdoorsy adventures and memorable camping trips. Of course, there's no way we can list every singe campsite around Atlanta (spoiler alert: there are a lot!), but these are some of the more popular ones that are well known for their accessibility, beauty and amenities. Go check them out sometime, or let us know if there is a site you'd like to add onto this list!
Enjoy!
Pin it!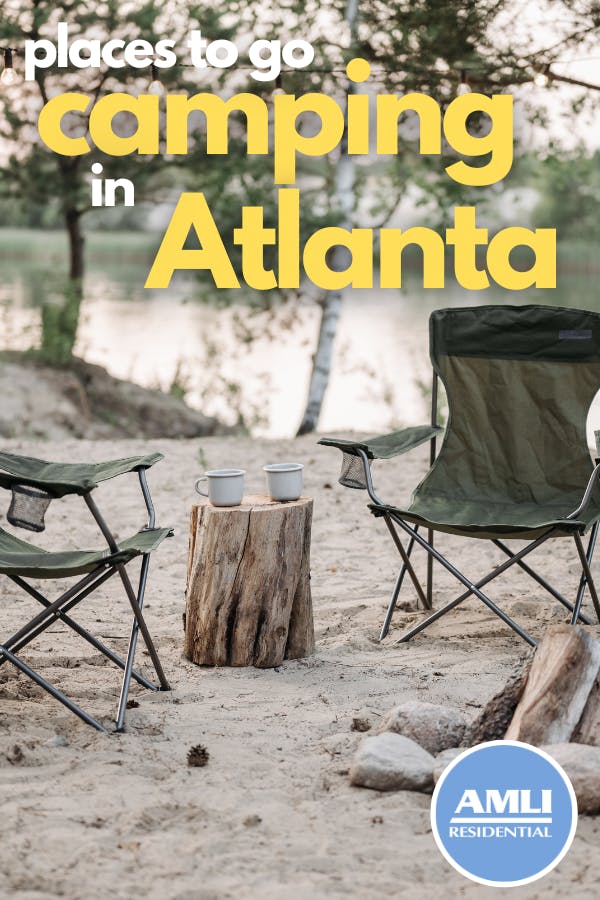 Featured photo courtesy Pixabay/Brahmsee